MicroChill® Refrigerator Microwave Freezer Combination Unit
MicroChill® is a combination refrigerator/freezer and microwave appliance that is approved for use in the residence h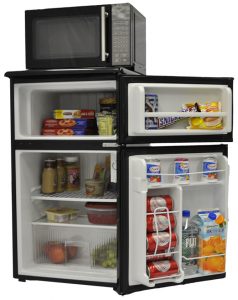 alls.
For more information, or to rent a MicroChill® from College Products, please visit their website.
You may also call College Products with any questions about ordering a MicroChill® at 712.226.3250.
Please note:
One MicroChill® combo unit or one dorm-size refrigerator is permitted per room
If you want both a microwave unit and a refrigerator unit, you must rent a MicroChill®
You must have your housing assignment to rent a unit
Looking for something else? Try this list of what to bring (and what not to bring) to campus.