110th Commencement Ceremony
The University of Maine at Machias is currently planning a hybrid commencement ceremony, with both pre-recorded and in-person elements, to celebrate our 2021 and 2020 graduates. Read below for more info.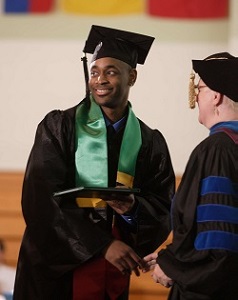 In-person activities
The in-person commencement activities will take place on Saturday, May 8 at 2 p.m. in the Performing Arts Center in Powers Hall. Class of 2021 and Class of 2020 graduates are welcome to attend the event to receive their diploma covers in person.
All participants will be required to follow civil health and safety guidance while on campus, including social distancing and wearing of face masks. Participants will be reminded of current health and safety guidance in advance of the event.
Guests
Friends and family members of graduates will be welcome to come to campus, but must stay with their vehicles and will not follow the graduates into the Performing Arts Center. A video of the indoor activities will be streamed live on Youtube.
We are encouraging all participants to decorate their cars with signs and balloons in UMM green to celebrate our 2021 and 2020 graduates. There will be a parade of vehicles down Main Street in Machias following the ceremony.
Registering for the event
You must register by April 30 in order to participate in the ceremony — NO EXCEPTIONS. Graduates must arrive at Torrey Hall by 1 p.m. for line-up. Fill out the form to register here.
You must wear graduation regalia to participate in the ceremony. See below for ordering info.
Virtual commencement
A video of the ceremony will be shared with all graduates afterwards. This video will include pre-recorded segments of opening remarks from the President, Commencement speaker and others.
Graduates who do not wish to participate in the in-person ceremony may send a photo to be included in the video. Send photos to Rose Mondville, mondville@maine.edu.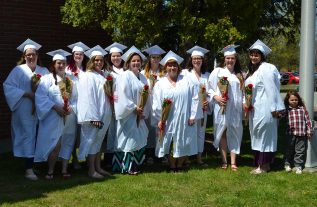 Graduation regalia
Ordering your cap and gown: March 1–April 9, 2021
All students participating in commencement at the University of Maine at Machias must purchase academic regalia in the university's distinct colors. UMM partners with University Cap & Gown Co. to provide this service online.
All orders placed by the April deadline will be shipped to you. Orders placed after the April deadline will be subject to additional shipping charges.
How to order:
Follow the instructions on the page

Student ID: Enter any ID #

Provide payment and shipping information

Orders will be mailed directly to you at the address you provide.
For assistance, please contact University Cap & Gown at buildagrad@universitycapandgown.com or 1-800-585-5500.
Graduation announcements
Seniors wishing to order graduation announcements can order them by visiting cbgrad.balfour.com.
Select the state (Maine), the college (University of Maine at Machias) and the month of the ceremony (May) to view available products.