UMM on the Causeway: Tuesday, July 7
The UMM admissions teams will have a booth on the causeway on Main Street in Machias on Tuesday, July 7, 10 a.m. to 2 p.m. We'll answer questions from prospective students, help with application information, and take enrollment deposits from admitted students. The causeway (also known as the Machias Dike) is right in downtown Machias at the Middle River Reservoir.
We've temporarily suspended campus visits due to COVID-19, but we're still finding ways to meet with future UMM Clippers! Our virtual admissions page has all the info.
The best way to find out if UMM is right for you? Come to Machias and see for yourself! We invite you to visit us and experience our campus first-hand. Talk to our students and faculty, spend time in our classrooms, enjoy a lunch or dinner at Kilburn Commons, and go to the beach … even if it's snowing! Soak up all that UMM has to offer.
Schedule a Visit
At UMM, all campus tours are tailored to your needs. You may schedule a visit by going to our Events Page, e-mailing ummadmissions@maine.edu, or calling at (888) 468-6866. Our Admissions staff will build a schedule that reflects exactly what you are looking for in your visit.
Events: Open Houses
We're excited that you've decided to visit us for one of our upcoming Events! During your visit you'll have the opportunity to explore our academic programs, learn about UMM's hands-on experiential learning opportunities, talk with faculty and current students, visit the residence halls, have lunch in Kilburn Commons, and explore the area.
You can reserve your space for one of our upcoming events by visting our events page. If you'd rather make your reservation over the phone, feel free to call us toll-free at (888) 468-6866.
To Register for any of these events go to our Events page
Individual Visits
For an Individual Visit, go to our Events Page. Please be aware that we are unable to provide weekend visits. When we are hosting an event on campus, we will be unable to provide individual campus visits that day. Thank you!
We look forward to meeting you!
Travel Schedule
UMM admissions counselors are on the road to meet with parents and students at various high school college fairs. In some cases, we are also visiting high schools during regular school hours. Either way, you just might see us. We look forward to meeting you and answering any questions you may have about our programs, scholarships, campus life, or UMM in general.
Don't see your high school listed below? Don't worry! Give us a call at (888) 468-6866 or e-mail ummadmissions@maine.edu to talk with one of our admissions counselors today.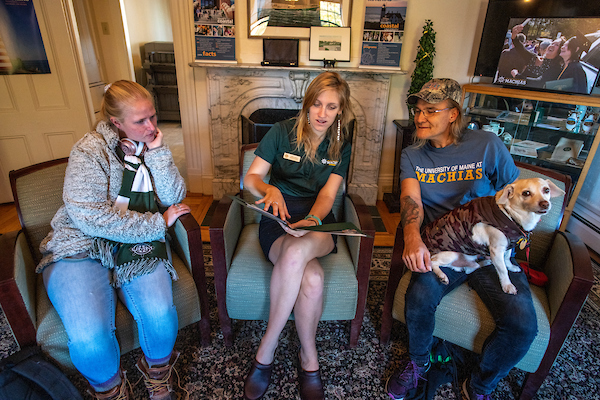 Machias Area Dining
Tom's Mini-Mart "Deli" – Located at the Gulf Station, the Deli is one of the places that the local fisherman go to have their breakfast. Offering a variety of breakfast items, subs, sandwiches, fried seafood, burgers and pizzas. Open Monday – Saturday. Takeout or dine in. (207) 255-4003
The Blue Bird Ranch Family Restaurant – Serving Downeast, Maine with friendly service, excellent home style cooking, home-made breads and jams, cocktails, daily specials, fresh seafood and homemade pies daily. (207) 255-3351
Helen's Restaurant – Restaurant menu includes signature sandwiches and creative menu specials in addition to the favorite Down East fare. Buying directly from local farmers, fishermen, and specialty food artisans, their menu selections include seasonal, fresh, and local ingredients whenever possible. (207) 255-8423
Hing Garden – Offering Chinese and Asian Cuisine, along with a few staple American items in platter or combination meals. Dine in or Take-out. (207) 255-8881 or 255-8882
Pat's Pizza – A favorite of University of Maine Machias' students, Pat's Pizza features pizzas made with fresh dough and topped with a special sauce created by C.D. "Pat" Farnsworth and his wife Fran. Offering appetizers, fresh salads, hot and cold subs or sandwiches, calzones, pasta dishes and their classic and gourmet pizzas. (207) 255-8111
Skywalkers's Bar & Grille – Step out of boring and step in to an urban oasis! Skywalker's Bar & Grille is Down East Maine's premier hot spot for entertainment, delicious homemade southwestern cuisine and fantastic drinks. Stop in and let the stress of your hectic day melt away. (207) 259-6001
The Thirsty Moose Café Bar & Grill– Downeast Maine's destination for meeting up with friends! They have something going on every night of the week so stop in and check them out! They have pool and billiards, too! (207) 255-6100
Whole Life Market & Saltwater Café – Whole Life Market offers a wide range of healthy natural and organic products and brands, including gluten-free and locally grown fresh organic produce, dairy items, free range eggs and meats.The Saltwater Café menu focuses on locally grown foods and wholesome ingredients. Sit and relax with a cup of organic coffee or tea in a comfy chair while enjoying their salads, soups, sandwiches, and specialty or bakery items. (207) 255-8855
Dunkin Donuts – All-day stop for coffee and baked goods.
Machias Freshies (inside the Shell Gas Station) – Featuring Pizzas, Subs and other items. Open 7 Days a week. (207) 255-3212
McDonald's Cafe – Classic, fast-food chain known for its burgers, fries and shakes.
Subway – Build-your-own sandwiches and salads, with health-conscious options.