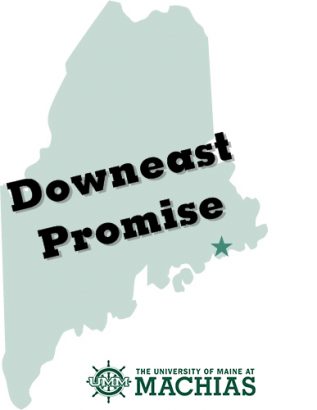 Downeast Promise
The University of Maine at Machias is pleased to offer the Downeast Promise program in support of Maine students and families. The Downeast Promise promotes access to higher education, and increases affordability so more Maine students can earn a college degree.
The Downeast Promise guarantees that all first year, full-time, Pell Grant eligible Maine residents receive sufficient grant and/or scholarship funding to cover 30 credits per year of tuition and standard fees. We hope this level of funding will encourage students to enroll at the University of Maine at Machias and earn their degree in a timely manner.
To qualify for the Downeast Promise an applicant must:
be a first-year, full-time student admitted for the Fall 2020 term
be pursuing his/her first undergraduate degree
submit the Free Application for Federal Student Aid (FAFSA) annually by May 1st of the appropriate year
be eligible to receive a Pell Grant as determined by the Department of Education using information provided on the FAFSA
be a resident of Maine
successfully complete at least 30 credits each year
maintain a cumulative GPA of 2.0
be meeting Satisfactory Academic Progress requirements
To learn more, contact Admissions at 207-255-1318 or email us at ummadmissions@maine.edu.