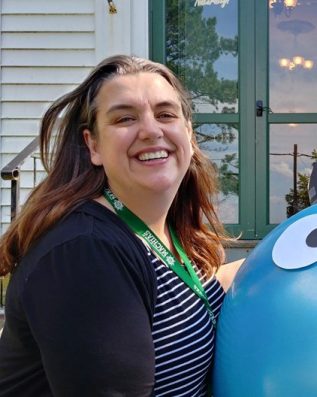 Marnie Kaler, Dean of Students and Admissions
Education: 
A.A.S. Computer Science; Andover College
B.S. Technology; University of Alaska Anchorage
M.P.A.; University of Alaska Southeast 
Hometown: Alna, Maine
Fun facts: Have been to 48 states and 7 countries, restores old cars, does pysanky and cross-stitches!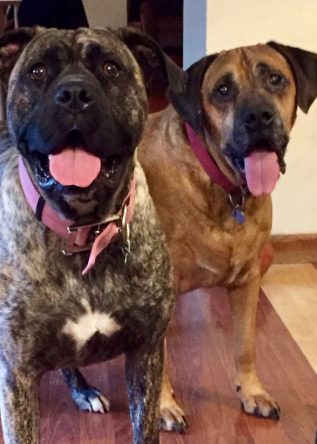 Peggy Slicer, Administrative Specialist
Contact: peggy.slicer@maine.edu | 207.255.1339
Hometown: Truro, Massachussetts
Peg is our Administrative Specialist in Admissions. If you've emailed or called, chances are good you've spoken with her.
Peg is a long-time resident of Down East Maine with two very large, drooly dogs (pictured at left) and one spoiled cat. She loves hiking, beaches, and the sense of family that she encounters everywhere she goes in this community.
What class would you like to take at UMM? I've taken a lot of classes here, but the one I haven't gotten to yet is Book Arts. I love the idea of making a book from beginning to end, and working on the printing press.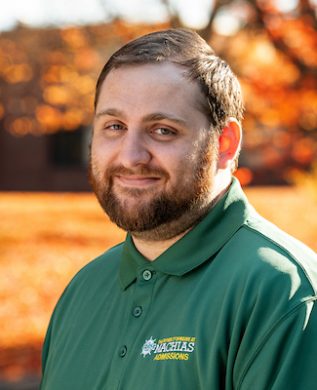 David Invergo
Contact: david.invergo@maine.edu | 207.255.1347
Education:
B.S Biological Health Sciences; University of South Florida
M.S Counseling and College Student Development; Kansas State University
Hometown: Tampa, Florida
This is my first opportunity in undergraduate admissions. My past experiences were in graduate admissions, assessment, and testing all at Kansas State University.

What class would you take at UMM? I would like to take any of the courses from the Recreation and Tourism program.
What is your favorite thing to do in the area? I enjoy going to the beach and reveling in beautiful coastline. I spent the last two-years in land-locked Kansas, so I am happy to be in an area where I can enjoy the coast again.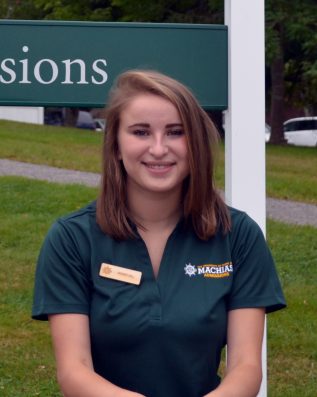 Dorsey Hill
Contact: dorsey.hill@maine.edu | 207.255.1365
Education:
B.S Marine Biology; University of Maine at Machias
Hometown: Lunenburg, Massachusetts
I worked here on campus as a student worker in the admissions office for 4 ½ years before being hired as an Admissions Counselor for UMM.
What class would you take at UMM? I took many classes at UMM while I was a student, but if I could go back, I would take Sailing and Basic Seamanship or the Animal Behavior & Selection of Service Dogs Lab.

What is your favorite thing to do in the area? I like hanging out at Roque Bluffs Beach and hiking the Sunrise Trail. This area is so beautiful and I like to take advantage of all the easily accessible trails.