Money Matters
The University of Maine at Machias Office of Student Financial Aid and Student Employment, and the Business Office are committed to helping students and their families understand the important investment that they are making in their education, their future, and themselves. The information below will provide an introduction to the financial components of college attendance: the student bill, costs at UMaine Machias, types of financial aid available, and additional funding sources.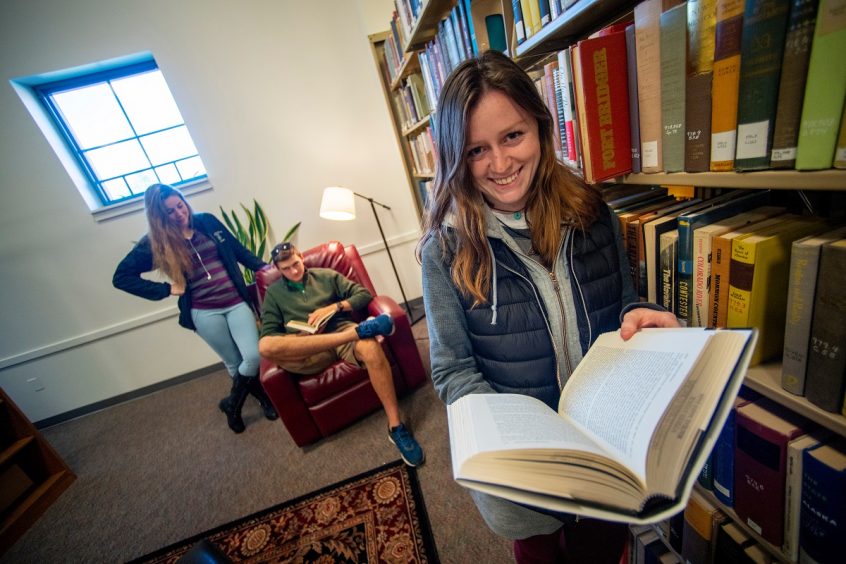 Student Information Security and Privacy
The University of Maine at Machias is limited in its ability to provide parents or other individuals with certain personal information about students by both federal law and university policy.
Family Educational Rights and Privacy Act – FERPA
The Family Educational Rights and Privacy Act (FERPA) is a federal law that protects the privacy of student education records. After August 15, a signed Student Consent to Release Information Form is required in order to speak to anyone other than the student about their personal information.
This form can be found on the Student Records website. 
Please understand that while the Student Consent to Release Information Form gives University personnel permission to speak with individuals other than the student about the student's personal information, including bills, there is a separate authorization for anyone other than the student to view the bill online and make online payments. 
Understanding your Financial Aid
Types of Financial Aid
Scholarships:

Scholarships can come from the University, academic departments, or outside organizations. Scholarships are awarded based on a variety of criteria.
Scholarships are considered gift aid and therefore do not have to be repaid.

Grants:

Grants are awarded based on the information provided on the FAFSA.  Grant funds can come from many sources, including the federal government, the state, or the University.
Grants are considered gift aid and do not need to be repaid.

Federal Work-Study:

Federal Work-Study provides part-time job funding for students and is awarded based on information from the FAFSA.
Earnings from Federal Work-Study are paid directly to students via a bi-weekly paycheck and are not applied directly to the student's bill.

Loans:

There are a variety of loan programs available to help finance a college education.  Loans are borrowed funds and must be repaid.  Some loans may be listed on a student's financial aid award, but additional steps may be required in order to receive the loan funds.  Other loans have specific application processes.
Reading the Financial Aid Award 
Cost of Attendance

Your estimated Cost of Attendance (COA) is based on your award assumptions, including:

Housing arrangements
Residency
Grade level
Enrollment status

The COA includes direct costs that are billed to the student and indirect costs.  Indirect costs are not billed to the student, but are educational expenses that students will need to budget for.
Students cannot receive more financial aid than the total COA.

Expected Family Contribution

The Expected Family Contribution (EFC) measures a family's ability to contribute to a student's educational costs.  The information provided on the Free Application for Federal Student Aid (FAFSA) is used to calculate the EFC. 
The EFC does not represent the dollar amount that a student will owe.

Financial Aid Eligibility

COA – EFC = Financial Need

Need-Based financial aid includes, but is not limited to:

Federal, State, and Institutional Grants
Some University scholarships 
Federal Work-Study
Federal Direct Subsidized Loans
Changes to the Award
Enrollment Based Adjustments:

UMaine Machias' financial aid awards are based on the assumptions that a student will enroll in 15 credits per semester. Some types of aid, including admissions based scholarships and institutional grants, may be reduced for students who enroll in fewer than 15 credits.  These award adjustments are based on enrollment levels of:

12+ credits (100%)
6-11 credits (per credit basis)

Other Potential Award Changes:

There are many reasons a student's financial aid offer may be revised. If the Office of Student Financial Aid is required to make adjustments to the financial aid the student will receive an electronic communication.  The following are some of the reasons our office may be required to adjust your aid:

FAFSA Adjustments
Enrollment changes
Changes to housing plan or living arrangements 
Changes resulting from verification
Additional sources of aid
Residency changes
Changes to available funding
Estimating Expenses
UMaine Machias students will have both direct and indirect expenses. Visit the tuition and fees page for additional information regarding estimated costs.
Paying the Bill
Additional Financing Options

There are a variety of loan programs available in addition to what you were awarded in your initial financial aid package to help finance a college education, including:

Federal Direct PLUS Loan

Federal Direct PLUS Loans are credit-based loans provided by the Department of Education to parents of dependent undergraduate students who have filed a FAFSA. The application is available at studentaid.gov.

Additional Federal Direct Unsubsidized Loans

Students whose parents were denied a Federal Direct PLUS Loan may qualify for additional Federal Direct Unsubsidized Loans.

Alternative Loans

Alternative Educational Loans are credit-based loans which are applied for in the student's name from a private lender. Most lenders require a co-signer. A list of lenders, in addition to information on the process for obtaining an alternative educational loan, is available at elmselect.com.

All of these loan options require repayment either upon disbursement of the loan funds or once you are enrolled less than half time. Before applying for any loan, evaluate each loan program carefully to choose the option that is best for you.
Student Employment
Students awarded Federal Work-Study as well as those looking for regular part-time employment can contact the career center for additional information on finding a job and working at UMaine Machias.
Important Dates
Fall bills due                                                                      Sept. 15
Spring bill due                                                                   Jan. 15
Recommeneded FAFSA filing for spring semester      Oct. 1
For more important dates, please refer to the academic calendar.

How is my financial aid award calculated?
Financial Aid FAQs
Your financial aid award is unique to you.  Many things may impact your financial aid eligibility, including: your Estimated Family Contribution (EFC), number of classes you take each semester, your housing plans, and the number of credits you have earned toward your degree.
How does the financial aid office notify me about my financial aid package?
New students will receive a paper letter when they have been awarded. From that point forward, we will notify you via email if you have anything you need to do in order to receive your aid or if there have been changes made to your award.
What types of aid may I receive in my award as an undergraduate student?
As an undergraduate student you may receive an offer that includes the following types of aid in your award package: 
Scholarships
Grants
Federal Work-Study
Loans
How do I accept my financial aid award?
Certain aid (scholarships, grants, assistantships, etc.) are automatically listed as accepted on your MaineStreet account.  If you wish to receive any other type of aid such as loans, you must accept them through your MaineStreet Student Center.
Is there anything else I need to do to receive my aid?
There may be additional steps to take in order to receive certain types of aid:
Federal Loans – First-time borrowers are required to complete a Loan Agreement/Master Promissory Note and Entrance Counseling before receiving the loan funds.
Federal Work-Study – You will need to find a job before being able to earn your Federal Work-Study funds.
Can my award change?
Your award may change based on the following circumstances:
Corrections or updates to your FAFSA
Changes in your housing plans
Changes in your residency status
Changes in enrollment level each semester
Changes in your (or your family's) financial circumstances
Receipt of additional assistance and/or scholarships
Receipt of additional information affecting eligibility
Discontinued attendance in classes
Withdrawal from all classes
Any time your award changes you will be notified by e-mail and you will be able to see the changes on your MaineStreet account.
Students are encouraged to notify the Financial Aid Office as soon as any of the above circumstances occur.
Do I need to report Outside Scholarships that I will be getting to the Financial Aid Office?
Students are required to report any and all additional resources to the Financial Aid Office, including any outside scholarships you may be receiving. Outside Scholarships can be reported through the MaineStreet Student Center.  In addition, we recommend sending copies of any scholarship award letters you receive.
How do I search for additional scholarships?
If you are an incoming new student at UMaine Machias, we recommend you check with your high school's guidance office.  They often have a listing of local outside scholarships that you can apply for.  All students can check with any local clubs or organizations they are a part of.  Also, check with your employer (or your parent(s) employer) to see if they have any scholarship opportunities.
Remember, wherever you are searching for scholarships, NEVER pay to search or apply for scholarships!
What types of loans will I see in my financial aid package?
Based on eligibility students may see Federal Direct Subsidized and/or Federal Direct Unsubsidized loans in their financial aid award. These types of federal loans are loans in the student's name and are guaranteed federal loans (no credit check or co-signer is required).
How do I complete the Master Promissory Note (MPN)?
If you are awarded a Federal Direct Loan, and you are a first-time borrower, you will be required to complete a Master Promissory Note (MPN).  For instructions on how to complete the MPN, click here.
How do I complete Entrance Counseling?
Students who are first-time borrowers of Subsidized or Unsubsidized Federal Direct loans must complete entrance counseling before any funds can be released. Click here for instructions on how to complete Entrance Counseling.
When do I have to pay back the loans I am awarded?
Federal Direct Loans have a 6-month grace period, which means you do not have to begin repayment until 6 months after you graduate or are no longer enrolled at least 1/2 time in college.
In addition to the grace period, Federal Direct loans are deferred (payment is not required) while you are enrolled at least half-time.
Interest that accrues on Unsubsidized Direct Loans is also deferred while you are enrolled, however there are options available if you would like to make payments on the interest while you are in school.
What other types of loans can I apply for to help pay my bill?  Federal Direct PLUS Loans allow graduate students and parents of dependent undergraduate students to borrow up to the annual cost of education minus any financial aid. If a parent is denied a Parent Direct PLUS Loan based on credit, the student may be eligible for additional Direct Unsubsidized Loans.
Alternative Loans from private lenders are mostly credit-based loans and most will require periodic payments of principal and interest once disbursed. Interest rates vary, and a separate application is usually sent directly to the lender, which is then forwarded to our office for certification of the student's status.
Does UMaine Machias have a payment plan?
UMaine Machias offers semester installment tuition payment plans.
How do I find a job on campus?
UMaine Machias' Career Center provides a number of career advising services, including help connecting students with employment opportunities on campus. A list of student employment opportunities is available online.
What is Federal Work-Study?
The Federal Work-Study Program provides students with the opportunity to work part-time and earn a bi-weekly paycheck.  Funds earned can be used to help pay education expenses. Work-study funds are not applied directly to the student's bill. 
Do my grades impact my financial aid eligibility?
Federal financial aid regulations require financial aid recipients to make progress toward earning their degree, stay above specific GPA minimums and to complete the degree within a maximum time-frame. You can lose eligibility for aid if you are not doing well in your classes and/or if it is taking a very long time to earn your degree. 
How is my bill calculated?
Your charges are considered direct costs and include:
Tuition
Fees
Housing (on-campus)
Meal Plan (on-campus)
For additional information on the types of charges you will see on your bill, contact our Business Office at 207.255.1312 or email holmes@maine.edu.
What does it mean if I have a negative balance on my bill?
If you have a negative balance on your bill, you have more financial aid than what your charges are, and you are getting a refund. How you receive this refund depends on what you tell the Business Office to do with it. You can let the Business Office know what you'd like done with your refund using MaineStreet. You can either have funds direct deposited into your bank account or held on your account for future charges. 
What are Anticipated Resources and how do I report them?
When you have outside aid that is not listed on your award, you need to let the Business Office know the funds are coming so you can avoid a late fee on your bill. Reporting Anticipated Resources is not the same as reporting Outside Aid. Reporting Outside Aid lets the Financial Aid office know funds are coming in.