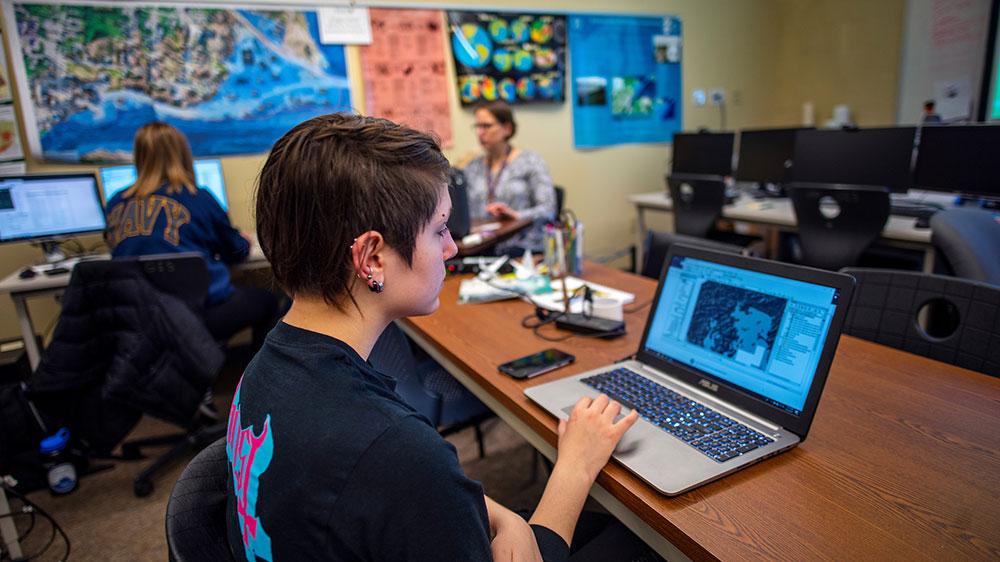 ✔️ Rolling admissions (Fall/Spring)
💲 Tuition per credit hour: $282 (in-state & Canadian) / $352 (out-of-state online)  Learn more
🎓 15–16 credit certificate / 24–25 credit advanced certificate 🌐 100% online format
Geographic Information Systems (GIS) Applications Certificates
UMM Online certificates in geographic information systems (GIS) applications provide hands-on training and experience using the tools of the GIS industry. The certificates are ideal for students majoring or working in a related field who wish to add an in-demand credential to their resume, as well as students who are interested in pursuing a GIS education but not ready to commit to a four-year degree.
GIS Applications Certificate (15–16 credits) includes introductory courses on the fundamentals of GIS software, basic map concepts, satellite positioning and navigation systems, and the steps in a typical GIS project, as well as intermediate coursework on data visualization, modeling and analysis. Students have the opportunity to take additional elective courses in GIS, computer information science (CIS) or geography.
Advanced GIS Applications Certificate (24–25 credits) includes all of the above coursework, plus 8–10 additional credits, for a total of 24–25 credits. Students will complete advanced GIS coursework and may choose from additional electives in GIS, CIS, CADD, computer application development or surveying technology.
Why UMM Online?
Flexible: The GIS certificate programs are designed to work around your busy schedule. The 15–16 credit GIS Applications certificate can be completed by taking two courses each semester for three semesters.
Rolling admissions means it's never too late to fill out your free application; start the program in the fall or spring semester.
Stackable: Not only are the introductory and advanced GIS certificates stackable, but completion of a certificate means you'll have a significant head-start on the required coursework should you choose to pursue our four-year degree in Environmental Geographic Information Science.
Student-centered: Small online class sizes and one-on-one faculty advising give students the support they need to succeed.
Career-oriented: Students are encouraged to participate in service-learning projects to gain skills that will be applicable to their current or future careers.
Learn more
To view the full curriculum for these certificates, visit the UMM Course Catalog.

"The UMM GIS program has been a great addition to my classes at the University of Maine. Going into it I had a very basic understanding of what GIS was, but now I am seriously considering pursuing a career in it after I get out of college. I'm in the process of getting my certificate in GIS, and I couldn't be happier with my decision to do so...I would highly recommend that you try it out! You won't regret it!" Sam Stone, UMaine class of 2022
Ready to learn more about online programs at UMM?
Our admissions specialists can answer your questions about scholarships, financial aid, transfer credits and more.
Fill out the form to request info, or contact us directly at ummonline@maine.edu.
---