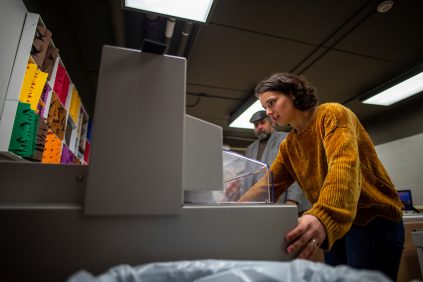 Are you a creative spirit?  Welcome home! We will help you develop your artistic voice.
The Creative Arts program offers concentrations in the following areas:
Visual Art Concentration
This concentration provides a comprehensive groundwork for visual artists through a set of studio courses in drawing, painting, book arts, printmaking, and graphic design. There is a built-in elective in an upper-level studio course, and an art history sequence provides the context in which students understand their own contribution as practicing artists. 
Creative Writing Concentration
This concentration is intended for creative writers in the areas of fiction, creative nonfiction, poetry, and screenwriting. Two workshops at the intermediate level and two at the advanced level ensure that writers have the support and valuable feedback that will enable them to advance in their craft. Student writing is workshopped extensively by peers in small class sizes often found in graduate-level writing seminars.
A course in grammar and one in editing provide students with a command over language and a professional publication from the university press.
Learning Objectives
Students will learn and sharpen the craft and skills necessary to explore a variety of visual media processes using the elements of art and principles of design as they develop and critically assess their work.

Students will employ the practices and acquire the techniques of creative writing to produce pieces that demonstrate contemporary conventions with an understanding of the artistic effect of craft decisions on audience.

Students will become proficient in the foundations of their work and the technological standards of their field.

Students will appreciate and explore the interconnection between visual art and creative writing.

Students will be able to interpret diverse literary texts and artwork from multiple perspectives.

Students will develop an aesthetic awareness of book design through the study of typography and illustration, the historical analysis of the book object, the craft of making small editions, and direct involvement in the University of Maine at Machias Press.

Students will use their skills in visual art and creative writing to make a contribution to community and culture.

Students will leave the program with practical workplace experience using their skills and knowledge in the advancement of their profession.
Internship and Research Opportunities
Internships enable students to apply their knowledge at the same time they gain real-world experience. The Creative Arts Program oversees internships in the following areas:
Museum Management and Archiving

Book Repair

Library Science

Art Installations

Marketing and Communications

Professional Writing

Journalism and Copyediting
In addition, all students in the Creative Arts Program graduate with professional experience working for the university press to edit, design, illustrate, and publish rare works of Maine literature. 
Students completing their senior year have the option to take graduate-level courses and then transfer to the University of Maine in Orono to complete a Master of Arts in Intermedia Arts in just one year.