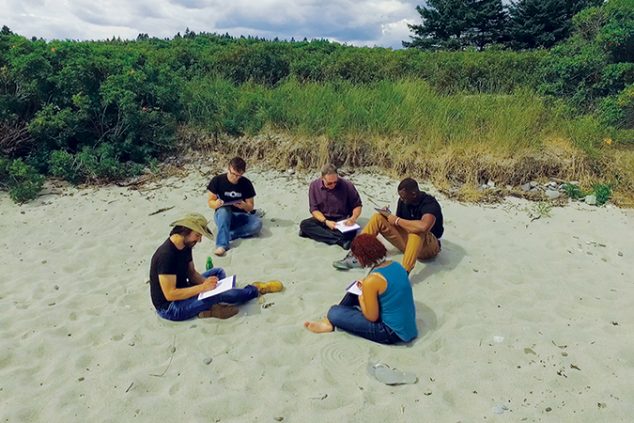 Visual Art Contact Information:
Bernie Vinzani, Professor of Art & Book Arts
207.255.1229
bvinzani@maine.edu
Creative Writing Contact Information:
Marcus LiBrizzi, Professor of English
207.255.1230
mlibrizz@maine.edu
Why UMM?
Our program allows students to explore the intersection of visual art and creative writing through courses in book arts and the graphic novel.
Creative writing students interested in fiction, nonfiction, poetry, screenwriting or graphic novels will hone their craft through a series of constructive, peer-led workshop courses.
Visual art students develop a portfolio in their medium of choice through studio electives in painting, figure drawing, sculpture, printmaking and photography.
Students in both concentrations have opportunities to explore the creative arts through internships and unique courses in documentary filmmaking, museum management and the Adobe Creative Cloud.
Unleash your artistic potential in a nurturing community on the coast of Maine.  Creative Arts at the University of Maine at Machias offers concentrations in visual art and creative writing, allowing students to explore the interconnected nature of word and image in areas such as book design, creative software, the digital documentary, and the graphic novel.
Students focus on their area of interest in a streamlined curriculum that allows for additional electives in advanced studio and workshop courses. Students develop a command over artistic expression enabling them to advance into careers as well as graduate study in the arts.
Choose a concentration in:
Visual Art
Creative Writing