Associate of Arts in Liberal Studies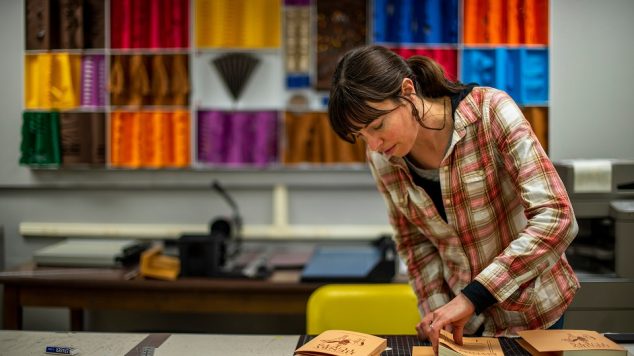 Program Faculty
Meghan Duff
Associate Professor of Psychology
207-255-1227
lkuntz@maine.edu
227C Torrey Hall
Tora Johnson
Associate Professor of Geographic Information Systems
207-255-1214
tjohnson@maine.edu
223 Torrey Hall
Why UMM?
Multiple concentrations allow students to choose a curriculum that prepares them for a desired career pathway.
Easily transition to baccalaureate programs at UMM with the support of dedicated faculty advisors.
Earn an associate degree on your own schedule. Liberal Studies students choosing a concentration in Psychology and Mental Health and Rehabilitation may complete their degree fully online. Learn more at UMM Online.
The Associate of Arts degree in Liberal Studies provides students with a broad-based educational background, attainable in two years or less of full-time study. The program provides students with the valuable communication and critical thinking skills needed for a broad range of professions and prepares students to continue their education at the bachelor's degree level.
Students who complete the Liberal Studies degree will have met the core curriculum requirements at the University of Maine at Machias and may then concentrate on their primary area of study when enrolled in a bachelor's degree program.
Students completing the Associate of Arts in Liberal Studies may choose one of the following concentrations:
Allied Health
Careers in allied health fields are among the top 30 professions for expected growth through 2020 (US Dept of Labor, Bureau of Labor Statistics). Possible career tracks include emergency medical technician, dental assistant, surgical assistant, radiation technician, nurse or nursing assistant, home and personal health aide, and medical assistant.
The Allied Health Concentration will ensure that you meet the science and math prerequisites required in most bachelor's degree programs. Your advisor will work with you to plan an application and transition into a specific allied health professional program, several of which are available at campuses in Bangor.
Aquaculture
Marine Biology
The 16-credit Marine Biology concentration offers foundational courses in animal and plant biology and oceanography. Using UMM's unique coastal location as a "living laboratory," the curriculum emphasizes hands-on learning experiences.
Marine biology students will have learning and research opportunities at UMM's Marine Science Field Station at the Downeast Institute for Applied Marine Research and Education (DEI). The field station, located 25 miles west of campus in the island community of Beals, is immediately adjacent to the ocean, overlooking a working waterfront. A variety of marine habitats (rocky intertidal, soft-bottom intertidal, islands, and subtidal soft- and hard-bottoms) are within a quarter of a mile of the field station.
Mental Health and Rehabilitation
The Mental Health and Rehabilitation concentration prepares students with the basic knowledge and skills required for direct service case management in adult and older adult community mental health and rehabilitation services. The coursework covers fundamental counseling skills, abnormal psychology, supportive services for people with disabilities, and an overview of the community mental health system and allied services. Additional courses, also available at UMM, are required for full state certification.
Psychology
The concentration in Psychology provides an introduction to the discipline and equips students for entry-level positions in counseling, motivational consulting, human resources and community services. Students will develop marketable skills through selected coursework that situates psychology in a community environment.
Visual Arts