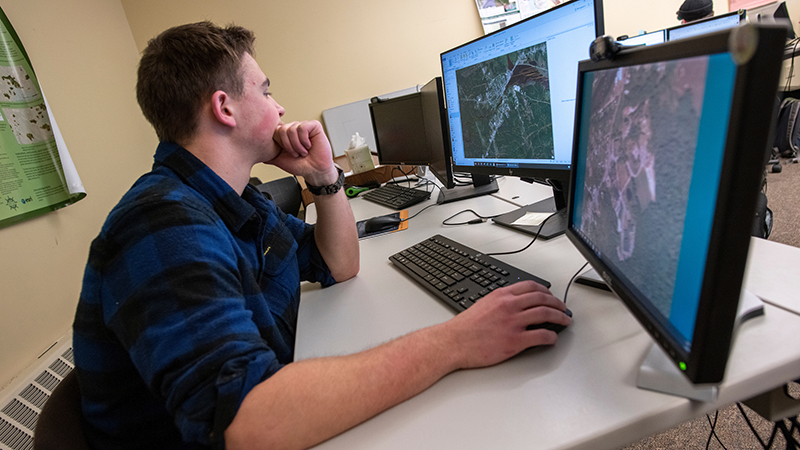 Expanding Early College program adds new certificates, scholarships
Enrollment has surged in the Early College program at the University of Maine at Machias amid an expansion that includes seven new certificate pathways and increased scholarship opportunities in response to workforce needs in the region and the state.
The program, which allows high school students to earn college credits at UMM, has seen an enrollment increase of 115% from this time last year.
Seventy-five high schools participate in the program, up from 21 in fall 2019.
New this year are certificates in aquaculture, conservation law, creative arts, geographic information systems, inclusive early childhood education, supporting diverse learners and outdoor leadership. 
Most of the 13–19 credit certificates can be completed online. The majority of students qualify for a full tuition waiver for up to 12 credits each year, funded by the University of Maine System and Maine's Department of Education.
Students who complete the certificates are offered scholarship opportunities if they enroll at UMM the fall after their graduation, including the opportunity to apply for a room and board waiver worth $4,600.
A new scholarship added this year provides $500 toward undergraduate tuition at any school in the University of Maine System.
Four students earned certificates at UMM in 2020: Madelyn Willey, Kaci Alley and Myah Jellison, all from Narraguagus High School, and homeschool student Samantha Moore. All four students enrolled in undergraduate programs in Maine's public universities this fall.
Alley is an economics major at the University of Maine and says she hopes to obtain a law degree and open a firm in Washington County. Jellison and Moore are both enrolled at UMM, Jellison in the education program and Moore in business and entrepreneurial studies.
Willey earned certificates in STEM and college studies, and is enrolled as an Honors College student in UMaine's biomedical engineering program. In an exit survey for Early College students, she wrote that she hopes to go on to medical school and ultimately return to her rural community as a practicing physician.
"[The program] gave me the confidence I needed to take on the seven years of schooling required for my career path," Willey adds.
Students can apply now for spring semester courses at explorec.maine.edu. For more information, contact UMM Early College program director Christy Alley, 207.225.1268, email ummearlycollege@maine.edu or visit machias.edu/earlycollege.