Unique opportunities for student–centered undergraduate research, examining local marine organisms and their ecosystems.
From the very beginning of your academic career at the University of Maine at Machias (UMaine Machias), you will work closely with your instructors both in the laboratory and in the field. Our faculty specialize in teaching outdoors to enhance hands-on learning. You will learn about the biology and ecology of marine plants and animals inhabiting oceans, rocky shores, tidal pools, marshes, mudflats, and other marine environments. From the small to the large, from algae to marine mammals, UMaine Machias's program in Marine Biology offers you a hands-on approach to the fascinating field of marine science. These experiences will provide you with skills highly valued by employers.
In addition to coursework, we offer you practical, work-based learning experiences. In particular, UMaine Machias has an ongoing partnership with the Downeast Institute (DEI) that serves as UMaine Machias's Marine Science Field Station, where you can conduct research in the area of shellfish and finfish research. Located 25 miles west of campus in the island community of Beals, about 30 minutes from the Machias campus, the field station is immediately adjacent to the ocean, overlooking a working waterfront with variety of marine habitats within a quarter of a mile of the field station.
Learning Objectives/Program Goals
To provide a rich and rigorous undergraduate experience in marine biology that focuses on the biological, social, and historic uniqueness of our geographic setting.
 To provide students an opportunity to enhance their analytical and communication skills through independent study or senior thesis.
 To provide students with access to mariculture or other marine-­based industries to enhance their competitive advantage in the job market.
 To prepare students to think critically at all junctures of their academic and work­ related careers.
 To provide rigorous training for students planning to further their education in professional studies or graduate school.
In addition to the core curriculum, students may choose an optional concentration to focus on a specific area of expertise within the marine sciences:
Coastal Conservation Concentration (23–24 credits)
Students take additional coursework in general ecology, conservation biology, environmental issues, and plant or marine ecology. 
Aquaculture Concentration (21–25 credits)
Students are prepared to seek careers in the growing aquaculture industry immediately after graduating. Coursework includes business and entrepreneurship and introduction to aquaculture as well as off-campus internship experiences that cover a broad array of choices for students such as finfish and shellfish culture, or sea vegetable farming. 
Marine Ecology Concentration (23–24 credits)
Students focus on additional coursework in marine ecology, experimental Design and analysis, geographic information systems (GIS), shellfish mariculture, and a variety of chemistry and biology courses. The marine ecology concentration is the best choice for students who wish to pursue a graduate degree in marine science or a related field.
Degree earned
Bachelor of Science in Marine Biology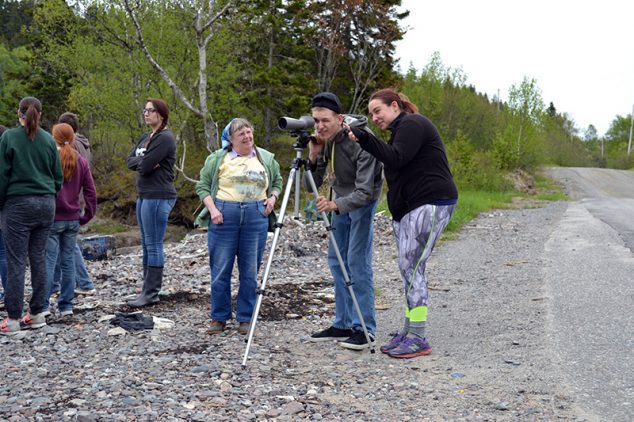 More ways to study marine sciences at UMaine Machias
➜ Choose concentration in marine biology or aquaculture as part of a two-year liberal arts associate degree. 
➜ Study aquaculture while you're still in high school through an Early College certificate pathway (tuition-free to qualifying Maine students). 
➜ With a minor in aquaculture or marine biology. Or, marine biology majors may choose complementary minors in other fields, such as geographic information systems, environmental studies or environmental science.