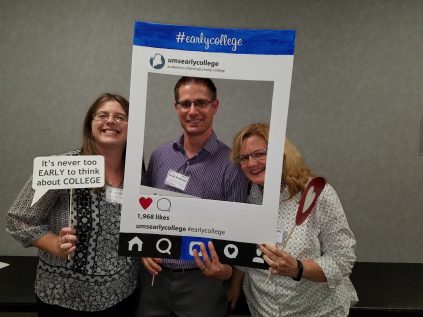 Director of Early College Christy Alley and Psychology & Community Studies Professors Uriah Anderson and Lois-Ann Kuntz
The University of Maine at Machias is committed to all students receiving the appropriate supports and resources they need to meet their potential. Qualified people with documented disabilities are entitled to reasonable accommodations that help create fairness in a person's academic and student life. Classroom accommodation is meant to enable students with a disability to access course information and to be tested in an appropriate manner.
If a student in the UMaine Machias Early College Program is currently receiving special education supports or has been professionally diagnosed with a learning disability or physical or mental impairment, please bring this to the attention of  Jo-Ellen Scribner, Manager of the Student Accessibility Services Office.  You can contact her by email at jscribner@maine.edu or by phone at 255-1340.  Ac
commodations cannot be provided retroactively, so please contact her prior to or at the very beginning of the course. In college courses, students always control when and if they choose to use accommodations for which they are eligible.
To learn more about UMaine Machias accessibility services click here.