How it works
The Bachelor of College Studies is a unique degree program that allows students the flexibility to design a custom curriculum.
Students in the BCS program may:
Complete a liberal arts core to develop proficiency in mathematics, history, cultural and social environments, communication and natural science
Design a custom concentration to suit their interests and career goals
Adjust their curriculum as they go*
Take courses on campus, 100% online or a combination of both. Learn more about UMaine Machias Online here.
Complete capstone projects and internship experiences in the subject of their choosing
Incorporate courses from any University of Maine System campus into their degree**
Transfer credits in from other colleges and universities**
*Students must have previously completed 45 credits in another program to transfer into a BCS degree.
**Students must take a minimum of 30 credits at UMaine Machias to graduate. Tuition rates at other campuses may vary.
Work closely with a faculty advisor
To begin your path to a BCS degree, you'll be asked to develop a program of study with a faculty advisor. Your proposal will describe what you hope to learn and achieve through your chosen curriculum.
Your proposal will be approved by a BCS committee. Throughout your academic career, you'll have opportunities to consult with your advisor and decide if the program is meeting your learning objectives, and working with your schedule. You'll have opportunities to make changes to the proposal with the approval of the BCS committee.
Plan your degree
To look at a what you'll need to submit as part of your concentration proposal, and to view a curriculum checklist download the BCS advising sheet. If you're transferring from another institution, you may use this checklist to get a sense of how your credits will apply to the BCS degree. Visit the admissions site for more information about applying as a transfer student.
Degree earned
Bachelor of College Studies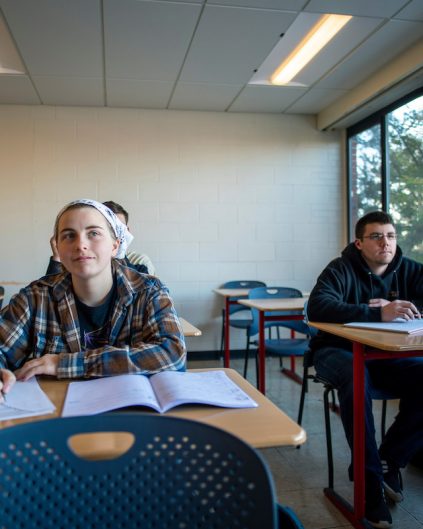 What can I study?
As a BCS student, you'll be able to develop a program of study based on far-ranging interests. Recent BCS graduates have received degrees with a wide variety of inventive, multidisciplinary concentrations, including:
➜ Communications and Social Sciences
➜ Educational Development and Cultural Relations
➜ Electronic Publishing
➜ Holistic Health and Behavioral Sciences
➜ K-12 Classroom and Instrumental Music
➜ Marketing and Psychology
➜ Policy and Legal Studies
➜ Special Education
➜ Youth Psychology and Recreation