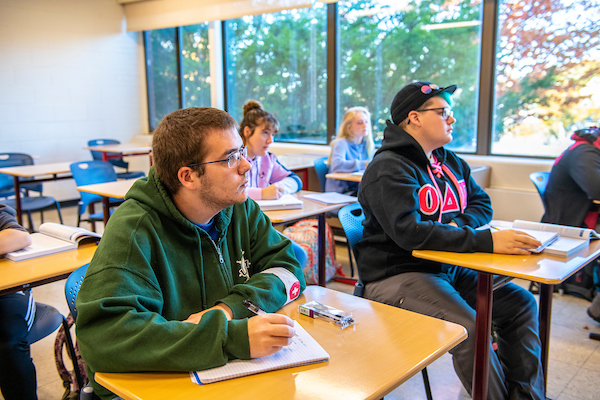 Why UMaine Machias?
Earn your degree on campus or online. To learn more about enrolling as an online student, visit UMM Online.
Perfect for students who have already acquired some college credit but are not sure how to complete their degree. College Studies majors may design a program of study that incorporates their existing coursework and sets them on a clear pathway to a viable career.
Students work closely with an advisor and BCS committee to ensure they are meeting degree progress goals. With the approval of the committee, students are able to request changes to their course electives throughout the curriculum to ensure the program meets their educational goals and scheduling needs.
The Bachelor of College Studies degree offers a flexible, custom curriculum that can be completed online or on campus.
The Bachelor of College Studies helps the University of Maine at Machias (UMaine Machias) maintain its flexibility to create unique programs.
Students pursuing a bachelor's degree may be interested in UMaine Machias's Bachelor of College Studies (BCS) Degree. With the advice and guidance of the BCS committee, the student crafts an individual interdisciplinary set of courses that fits his or her background and educational goals. By design, this degree meets the unique needs of traditional, non-traditional, and returning students who are not otherwise served by existing programs.
A focus in special education may be integrated into the BCS degree. Students who are seeking teacher certification through this degree must successfully pass the Praxis Core Academic Skills for Educators exams, the Praxis content area test for this area (#5354), as well as the Praxis Principles of Learning and Teaching (PLT) test as part of their Maine Department of Education application for initial teacher certification.