Checklist for Admitted International Students
This information is for international students who have been accepted to the University of Maine at Machias, and have received their Form I-20. If you're an international student looking for information on applying, click here. If you're looking for the checklist for admitted domestic students, click here.
Once you receive your Form I-20, fill out the enrollment confirmation form to let us know you're coming to UMM!

The confirmation deposit is waived for international students.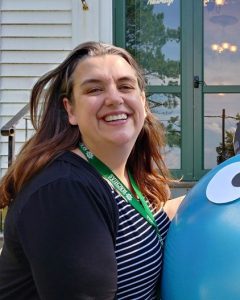 Welcome to the University of Maine at Machias! As Dean of Admissions and Student Life, it's my pleasure to congratulate you on your admission, and welcome you to our small campus community on Maine's Bold Coast.
We're honored to have the opportunity to admit students from all around the world, and so glad that you chose to join us. International and intercultural collaboration brings an exciting opportunity for all UMM students to broaden their perspectives, explore new ideas and build a sense of community, together.
This guide contains important information for the international members of our Clipper family. I encourage you to read the checklist carefully and reach out to your campus contact if you have any questions. From our admissions counselors to our faculty advisors, resident assistants and academic support staff, we're all committed to providing resources for international students that increase their chances of success in college.
I'll see you on campus!
Marnie Kaler, Dean of Students and Admissions
---

Pre-arrival checklist
If you've been notified of your acceptance to the University of Maine at Machias, congratulations! Make sure you've completed these steps:
IMPORTANT! Once you receive your Form I-20, make sure you confirm your enrollment at UMM by completing this form.
Activate your online accounts. Students accepted to UMM should plan to check their maine.edu email account and MaineStreet portal, accessible through the myCampus Portal. You will receive important information at your @maine.edu email account from Admissions, Financial Aid, Housing and other campus offices. Steps on how to activate your accounts is on the Tools Menu on our website. Activation information was emailed to you after you submitted your admission application.
Apply for on-campus housing after you confirm your enrollment. We encourage you to apply and register as soon as possible. You must be logged into your myCampus portal to fill out the housing application.
Apply for your Visa and pay all appropriate fees.
See the Visa section for more information.
Submit your Immunization records. You must provide these records before enrolling in classes. More information is available here.
Make your travel plans and let us know the details of your travel arrangements.
See the Travel section for more info.

Visa Process
Pay the Student Exchange and Visitor SEVIS fee at fmjfee.com. Print and save a copy of the receipt and take it to your visa interview appointment. Canadian citizens must pay the SEVIS fee prior to entering the U.S. and should carry the receipt with them.
Once you receive your letter of admission with I-20 form, you need to obtain your visa at the U.S. Embassy or consulate. Make sure the name on the I-20 form matches the name on your passport.
Canadian citizens do not need a visa, but they will need to show the following four documents at the border: a passport; I-20 form; a copy of the SEVIS fee payment receipt; and proof of financial support.
You must provide proof of financial support for your studies or program, and living costs at the visa interview and at a U.S. Port of Entry.
When you make your initial entrance in the U.S., your visa stamp and I-20 form must be for the University of Maine at Machias. Transfer students may enter with the visa stamp for the previous school.

Travel information
Travel plans
After securing a visa, make your travel plans.
You may arrive in the U.S. up to 30 days before the date shown on your I-20 form; however, you should not arrive later than the date listed.
IMPORTANT! Submit your ARRIVAL DETAILS here.
Luggage
Do not send luggage in advance of your arrival. The university does not have adequate storage.
Place tags or labels on all suitcases and hand luggage, with your name and University address: 116 O'Brien Ave, Machias, Maine, 046454. Phone: 207.255.1200.
Include a copy of the address inside each suitcase in case the tag is lost or destroyed.
If a piece of luggage is lost, immediately file a claim at the airport. Temporary loss of luggage is common, especially when making connecting flights in a short period of time. It is recommended to have enough clothing and personal items packed in carry-on luggage to last for two to three days.
Travel documents
Your passport must be valid for at least six months, with the appropriate visa.
You must carry your original I-20 form issued by the University of Maine at Machias.
Border control agents will stamp your passport with the date of entry and immigration status: F-1 or J-1. They will also create your electronic I-94 admission document. Be sure to access your I-94 as soon as possible after your arrival online at: cbp.gov/I94.
While traveling, carry all important documents, money and bank drafts with you. Guard them carefully. Do not place them in your suitcase.
Carry emergency contact numbers.

Arrival and Orientation
Arrival:
Please plan to arrive in Orono on January 19 or January 20, 2021, in order to attend our mandatory orientation program beginning January 21.  You are required to attend this orientation on the Orono campus before traveling to Machias.  We will provide a place to stay on the Orono campus during orientation, and will provide transportation to Machias on Saturday, January 23. You will also complete your Covid-19 testing on arrival. 
Be sure to submit your arrival details so we can coordinate your arrival, even if you do not need transportation from Bangor to Orono.  Submit your ARRIVAL DETAILS here.
Students who arrive earlier than January 19 will be charged an early arrival fee of $550, to cover the cost of housing and meals.
Orientation:
Attendance at Orientation is mandatory.  Orientation will be held January 21-22.  
Spring 2021 Orientation Schedule
Following Orientation on the Orono campus on January 21-22, we will provide transportation to the Machias campus on Sunday, January 24. 
UMaine Machias orientation is on January 23 and 24. Visit the UMM general orientation website for all new students for information on Academics, IT, and Campus Life. 
Classes begin Monday, January 25.
Moving in to your residence on-campus:
Students will be able to move into their residence hall on the Machias campus on Sunday, January 24.  Be sure to submit your arrival details here.

Course Registration
U.S. Academic Information
Our Academic Advising office has a lot of very helpful information. Review it and then complete the steps below:
Financial Terms and Conditions
All students must complete the "Financial Terms and Conditions" before enrolling in classes.  Log in to your MaineStreet account to do so, via your "to do" list. See Video Tutorials before about how to navigate MaineStreet.
Immunizations
Maine law requires all students born after December 31, 1956 to provide proof of immunizations.  View immunizations requirements here.
Video Tutorials
How to activate your MaineStreet account
How to create a Wish List and enroll in classes

Health Insurance
All students are required to be enrolled in an insurance plan.  Students can enroll in the University of Maine System's International Student Insurance plan, or they can purchase their own.  Students who wish to purchase their own insurance must submit a waiver form before February 20, 2021.  Click here to confirm your enrollment in the University of Maine System's insurance, or to waive out of the insurance plan.