Study Center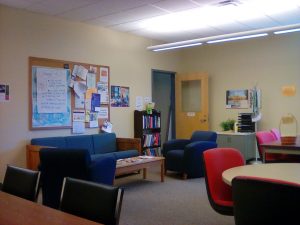 The UMM Study Center is located on the second floor of Torrey Hall, Room 225. It is open Monday through Friday from 8:00 A.M. to 8:00 P.M. It is available for individual and group study with conversation welcome.
There is an additional space (through the open door shown in the picture) to a smaller conference room (Torrey 225B) where students may work quietly if 225 is in "talking" mode, or may study with more conversation if students in 225 are studying quietly. Available for individuals or groups by reservation as well, this space will be equipped with a computer so that video conferencing will be possible. It is currently equipped with a UMM phone [255-1232].
The Study Center has:
3-wall-mounted and  1- rolling whiteboard available for student use
four public UMM computers
a student-accessible printer ($0.04/page charged to Clipper Card)
UMM phone access [255-1397]
Reference and textbooks
Wi Fi access
A free recharging station for mobile devices (on top of bookcase next to door to 225B in the photo above)
A Keurig machine for those who wish to bring their own cups, coffee, etc.
Some study aids that may be signed out and borrowed including:

"wobble" chair cushions for people with back problems or ADHD
Noise-reducing headphones
Irlen color overlays for people with Scotopic Sensitivity reading issues [we are also able to screen for this condition, by appointment]
The Study Center is also home base for the UMM Student Tutor Program. There is no fee for tutor services, and tutoring is a paid position under both Federal Work Study as well as through Departmental funds. If you are interested in becoming a Student Tutor, please contact the Study Center Office. The phone number is 255-1264, or you can email the Coordinator, Lori McBrine . The office (227B) is located in the suite of offices next to the Study Center and conference room on the second floor of Torrey Hall.
Do you need a tutor? Some course instructors will have made arrangements for Student Tutors to be available for students in need of some additional support, so check with the professor. In fact, it is always a good idea to let your professor know if you don't feel you are "getting" the class the way you should or want to.
It is also possible to contact the Study Center Coordinator (lori.mcbrine@maine.edu) to see if tutors are available.
If you think you are having problems learning, and don't know what ways you learn best, contact Lori to make an appointment to investigate strategies that might help you learn. We all learn in different and unique ways, so if you don't know what ways work best for you, get in touch.