Meghan Wilson Duff
Meghan Wilson Duff is an associate professor of psychology in UMM's Psychology and Community Studies Program. Originally from southern Vermont, Meghan studied Russian language and linguistics and physical anthropology and human biology at Emory University and holds a doctoral degree in clinical psychology from Antioch University New England. They previously worked as a child and family therapist and an adolescent substance abuse treatment provider. They currently teach MHR courses for the Mental Health & Rehabilitation minor available at University of Maine and University of Maine at Machias, as well as psychology courses including Personal Growth and Abnormal Psychology.
Meghan was selected as a 2003–2004 NH/VT Schweitzer Fellow while completing their graduate work, and has continued to support the fellowship program. The Schweitzer Fellowship was started to develop leaders in service from different professions to address health and wellness needs of communities and achieve health equity. Their service work influences their teaching, and they are happy to be part of a program that integrates Service Learning and Community Engagement (SL/CE) throughout the curriculum.
They are also part of the National Writing Project and Maine Writing Project, as well as the Society of Children's Book Writers and Illustrators. They are the author of How Are You, Verity?, illustrated by Taylor Barron and released by Magination Press. For more information about their writing, visit their author site.
Education: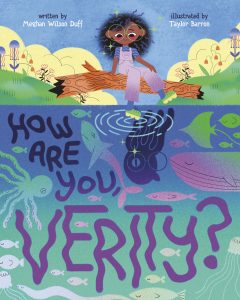 B.A., Emory University
PsyD., Antioch University New England