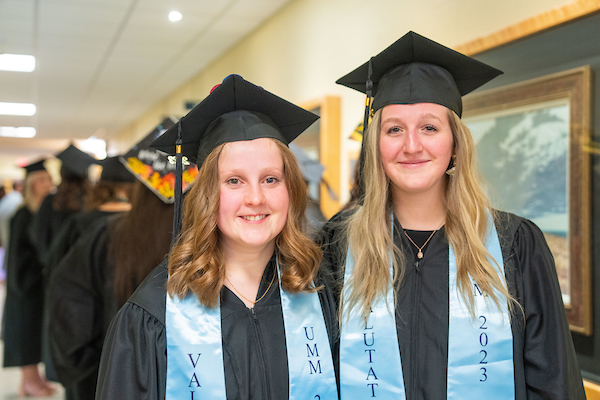 UMaine Machias held its 112th commencement May 5
The University of Maine at Machias welcomed students, family, faculty and staff to the 112th commencement at the Performing Arts Center on May 5 at 11 a.m. to watch 75 graduates receive their degrees.
The ticketed event was livestreamed, with two additional viewing areas available on campus — Science 102 and the Reynolds Center conference room. No tickets were required in the livestream viewing venues.
A car parade of graduates down Main Street followed the ceremony. The parade began at the Crandlemire Support Building on campus and ends in the parking lot across from Pat's Pizza.
Katie Leighton of Pembroke and Rachel Maker of Machiasport are the 2023 University of Maine Machias valedictorian and salutatorian, respectively. Both are education majors with concentrations in elementary education and minors in English. Leighton, who completed her coursework in December, plans on teaching within Washington County. Maker has been student teaching for the past semester and has worked at Elm Street School in East Machias for the past few years as an ed tech. 
The 2023 commencement address was delivered by Leigh Alley, a 2002 UMaine Machias graduate and president of the university's Alumni Association. Alley is an assistant professor of education at the University of Maine at Augusta and executive director of Maine ASCD. The lifelong resident of the Jonesport and Beals Island area completed an Ed.D. in transformative leadership at the University of New England in 2016.