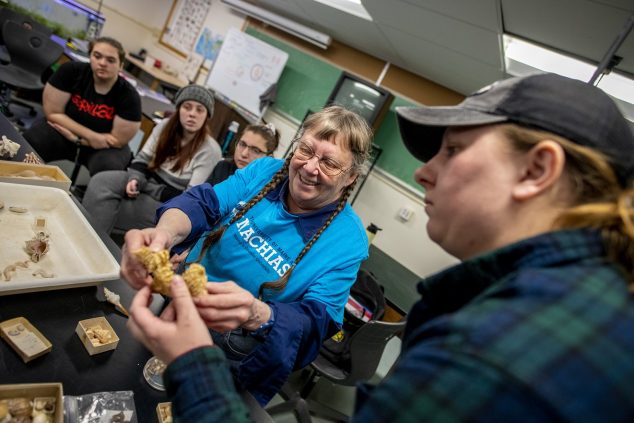 Contact Us
Eric H. Jones
Assistant Professor of Plant Biology
207.255.1267
eric.jones1@maine.edu
125 Science Building
Why UMM?
Classes work closely with local organizations, such as Inland Fisheries and Wildlife and the Downeast Salmon Federation. With DSF, students work directly with endangered Atlantic salmon species on projects ranging from surveying to habitat restoration.
Students have an opportunity to participate in a genetics lab workshop with the Jackson Laboratory in Mount Desert Island.
As a biology major at UMM, you'll learn in the classroom, laboratory and in the unique outdoors of coastal Maine. UMM is located mere minutes from the Atlantic Ocean. We are set among pristine forests and unspoiled rivers and lakes.
UMM students actively study biology, combining critical laboratory techniques with wide-ranging field explorations to investigate the central practices of modern biology. Your classes will be small and you will have ample opportunity to work closely with your instructors throughout your studies. From genetics to ecology; the study of microscopic species to the large mammals of the forests of Maine – you will become familiar with the full range of biological science. Biology majors also benefit from an NSF-funded Geographic Information Systems Lab, which is a powerful tool for mapping and biological research.
Students may complete optional concentrations in:
Wildlife Biology
Fisheries Biology
Health Professions