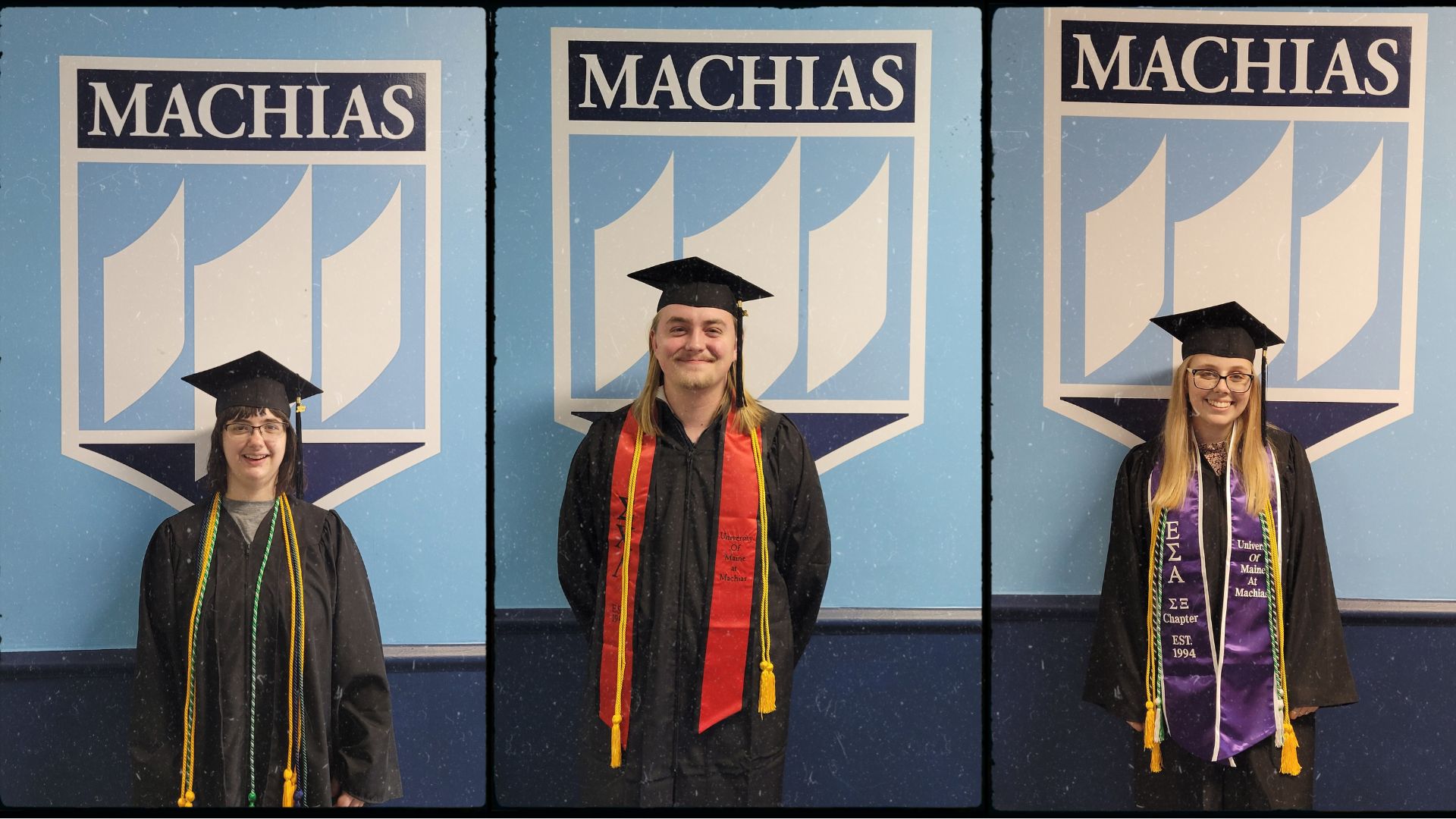 Three outstanding seniors honored at UMaine Machias commencement
Three outstanding seniors at the University of Maine at Machias were honored during the 112th commencement ceremony on May 5.
Each year, the senior class chooses one student to receive the Ivy Orator award, which honors the enduring friendships, wisdom and knowledge graduates have gained and their hopes for the future. This year's award winner was Evan Busch, a marine biology major from Stoddard, New Hampshire. A brother of Sigma Chi Lambda, Busch was involved in many organizations on campus, including the SHIELD (Student Health Initiative Education & Leadership) student organization and the game club. 
Busch also spent his time on campus working in residence life, as student manager at the Merrill Library and as a research and shellfish hatchery intern at the Downeast Institute on Beals Island. In fall 2024, he plans to attend graduate school to conduct research on either cetaceans or sharks. 
Rachael Smith and Keely Tibbetts were selected by faculty to receive the annual Senior Watch Award for their citizenship, leadership and service to the UMaine Machias community.
Smith, a native of Bradford, Maine, graduated with a bachelor's degree in marine biology with a coastal conservation concentration and minors in zoology and botany. During her time at UMaine Machias, she was a student representative to the University of Maine System Board of Trustees, the 2022/23 policy scholar, a member of Epsilon Sigma Alpha and a student tutor. Smith also was a student manager at Merrill Library and a member of SHIELD. 
For internships, Smith worked at the Downeast Institute from 2019 – 20, the Dolphin Research Center of Grassy Key, Florida in 2021, and at the Downeast Institute as a Maine SEA fellow. She will be attending the University of Maine School of Earth and Climate Sciences. in the fall to earn a master's degree and study the effects of climate change on salt marshes. 
Tibbetts of Machias, Maine, earned a bachelor's degree in psychology and community studies with a minor in counseling. Diagnosed with Cerebral Palsy (CP) at the early age of four, Tibbetts quickly learned that determination would be key in helping her achieve personal goals and 
academic and physical success.
Throughout her entire time at UMM, she also participated in student government. As a first-year student, she started as a senator and was elected vice president in her sophomore year, a position she held until graduation. Following graduation, Keely plans to secure a job pertaining to her field of study and pursue a masters degree in counseling with a rehabilitation concentration.