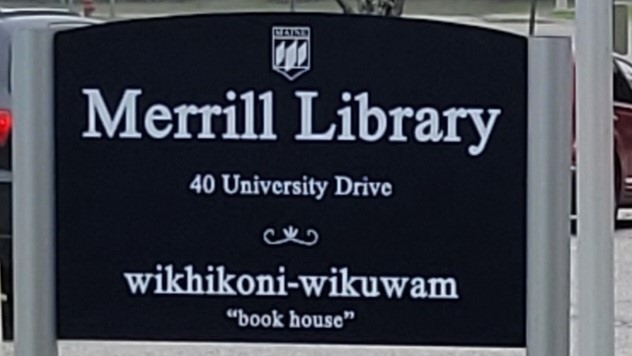 Bilingual building signage in Passamaquoddy and English now at UMaine Machias
Machias, Maine — New bilingual exterior building signs at University of Maine at Machias in English and Passamaquoddy have been installed on campus, reflecting the recognition of its location on Wabanaki land.
The UMaine Machias signage is in keeping with UMaine's exterior signage in English and Penobscot that was first installed in 2019. The new signage also updates the branding of the University of Maine's regional campus.
Assistant coordinator of Native American student outreach and development Jennifer Isherwood contacted Newell Lewey of the Passamaquoddy Nation for the translations of new exterior signage for the Machias campus. Lewey, the cultural and language manager of Wabanaki Public Health and Wellness in Bangor, is a local Passamaquoddy language instructor. He chairs the Maine Indian Tribal-State Commission.
"Our bilingual signage is an important point of pride and conversation-starters in our inclusive communities, raising awareness, and prompting opportunities to learn from the past, build from the present and inform our future," says Joan Ferrini-Mundy, president of the University of Maine and University of Maine at Machias.