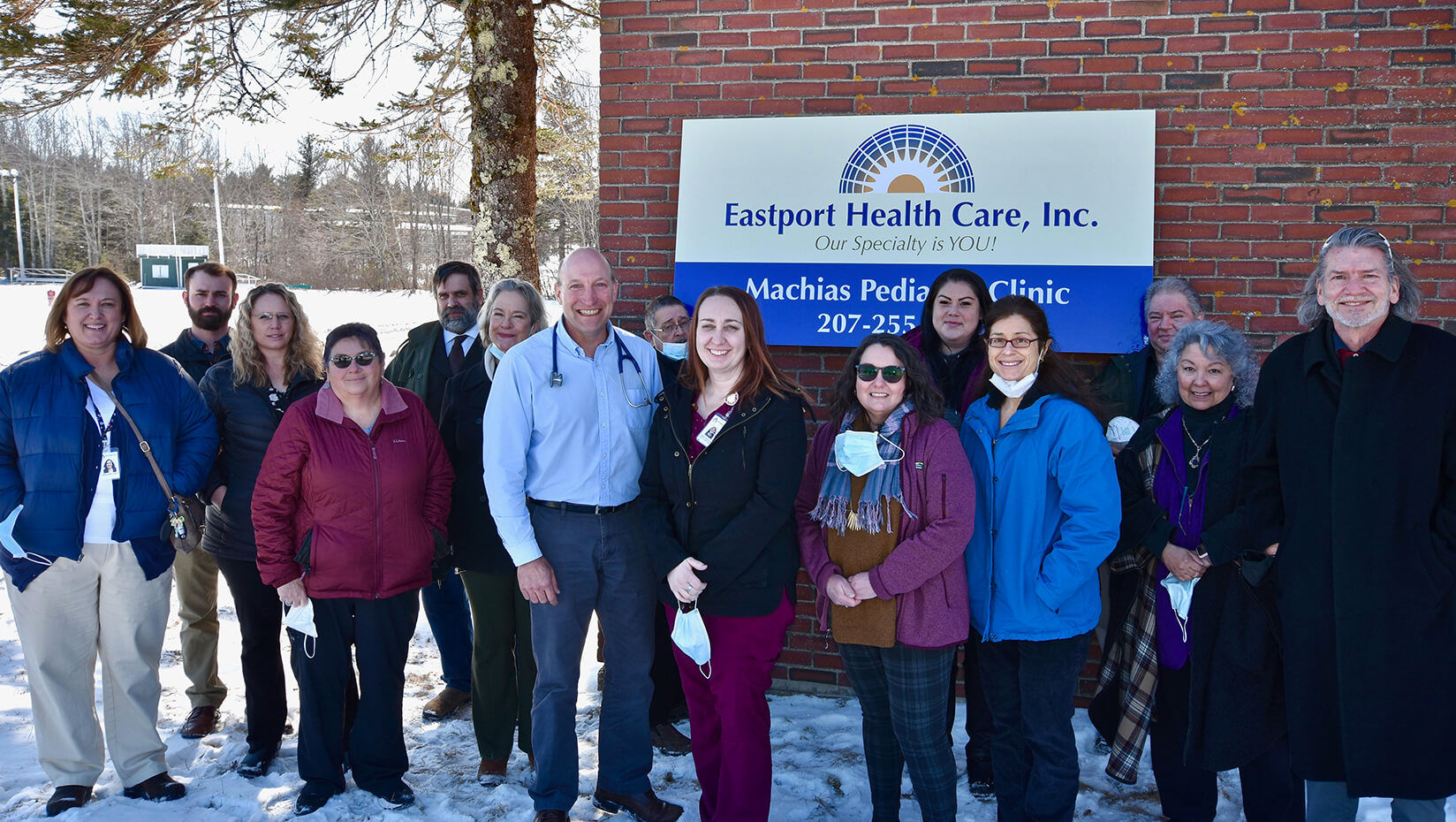 Eastport Health Care opens pediatric clinic on UMaine Machias campus
Eastport Health Care Inc., now has two locations in Machias with a new pediatric clinic located on the first floor of Sennett Hall at the University of Maine at Machias.
EHC UMM Pediatrics opened Feb. 28 with hundreds of new patients, newborn to age 18, and a clinical support staff led by Alfred Wakeman, a certified physician assistant specializing in general pediatrics and a member of the Washington County community for decades. EHC UMM Pediatrics is open from 8 a.m.– 5 p.m. Monday–Friday, and can be reached by calling 207.255.0980.
EHC, with locations in Eastport, Machias and Calais, is a Federally Qualified Health Center (FQHC), providing comprehensive medical, dental and behavioral health care to residents of Washington County and beyond. EHC provides chronic illness management, health education and prevention programs, and support in connecting patients to community resources, and also offers eligible patients a sliding fee discount program. EHC is a nonprofit entity that receives a portion of its funding from the Health Resources and Services Administration, an agency of the U.S. Department of Health and Human Services. 
In the new location, EHC anticipates providing 5,000 childhood vaccinations a year, including those for COVID-19, and disseminating at-home COVID test kits for patients and their families.
The pediatrics clinic with four patient rooms, including a procedure room, occupies more than 3,500 square feet on the first floor of Sennett Hall, a residence hall that has been unoccupied on campus since fall 2019. EHC has signed a lease with the University of Maine System to locate the new clinic in the building until all EHC Machias-based services relocate in the next 24 months to a larger facility in the community, possibly a now empty, 10,000-square-foot former retail store. EHC also has primary care and behavioral health services at 53 Fremont St., Machias, all of which will join pediatrics in the future setting.
EHC UMM Pediatrics is planning a grand opening in the coming weeks.
"We needed to open quickly, in order to offer a continuum of care for children here in Washington County, and we needed to find the right place," says Ellen Krajewski, MPH, CEO of Eastport Health Care, Inc. "UMaine Machias was very welcoming and receptive. EHC has had an ongoing partnership with UMaine Machias, partnering on COVID vaccination clinics for students, employees, and the public, and previously collaborating on health professions education. This was the next step and an important collaboration for our community."
UMaine Machias has a strong commitment to engagement and has long collaborated with community partners such as EHC to contribute to the quality of life in Washington County, says Daniel Qualls, UMaine Machias vice president for academic affairs and head of campus. "We welcome EHC UMM Pediatrics to campus and look forward to exploring possible learning opportunities for our students with the growth of Eastport Health Care in Down East Maine."
Through an advertisement in local newspapers, EHC announced that it was expanding its services and welcomed new pediatric patients. The response was overwhelming, says Krajewski, with the first of the many new patients scheduled for appointments on the clinic's opening day. Some have known Wakeman throughout their childhood.
"Alf has been in Machias for many years and is beloved in Washington County, where he has been one of only a few pediatric providers," she says. "He goes the extra mile to care for young patients and he is extremely popular. Expanding the face of EHC is an investment in our future. Taking care of our children's health now means a healthier future for Washington County."
The EHC Board of Directors is very pleased to offer local quality pediatric primary care to our families, says board chair Marilú Scott. "The expansion at (UMaine Machias) will allow Eastport Health Care to strengthen full-service primary care for the entire age spectrum in easily accessed locations. The EHC Board of Directors is also excited about this collaborative effort with (UMaine Machias). They share our commitment to the community."
Contact: Contact: Margaret Nagle, nagle@maine.edu