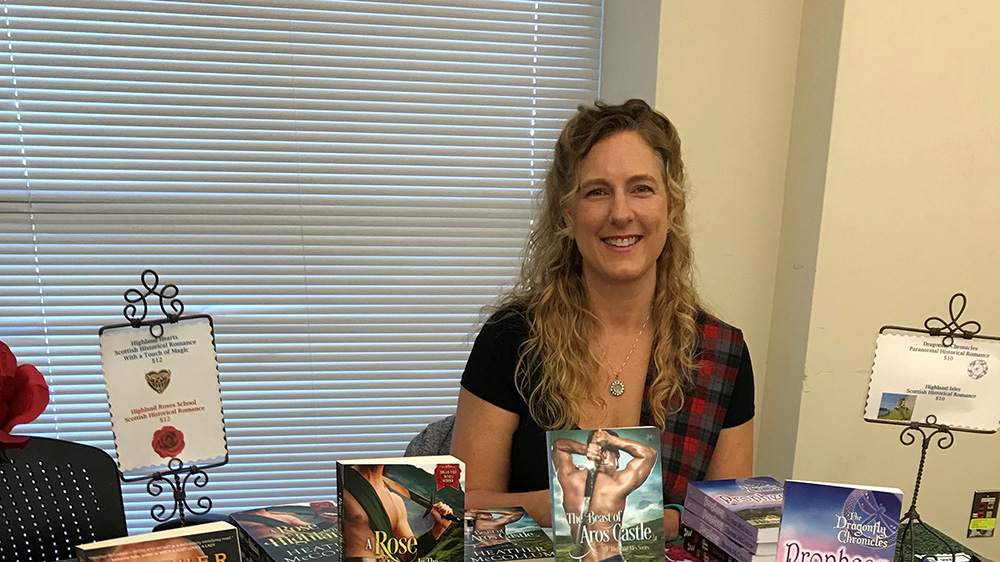 Alumni Spotlights: Heather McCollum '93
This month our spotlight shines on Heather (Crouthamel) McCollum from Virginia. Since her graduation from UMM's biology program in 1993, McCollum worked in drug development for fourteen years before finally realizing and following her dream in writing full time. Now Heather is a successful published author with 22 novels she has published to date. Heather now resides with her husband, Braden, and children in North Carolina.
Tell us a little bit about what you are doing now. 
Hi everyone! I am Heather McCollum, previously Heather Crouthamel. I am an author of 22 full-length novels and two novellas. Most of my published books are Scottish historical romances set in the 16th century with brawny Highlanders and feisty heroines. Five of my books are paranormal historical romances; I have also written a young adult paranormal trilogy set in current times.
I am a mom of three (ages 14, 20, 22) and an ovarian cancer survivor, all of which keeps me very busy when I'm not writing or running my writing business. We live in North Carolina and continue to journey up to Jonesport every summer.
What is the most valuable thing you learned while at UMM?
Going away to UMM from Virginia taught me how to be independent. I didn't know a single person when I showed up for the Maine Experience the week before classes started. And I survived! I made life-long friends and met my future husband at UMM (Braden McCollum).
My degree in biology made it possible for me to work in drug development for 14 years before finally realizing and following my dream to write full time and publish.
I also learned never to eat ALL the fruit at a fraternity party!
Do you have any advice for current students at UMM?
When we are in school, making decisions that will change the courses of our lives, many of us agonize over making the "right" choice. My daughter is going through this right now as she applies to law schools.
My advice? First, there are no wrong choices. Your journey is your journey. It might be convoluted (like mine), but those twists and turns make your life richer.
And second, if you don't like your choice, make another one.
I was drawn to UMM because I wanted to be a marine biologist. I worked hard to earn a degree in biology even though I loved writing. I saw writing only as a hobby. After graduating, I moved to Raleigh to attend North Carolina State University for graduate school in cellular immunology. After a year working with melanoma cells, I realized that I did not want to work in a lab. I withdrew and found a job in drug development, managing clinical trials. I continued to write in the evenings while starting my family.
Finally, at the age of 37, I realized my dream of becoming a published author. But I wouldn't trade any of those steps along the way. I learned so very much about the world and about myself. If I had known from the start that I would be a writer, UMM may not have lured me to the coast of Maine, and Braden and I wouldn't have met.
If you are worried you will make the wrong choice, please know that you are right where you are meant to be, and you can always make another choice to change your journey. Bravely choose and then adjust as you go forward.
How did your time at UMM prepare you for what you are doing now?
Since I am no longer working in the science industry, most of my classes did not prepare me for writing Scottish historical romance. But I did learn about life and taking chances in order to grow — lessons that are incredibly valuable.
Taking a moment to be incredibly sappy: I also met the love of my life in college, which has helped me write love stories!
How has UMM made a positive impact on your life?
The brilliant and caring professors taught me so much about learning and life. We still visit with Dr. Kraus and Stu and Cathy Swain. With the small class sizes, I was able to get to know my professors on a personal level, learning not only science from them, but integrity, curiosity about the world and the mechanics of being an adult. Their example and teachings taught me to be a better human being.
Also, meeting Braden at UMM has made a huge positive impact in my life. We've had three children and have met challenges together. He even poses for all the Highlanders on my romance novels! Just kidding! Although he does wear his kilt to my book signings.
Seriously though, 10 years ago, while I was fighting ovarian cancer, Braden literally carried me when I couldn't walk through the 15 months of chemo. He fought just as hard as I did to save me. The support he gave me, along with support from family and friends, truly helped save my life. I call that a positive impact!
For more information about my books or my cancer journey, you can find both on my website.