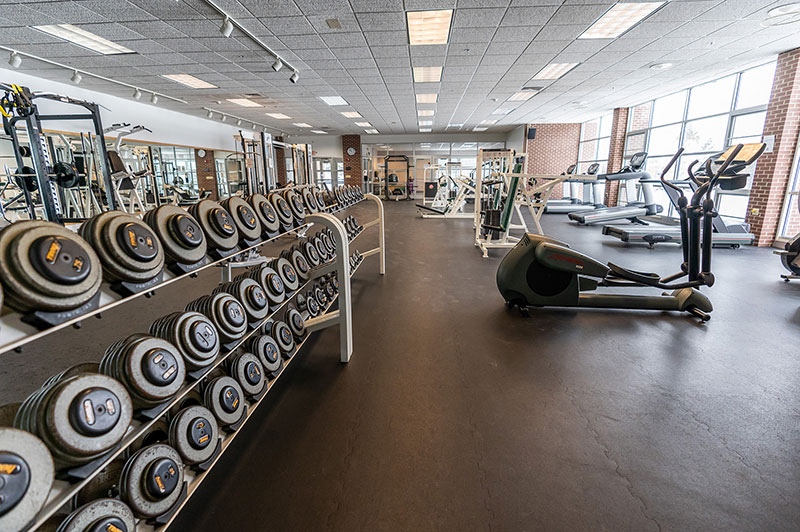 UMM fitness center will reopen to members March 1
The Murdock Fitness and Aquatics Center at the University of Maine at Machias will reopen its fitness facilities on March 1. A pool reopening date has not yet been scheduled.
The fitness center will open 6 a.m.–7 p.m. Monday–Friday and 11 a.m.–7 p.m. Saturday to anyone with active membership as of March 15, 2020. Day passes and new memberships are not available at this time.
After a brief reopening in October, the fitness center closed to community members again in November following an increase in reported cases of COVID-19 in Washington County. It has remained available for use by students, faculty and staff.
"The last few months have shown us that safe use of the fitness center is possible if we are vigilant and respectful of protocols," says UMM Dean of Students Marnie Kaler. "Following a sustained downward trend of new COVID-19 cases in Maine, we're excited to have the opportunity to welcome our valued community members back to the gym."
Kaler says fitness center staff are in the process of drafting new membership policies and integrating existing memberships with WebTrac, a user-friendly online interface for managing payments, renewals, fitness class schedules and more.
"We recognize that this has been a frustrating year for our members, and want them to know our ultimate goal is to improve every aspect of the fitness and aquatics center experience," she says. "While we remain cautious about the ongoing pandemic, we are optimistic that we can announce a pool reopening date soon, and that accepting new members and resuming fitness classes also is on the horizon."
Members will be required to follow health and safety protocols to limit the spread of coronavirus, including wearing a face mask at all times, including during exercise; observing posted capacity limits; and maintaining at least six feet of distance from other members. 
For more information or to request a reasonable accommodation, call 207.255.1408, visit machias.edu/fitness-center, or follow the new official Facebook page for the fitness center, fb.com/ummcampusrec.