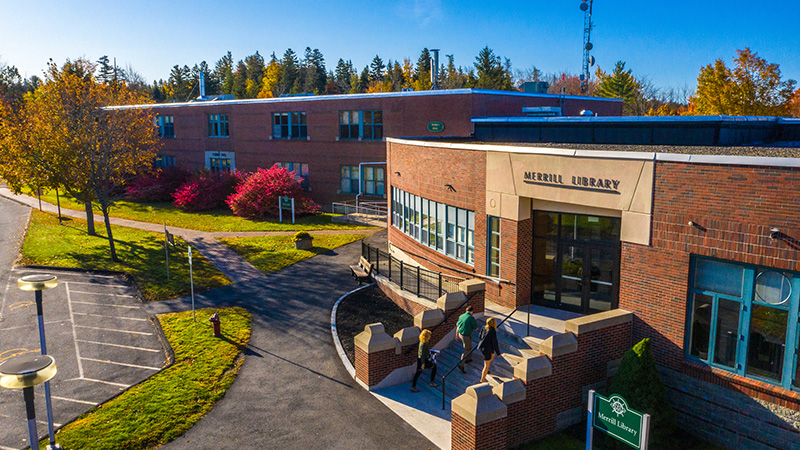 University of Maine at Machias announces spring 2020 Dean's List
The University of Maine at Machias recognized 271 students for achieving Dean's List honors in the spring 2020 semester. Of the students who made the Dean's List, 228 are from Maine, 31 are from 14 other states and nine are from seven countries other than the U.S.
Due to the unusual and challenging circumstances faced this semester amid the global pandemic, the university has modified its Dean's List policy for the spring 2020 term. Some requirements to be eligible for Dean's List have been waived. Instead, students will be eligible 1) if they earned Dean's List recognition in fall 2019 and have placed all of their spring 2020 courses on pass/fail; or 2) if they have earned a minimum GPA of 3.25, regardless of the number of credits taken, in spring 2020.
Also available is a breakdown of the Dean's List organized by Maine counties.
Please note that some students have requested that their information not be released; therefore, their names are not included.
| Last Name | First Name | City | State | Country |
| --- | --- | --- | --- | --- |
| Al Naamani | Mohsin Saif | Seeb | Muscat | OMN |
| Allen | Abbey | North Monmouth | ME | USA |
| Alley | Hannah L | Addison | ME | USA |
| Amador | Kathy Marie | Jonesport | ME | USA |
| Amico | Amy Elizabeth | Cumberland Center | ME | USA |
| Andreucci | Antonio D'mitri | Eastport | ME | USA |
| Arcuri | Savanna | Harwinton | CT | USA |
| Atkinson | Kate Burton | East Machias | ME | USA |
| Austin | Rhyanna Elizabeth | Machias | ME | USA |
| Bailey | Melissa Hope | Windham | ME | USA |
| Barker | Dayna Lynn | Columbia | ME | USA |
| Bassett | Brianna Marie | Bangor | ME | USA |
| Beal | Atrisha Lee | Machiasport | ME | USA |
| Belanger | Destiny Faye | Harrington | ME | USA |
| Belch | Jessica Lynn | Saint Francis | ME | USA |
| Benner | Michael Carmen | Cherryfield | ME | USA |
| Bennett | Molly Rose | Orono | ME | USA |
| Berry | Sharon N | Marshfield | ME | USA |
| Berube | Lindsey | Brookline | NH | USA |
| Blackie | Alex James | Old Town | ME | USA |
| BlanchardBeal | Tricia Lynn | Cherryfield | ME | USA |
| Blyther | Teresa | East Machias | ME | USA |
| Boone | Victoria Renea | Pembroke | ME | USA |
| Boucher | Avery | Williston | VT | USA |
| Bozzelli | Camille Ruth | Dover Foxcroft | ME | USA |
| Bradbury | Nicolas Reed | Eastport | ME | USA |
| Bragg | Deanne M | Jonesboro | ME | USA |
| Brooks | Katie Ann | Jonesport | ME | USA |
| Burtt | Alisha | Sturbridge | MA | USA |
| Campbell | Ian Andrew | Trescott Twp | ME | USA |
| Candelario | Alondra S | Thousand Oaks | CA | USA |
| Carney | Heather Sue | Cherryfield | ME | USA |
| Carver | Hannah E | Cutler | ME | USA |
| Carver | Nathan Greta | Orono | ME | USA |
| Chandler | Amanda Yvonne | Addison | ME | USA |
| Chase | Aquila Fierce | Monson | ME | USA |
| Chase | Esther J | Warren | ME | USA |
| Cobleigh | Marcus | Dayton | ME | USA |
| Correira | Lucas J | Eastport | ME | USA |
| Cote | Megan | Perry | ME | USA |
| Coulibaly | Elizabeth | Bamako | | MLI |
| Cox | Ellie Mae | Baileyville | ME | USA |
| Cramer | Cloey J | Columbia | ME | USA |
| Crawford | Eric Jamal Deshaun | Grayson | GA | USA |
| Cropley | Carrie Anne | Baileyville | ME | USA |
| Cushing | Cara Anne | Whitneyville | ME | USA |
| Czwakiel | Andrew Scott | Springfield | VT | USA |
| Davenport | Sharon Marie | Machias | ME | USA |
| Davis | Amber R | Addison | ME | USA |
| Davis | Brielle Paige | East Machias | ME | USA |
| Davis | Skye LeaAnn | Lubec | ME | USA |
| Davis | Travis | South Berwick | ME | USA |
| DeLauney | Chloe A | Milford | ME | USA |
| Dever | Jack A | Woburn | MA | USA |
| Dhakal | Ankit | Calais | ME | USA |
| Diallo | Cheick Hamidou | Bamako | | MLI |
| Dickinson | Lacy J | Oakfield | ME | USA |
| Dickinson | Margaret M | Lisbon Falls | ME | USA |
| Dolley | Tate C | Machias | ME | USA |
| Donadio | Danielle Skye | Narragansett | RI | USA |
| Doughty | Katelin | Dennysville | ME | USA |
| Doughty | Morgan B | Ashland | ME | USA |
| Draper | Brooke Ashley | Jonesport | ME | USA |
| Drew | Brittney Lynne | Calais | ME | USA |
| Dudley | Kaitlynn Elizabeth | Beals Island | ME | USA |
| Duval | Andrew Raymond | Plainfield | CT | USA |
| Economy | Dara Wesley | Union | ME | USA |
| Emerson | Dodie | Addison | ME | USA |
| Exferd | Madison Ruth | La Grande | OR | USA |
| Farrell | Amanda T | Perry | ME | USA |
| Faulkner | Lynn M | Springfield | ME | USA |
| Fellows | Cory Carol | Jefferson | ME | USA |
| Finlay | Jordan M | Machiasport | ME | USA |
| Fitch | Anna | Cumberland Center | ME | USA |
| Fregeau | Florence L Whalen | Day Block | ME | USA |
| Galka | Chloe Natasha | Tiverton | RI | USA |
| Gallant | Austin C | Gray | ME | USA |
| Garvin | Mae | Trescott Twp | ME | USA |
| Geisler | Mel Roger | Edgecomb | ME | USA |
| Glidden | David A | Cutler | ME | USA |
| Goodspeed | Sarah Ashley | Levant | ME | USA |
| Grant | Kala Rae | Brewer | ME | USA |
| Greer | Christy B | Machiasport | ME | USA |
| Griffin | Jessica Taren | Dennysville | ME | USA |
| Guptill | Tracy J | Marshfield | ME | USA |
| Guy | Brianna Marie | Orono | ME | USA |
| Hagenimana | Abdou | Kigali | | RWA |
| Hale | Brittany L | Sargentville | ME | USA |
| Ham | Maggie Colleen | East Machias | ME | USA |
| Hampton | Chelsea C | Cherryfield | ME | USA |
| Hamzavi | Caroline G | Falmouth | ME | USA |
| Harmon | Teeya | East Machias | ME | USA |
| Harnois | D | Indian Twp | ME | USA |
| Harrison | Jessica Anne-Marie | Machias | ME | USA |
| Hatt | Alexis Christine | Centerville | ME | USA |
| Haupt | Berlynn Marie | Franklin | ME | USA |
| Hayward | Samuel Braxton | Calais | ME | USA |
| Hayward | Terri L | Calais | ME | USA |
| Hayward | Tucker James | Bethel | ME | USA |
| Heath | Amber F | Machias | ME | USA |
| Hebert | Miranda Jean | Waterville | ME | USA |
| Henderson | Mindy | Machias | ME | USA |
| Hood | Angel | Freeport | ME | USA |
| Hopkins | Michelle Lynn | Calais | ME | USA |
| Howell | Sydney Elizabeth | Ludlow | ME | USA |
| Hunt | Alivia F | Willimantic | ME | USA |
| Hutchinson | Jessie L | Wilton | ME | USA |
| Ingemi | Christina K | Marshfield | ME | USA |
| Jackins | Lindsay M | East Machias | ME | USA |
| Jamieson | Monica Leigh | Pembroke | ME | USA |
| Jean | Jael Rebekah | Westport | CT | USA |
| Jellison | Brynn Emily | Cherryfield | ME | USA |
| Jellison | Celia Jo | Whiting | ME | USA |
| Jobe | Devon | Frederick | MD | USA |
| Johnson | Chloe Elizabeth | KAOHSIUNG | | TWN |
| Johnson | Dawn Clara-Leigh | East Orleans | MA | USA |
| Johnston | Kati J | Whitneyville | ME | USA |
| Jones | Emma M | Augusta | ME | USA |
| Karwacki | Lindsey M | Champlain | NY | USA |
| Kasongo | Yannick Shembe | Orono | ME | USA |
| Kervin | Meghan Marie | Hodgdon | ME | USA |
| Khan | Jamal | Katy | TX | USA |
| Knight | Connie J | Eastport | ME | USA |
| Knowles | Robbie Royce | Skowhegan | ME | USA |
| Kowal | Roseann M | Eastport | ME | USA |
| Laliberte | Maegen Leigh | Milford | ME | USA |
| Lancia | Elana C | Robbinston | ME | USA |
| Landwehr | Sydney Alyssa | Pittston | ME | USA |
| Lane | Carol Diane | Pittsburgh | PA | USA |
| Lank | Dynesha L | Pompton Lakes | NJ | USA |
| Lank | Ethan B | Eastport | ME | USA |
| LaPlante | Caleb Quinn | Pembroke | ME | USA |
| Lara | Isamar | Perry | ME | USA |
| LaRusse | Samantha Elise | Milbridge | ME | USA |
| Lazaro | Sarah Elizabeth | Vinalhaven | ME | USA |
| Leach | Corey | Buxton | ME | USA |
| Leavitt | Jenna K M | Jonesboro | ME | USA |
| Leighton | Katie G | Pembroke | ME | USA |
| Lewey | Kat Josephine | Perry | ME | USA |
| Libby | Chelsi Rae | Addison | ME | USA |
| Lisee | Kirsten Channing | Milbridge | ME | USA |
| Little | Kyle John | Lyman | ME | USA |
| Lizcano Echavarria | Agustin | Addison | ME | USA |
| Look | Keenan Noyes | Roque Bluffs | ME | USA |
| Love | ChaiNa Hui | Milford | ME | USA |
| Lyons | Caitlyn M | Lubec | ME | USA |
| Mahar | Heather | Charlotte | ME | USA |
| Maker | Rachel M | Machiasport | ME | USA |
| Manriquez Vazquez | Gabby | Milbridge | ME | USA |
| Marble | Mary Elizabeth | Columbia Falls | ME | USA |
| Mason | Cole Ryan | East Machias | ME | USA |
| McClure | Michaela | Machiasport | ME | USA |
| McDonald | Jana Marie | Calais | ME | USA |
| McDonald | Sophia Faith | Charlotte | ME | USA |
| McFadden | Gail | Dennysville | ME | USA |
| McKinley | Amy R | Cutler | ME | USA |
| McMahon | Sally Cargile | Northeast Harbor | ME | USA |
| Mcphail | Emma Shaye | Hancock | ME | USA |
| Mercer | Marshall Gene | Machiasport | ME | USA |
| Merriam | Jamie Louise | San Jose | CA | USA |
| Merritt | Patty A | Whiting | ME | USA |
| Michaud | Evan Carrol | Fairfax | VT | USA |
| Miller | Avis E | Princeton | ME | USA |
| Millett | Kayla Arin | Gardiner | ME | USA |
| Mills | Olivia Helen | Casco | ME | USA |
| Mitchell | Lynn A | Pleasant Point | ME | USA |
| Mola | Ryan | Andover | MA | USA |
| Monbouquette | Isabella Ysolde | Woolwich | ME | USA |
| Moore | Praise H | Machias | ME | USA |
| Morgan | Abigayle | East Machias | ME | USA |
| Morrell | Carrie Michelle | Cooper | ME | USA |
| Morris | Hunter Ann | Blue Hill | ME | USA |
| Morrison | Stephen S | Perry | ME | USA |
| Mount | Trevor D | Long Valley | NJ | USA |
| Munyabarame | Pacifique | Machias | ME | USA |
| Mushlit | Skyler Autumn | Manchester | ME | USA |
| Nganzobo | Jeni | Johannesburg | | ZAF |
| Nganzobo | Yani | Johannesburg | | ZAF |
| Novak | Abby YuanJing | Hampden | ME | USA |
| Oliver | Thomas Warren | Perry | ME | USA |
| Onyinah | David Charles Michael | Lebanon | OR | USA |
| O'Reilly | Ashton | Nottingham | | GBR |
| Ortiz Albor | Ana Patricia | Milbridge | ME | USA |
| Papagianopoulos | Tommy Joseph | Jamaica | NY | USA |
| Pardue | Layna Jade | Dennysville | ME | USA |
| Park | KwiNam | Machiasport | ME | USA |
| Patrick | Maureen Eleanor | Westbrook | ME | USA |
| Patterson | Vanessa Nicole | Perry | ME | USA |
| Pelletier | Heather Ann | Wales | ME | USA |
| Perkins | Bud Francis | Thomaston | ME | USA |
| Perry | Crystal Starr | Beddington | ME | USA |
| Perry | Lanie Rae | Harrington | ME | USA |
| Peterson | Chance Edward | Machias | ME | USA |
| Phipps | Angleana A | Machias | ME | USA |
| Pitcher | Gary Daniel | Corinna | ME | USA |
| Pliskaner | Jacob B | North Andover | MA | USA |
| Pratt | Craig Thomas | McLean | TX | USA |
| Quist | Bobbie Lynn | Caribou | ME | USA |
| Ray-Smith | Tommy Augustus | Milbridge | ME | USA |
| Redman | Bethany Marie | Orland | ME | USA |
| Remington | Lauren Beverly | Calais | ME | USA |
| Reynolds | Caitlin M | Columbia | ME | USA |
| Reynolds | Nick R | Newry | ME | USA |
| Rheinhardt | Jon S | Succasunna | NJ | USA |
| Rideout | Jaclyn Alexandra | Mattawamkeag | ME | USA |
| Riggin | Trevor | Machias | ME | USA |
| Robbins | Jon | Blue Hill | ME | USA |
| Roberts | Ryan S | East Machias | ME | USA |
| Robinson | Ivy Anne | Addison | ME | USA |
| Rodriguez-Vazquez | Juana E | Milbridge | ME | USA |
| Rolfe | Morgan L | Machias | ME | USA |
| Ross | Ambrosia Rose | Pembroke | ME | USA |
| Royer | Vanessa Lynn | Addison | ME | USA |
| Royle | Tyler Yung Suk | Minot | ME | USA |
| Sanborn | Nick Cllinton | Standish | ME | USA |
| Sapiel | Janelle A | Perry | ME | USA |
| Sargent | Marianna N | Brunswick | ME | USA |
| Scarlett | Kevin | Baileyville | ME | USA |
| Schoppee | Ciara H | Machias | ME | USA |
| Seeley | Amy Marie | Presque Isle | ME | USA |
| Seeley | Crystle Marie | Whiting | ME | USA |
| Seeley | Kristin Marie | Edmunds Twp | ME | USA |
| Sekula | Hayden Michael | Roque Bluffs | ME | USA |
| Simon | Jenn Elizabeth | Parkman | ME | USA |
| Sinclair | Megan Kathleen | Blackwood | NJ | USA |
| Sinford | Khristi M | Ellsworth | ME | USA |
| Slicer | Peggy J | Harrington | ME | USA |
| Smith | Carol Ellen | Jonesport | ME | USA |
| Smith | Kevaughan Shawndee Andreek | Old Town | ME | USA |
| Smith | Rachael Lindsey | Bradford | ME | USA |
| Snape | Daniel | Topsham | ME | USA |
| Some | Massa K | Princeton | ME | USA |
| Sprague | Marlene A | Machiasport | ME | USA |
| Springer | Sharon Mae | Waite | ME | USA |
| Steiger | Savannah J | Cherryfield | ME | USA |
| Stevens | Tracy Ellen | East Machias | ME | USA |
| Stewart | Molly Rose | Stetson | ME | USA |
| Stone | Samuel Josiah | Greenwood | ME | USA |
| Stover | Erica Lynn | Jonesport | ME | USA |
| Studholme | Victoria | South China | ME | USA |
| Swain | Dea Marie | Lubec | ME | USA |
| Swain | Tricia Anne | Newcastle | ME | USA |
| Tibbetts | Keely A | Machias | ME | USA |
| Tijeras | Louis | Falmouth | ME | USA |
| Tomak | Emily Ann | Lincoln | ME | USA |
| Turchi | Rana Louise | Jonesport | ME | USA |
| Umel | Noah G | Brewer | ME | USA |
| Uwase Cyuzuzo | Mimi | Machias | ME | USA |
| Vil | Shneider | Winter Garden | FL | USA |
| Wallace | Lauren Elizabeth | Jonesboro | ME | USA |
| Washburn | Brooklyn R | Durham | ME | USA |
| Watson | Nancy H | Alfred | ME | USA |
| Waycott | Alexandra Anastasia | Machias | ME | USA |
| Wells | Meg S | Presque Isle | ME | USA |
| Wentworth | Paige Elizabeth | Perry | ME | USA |
| Weston | Kaylee Lynn | Machiasport | ME | USA |
| White | Britney R | Jonesboro | ME | USA |
| White | Mitch Dean | Beals | ME | USA |
| Whitehead | Bonnie | | ME | USA |
| Whitmore | Abby Yvonne | Holden | ME | USA |
| Wibby | Jess Jade | South Portland | ME | USA |
| Willard | Andrea Lynn | Monticello | ME | USA |
| Williams | Samantha Jean | Whiting | ME | USA |
| Wilson | Allison Elizabeth | Old Town | ME | USA |
| Winslow | Kyle Jacob | Whiting | ME | USA |
| Wolfe | Theodore Tracey | Kissimmee | FL | USA |
| Wood | Hailey Autumn | Machiasport | ME | USA |
| Wood | Madison E | Machiasport | ME | USA |
| Woodruff | Charlene Theresa | Baileyville | ME | USA |
| Yates | Angel Marie | Princeton | ME | USA |
| Young | Shereece Rebecca | St.Elizabeth | | JAM |