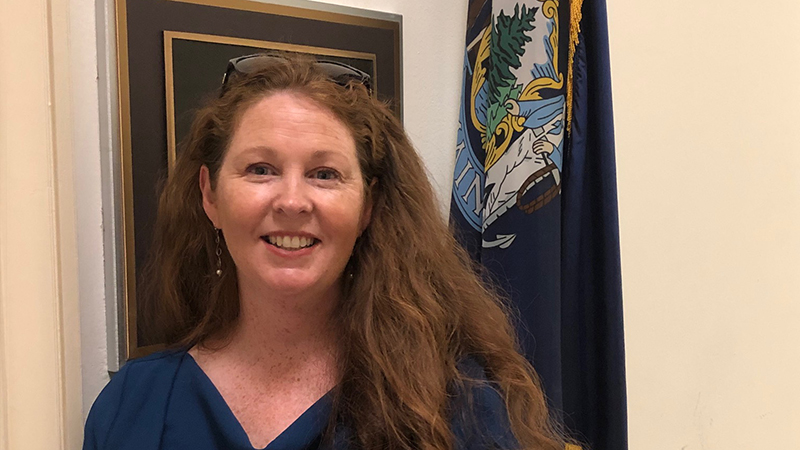 Alumni Spotlight: Rhiannon Hampson '17
Today our Alumni Spotlight shines on Rhiannon Hampson, who graduated from UMM in 2017 with a bachelor of arts degree in psychology and community studies with a minor in counseling. During her time at UMM, Hampson completed a project on agricultural policy for the Maine Policy Scholars program. She currently works as district representative for U.S. Rep. Chellie Pingree, where her focus is on agricultural and environmental issues.
What are you doing now?
I am Congresswoman Pingree's (ME-01) District Representative for Agriculture, the Environment, Health Care, and the Arts. Due to her committee assignments and my personal background, I focus on Agriculture and Environment/Fishery issues primarily.
What is interesting and challenging about your career?
It is incredibly interesting in that the ubiquitous "things" of Maine become such rich areas for me to explore. These opportunities for learning about the "on the ground" work being done provide me with a great deal of hope. The research and development being done in the University of Maine System (UMS) alone with regard to renewable energy and materials, sustainable forestry and agriculture is more robust and encouraging than most people know. The innovation happening in the UMS is often cited by our government entities and recognized internationally as we have true global leaders in their fields.
The challenges lie in navigating the "long game": recognizing that policy and practice can be on opposing ends of the spectrum while trying to arrive at the same point. I am honored to be working toward outcomes that will provide tangible benefits, but I can be stymied by the process at times. I love working on legislation and making sure that Maine is well represented, specifically that we are thought of as the leaders that we are on issues that relate to conservation practices.
How does it relate to your experience at UMM and with Policy Scholars?
Through my work on an agriculture policy recommendation as the 2015–2016 Policy Scholar for UMM, I became acquainted with the Congresswoman's office. I was able to develop that relationship and participate in a series of Farm Bill impact panels that she hosted while drafting her recommendations for the 2018 Farm Bill.
The Policy Scholar program not only offered me the opportunity to understand the ways in which policy works and is created (which very much informs my daily work), it gave me a "golden rolodex" — a number of contacts that I was able to cultivate professionally. Even if I had not taken a job in public policy, the experience would have been invaluable. It provided me an opportunity to understand how the processes that govern our endeavors really work.
What advice do you have for current students?
Be proud to be University of Maine at Machias alumnus! The caliber of professional staff and faculty, coupled with its small size, is such an asset! You can get out of an experience what you put into it, and utilizing the small class sizes to your benefit, being able to truly access the information and experiences that we have at our disposal there, those are not accessible to many of your contemporaries at other institutions. Participate in as many opportunities as you can, and network with other alums. There is a uniqueness to having spent time on the Downeast coast that is becoming more and more relevant. I walk the halls of the U.S. Capitol building knowing that most of the people walking with me have not had the personalized experience that I have — those which allowed me to develop public speaking, listening, and writing skills that set me apart.
Also, remember that the path forward may not always be apparent — my degree, in psychology and community studies (with a minor in counseling) does not necessarily inform my daily work in the same way that a political science degree may have. However, it does indeed inform my work when I am able to engage in motivational interviewing to get stakeholders to really identify what they need, and in the way that I understand aggregated data when trying to convince other members (staff) that their constituents face the same issues, or in the way that I can make connections between community based systems and outcomes. Your experience right now does not determine your future, it informs it.