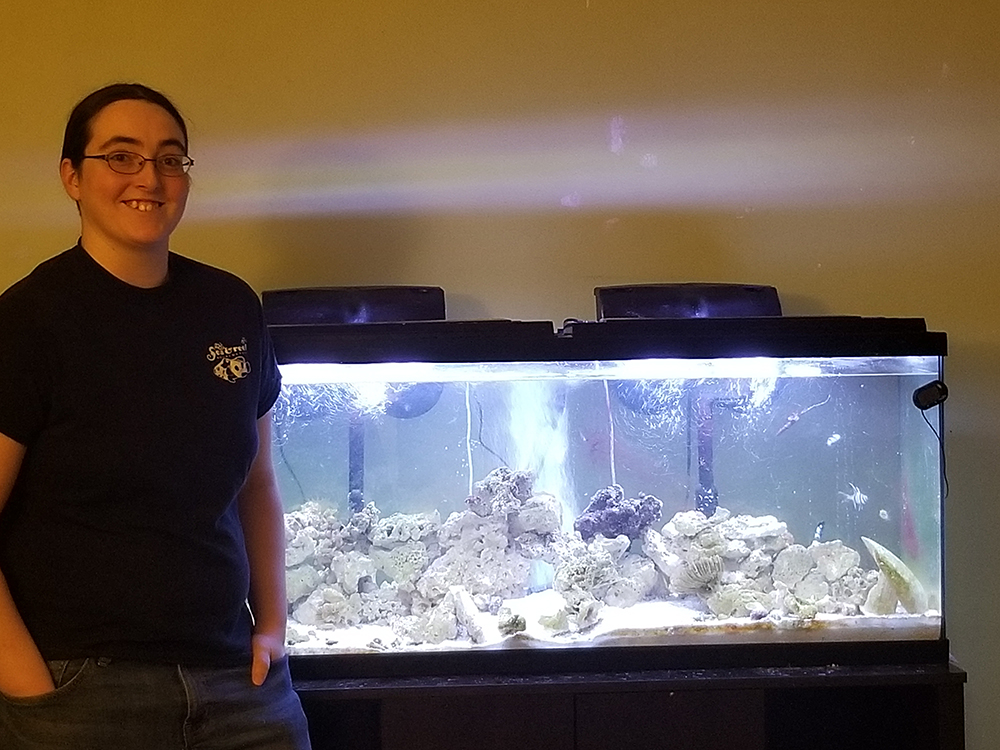 Alumni Spotlight: Aisling Farragher-Gemma '18
This month our Alumni Spotlight shines on Aisling Farragher-Gemma, a 2018 graduate of UMM's marine biology program. Originally from Millis, Massachusetts, Farragher-Gemma is currently employed as a hatchery technician at Sea and Reef Aquaculture in Franklin, Maine.
Tell us a little bit about what you are doing now.  
I breed and raise designer clownfish and some other marine fish for use in the ornamental fish trade.  These are fish that have been bred in captivity to help combat the wild-caught fishing industry which is not only harming the environment but also produces fish that are not always suited for life in captivity. Each week I spend time in each of our different systems doing general maintenance on the tanks and caring for the fish. Another one of my jobs is to package fish for sale to the pet shop industry. We sell wholesale to different pet shops not only around the country but also around the world.  
What is the most valuable thing you learned while at UMM?
All the observation skills that I learned throughout my science classes. They have made me a better observer and it has helped me tremendously in doing this job. 
Do you have any advice for current students at UMM?
Try everything that you can at least once, you never know what might catch your interest or what opportunities arise because of it. Also, as you are getting ready for graduation make sure you reach out to the Career Center on campus for assistance in your job search.  Put out as many applications as you can too. You never know where the opportunities will lead you.   
How did your time at UMM prepare you for what you are doing now?
My time at UMM helped me figure out how to make and keep connections in the field that I work in.  Networking is a huge part of any industry and it has definitely helped me get the job that I have today. 
How has UMM made a positive impact on your life?
I have made lifelong friends from UMM in both professional and personal settings. I also know that if I ever need help with something or have a question about anything that there is a network of support that I can get that help or answer from.