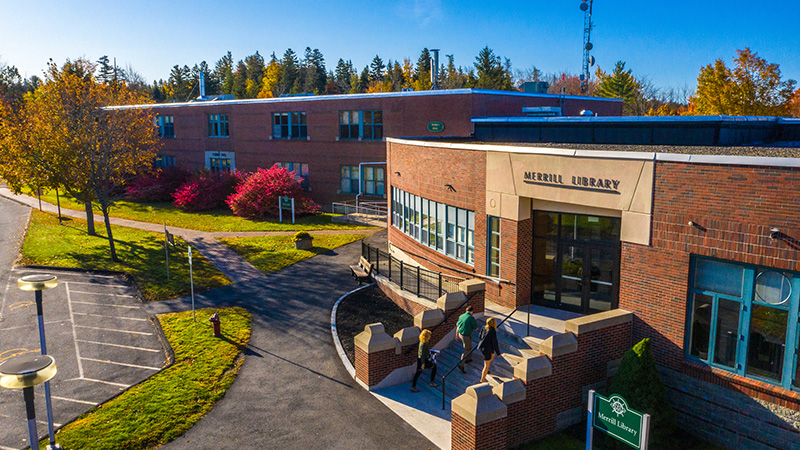 University of Maine at Machias announces fall 2019 Dean's List
The University of Maine at Machias recognized 195 students for achieving Dean's List honors in the fall 2019 semester. Of the students who made the Dean's List, 167 are from Maine, 22 are from 10 other states and six are from four countries other than the U.S.
Listed below are students who received Dean's List honors for fall 2019, completing 6 or more credit hours in the semester and earning a grade point average of 3.25 or higher, with no grade below a C.
Also available is a breakdown of the Dean's List organized by Maine counties.
Please note that some students have requested that their information not be released; therefore, their names are not included.
| Last Name | First Name | City | State | Country |
| --- | --- | --- | --- | --- |
| Al Naamani | Mohsin Saif | Seeb | Muscat | OMN |
| Allen | Abbey | North Monmouth | ME | |
| Alley | Hannah L | Addison | ME | |
| Amador | Kathy Marie | Jonesport | ME | |
| Atkinson | Kate Burton | East Machias | ME | |
| Atkinson | Spencer Grace | East Machias | ME | |
| Bailey | Cora Cate | Medford | ME | |
| Bailey | Melissa Hope | Windham | ME | |
| Barker | Dayna Lynn | Columbia | ME | |
| Bassett | Brianna Marie | Bangor | ME | |
| Beal | Kevin A | East Machias | ME | |
| Belanger | Destiny Faye | Harrington | ME | |
| Berry | Sharon N | Marshfield | ME | |
| Berube | Lindsey | Brookline | NH | |
| Birtz | Nick | Columbia | ME | |
| Black | Kristie Lee | Winterport | ME | |
| BlanchardBeal | Tricia Lynn | Cherryfield | ME | |
| Blyther | Teresa | East Machias | ME | |
| Boone | Victoria Renea | Pembroke | ME | |
| Bowen | Sioux | Pleasant Point | ME | |
| Bozzelli | Camille Ruth | Dover Foxcroft | ME | |
| Bradbury | Nicolas Reed | Eastport | ME | |
| Bragg | Deanne M | Jonesboro | ME | |
| Brockner | Caitlin Jo | Callicoon Center | NY | |
| Brooks | Katie Ann | Jonesport | ME | |
| Burtt | Alisha | Sturbridge | MA | |
| Carney | Heather Sue | Cherryfield | ME | |
| Carver | Nathan Greta | Machias | ME | |
| Cavanaugh | Sarah Berube | Calais | ME | |
| Cervantes | Stephanie Shellsea | Dinuba | CA | |
| Chandler | Amanda Yvonne | Addison | ME | |
| Chase | Aquila Fierce | Monson | ME | |
| Chasse | Amber Angie | Ashland | ME | |
| Clark | Hunter J | Ellsworth | ME | |
| Cobleigh | Marcus | Dayton | ME | |
| Conroy | Tom | Bellingham | MA | |
| Correira | Lucas J | Eastport | ME | |
| Cote | Megan Marie | Perry | ME | |
| Cropley | Carrie Anne | Baileyville | ME | |
| Cushing | Cara Anne | Whitneyville | ME | |
| Darby | Ciara Hope | Hermon | ME | |
| Davis | Brielle Paige | East Machias | ME | |
| Demarest | Shannon Mae | Marshfield | ME | |
| Dickinson | Lacy J | Oakfield | ME | |
| Dickinson | Margaret M | Lisbon Falls | ME | |
| Dolley | Tate C | Machias | ME | |
| Doughty | Katelin | Dennysville | ME | |
| Doughty | Kendrik Miles | Dennysville | ME | |
| Doughty | Morgan B | Ashland | ME | |
| Draper | Brooke Ashley | Jonesport | ME | |
| Drew | Brittney Lynne | Baring Plt | ME | |
| Dudley | Kaitlynn Elizabeth | Beals Island | ME | |
| Duval Jr | Andrew Raymond | Plainfield | CT | |
| Emerson | Dodie | Addison | ME | |
| Farrell III | Philip Michael | Perry | ME | |
| Fitzpatrick | Serenna Joan | Houlton | ME | |
| Fregeau | Florence L Whalen | Day Block | ME | |
| Gallanti | Daniel Thomas | Eastport | ME | |
| Gallop | Owen Shane | Houlton | ME | |
| Galka | Chloe Natasha | Tiverton | RI | |
| Gardner | Madelyn Joyce | Edmunds Twp | ME | |
| Garvin | Mae | Trescott Twp | ME | |
| Gillotti | Toni | Houlton | ME | |
| Goodrich | Bob Thomas | Whiting | ME | |
| Grant | Kala Rae | Brewer | ME | |
| Greer | Christina Badger | Machiasport | ME | |
| Guptill | Tracy J | Marshfield | ME | |
| Halperin | Sarah | Machias | ME | |
| Hamzavi | Caroline G | Falmouth | ME | |
| Harrison | Jessica Anne-Marie | Machias | ME | |
| Hatt | Alexis Christine | Jonesport | ME | |
| Hatt | Whitney Elaine | Marshfield | ME | |
| Haupt | Berlynn Marie | Franklin | ME | |
| Hayward | Samuel Braxton | Calais | ME | |
| Hayward | Terri Lee | Calais | ME | |
| Hendricks | Colleen Anne | Wiscasset | ME | |
| Hernandez | Thania Sarai Centeno | Gouldsboro | ME | |
| Hopkins | Michelle Lynn | Calais | ME | |
| Ingemi | Christina K | Marshfield | ME | |
| Jellison | Celia Jo | Whiting | ME | |
| Jerkins | Monica Marie | Mapleton | ME | |
| Johnson | Anna | Alexander | ME | |
| Johnson | Chloe Elizabeth | KAOHSIUNG | | TWN |
| Johnson | Dawn Clara-Leigh | East Orleans | MA | |
| Johnston | Kati J | Whitneyville | ME | |
| Kafka | Courtney Lynn | Milbridge | ME | |
| Karwacki | Lindsey M | Champlain | NY | |
| Kasongo | Yannick Shembe | Fort Kent | ME | |
| Kirk | Damon Dewayne | Machiasport | ME | |
| Kowal | Roseann Marion | Eastport | ME | |
| Laliberte | Maegen Leigh | Pittston | ME | |
| Lancia | Elana C | Pittsburgh | PA | |
| Lane | Carol Diane | Eastport | ME | |
| Lara | Isamar | Milbridge | ME | |
| Leadbetter | Faye Ellen | Jonesport | ME | |
| Leavitt | Jenna K M | Jonesboro | ME | |
| Lee | Hailey Marie | Pembroke | ME | |
| Leighton | Katie G | Pembroke | ME | |
| Lisee | Kirsten Channing | Milbridge | ME | |
| Little | Samantha J | Dixfield | ME | |
| Look | Keenan Noyes | Roque Bluffs | ME | |
| Love | ChaiNa Hui | Milford | ME | |
| Lynds | Jenna | Fort Kent | ME | |
| Madry Esq | Pryce | Orlando | FL | |
| Mahar | Heather | Charlotte | ME | |
| Mahar | Miranda Lynn | Pembroke | ME | |
| Maker | Rachel M | Machiasport | ME | |
| Manriquez Vazquez | Gabby | Milbridge | ME | |
| McClure | Michaela | Machiasport | ME | |
| McDonald | Sophia Faith | Charlotte | ME | |
| McFadden | Gail | Dennysville | ME | |
| McKinley | Amy R | Cutler | ME | |
| McMahon | Sally Cargile | Northeast Harbor | ME | |
| Merriam | Jamie Louise | San Jose | CA | |
| Merritt | Patty A | Whiting | ME | |
| Miller | Avis E | Princeton | ME | |
| Miller | Shane Preston | Orono | ME | |
| Mitchell | Lynn A | Pleasant Point | ME | |
| Moore | Praise H | Machias | ME | |
| Morris | Hunter Ann | Blue Hill | ME | |
| Munyabarame | Pacifique | Kicukiro | | RWA |
| Nganzobo | Yani | Johannesburg | | ZAF |
| Nicholas-Smith | Kasey Rae-Ann | Perry | ME | |
| O'Brien | Shannon Rose | Bradenton | FL | |
| O'Reilly | Ashton | Perry | ME | |
| Oliver Jr | Thomas Warren | Lebanon | OR | |
| Onyinah | David Charles Michael | Nottingham | | GBR |
| Ortiz Albor | Ana Patricia | Milbridge | ME | |
| Page | Rebecca Lynn | Woodland | ME | |
| Park | KwiNam | Machiasport | ME | |
| Pelletier | Heather Ann | Wales | ME | |
| Perry | Lanie Rae | Harrington | ME | |
| Pingree | Nigel Stephen | East Machias | ME | |
| Ray-Smith | Tommy Augustus | Milbridge | ME | |
| Rebello | Joscelyn Rose | Attleboro | MA | |
| Reilly | Ally Frances | Merrick | NY | |
| Remington | Lauren Beverly | Calais | ME | |
| Reynolds | Caitlin Marie | Columbia | ME | |
| Reynolds | Nick R | Machias | ME | |
| Rheinhardt | Jon S | Succasunna | NJ | |
| Rideout | Jaclyn Alexandra | Mattawamkeag | ME | |
| Riggin | Trevor | Machias | ME | |
| Robinson | Ivy Anne | Addison | ME | |
| Ross | Ambrosia Rose | Pembroke | ME | |
| Royle | Tyler Yung Suk | Minot | ME | |
| Sachs | Lauren Elizabeth | East Machias | ME | |
| Sanborn | Nicholas Clinton | Standish | ME | |
| Sapiel | Janelle A | Perry | ME | |
| Sargent | Marianna N | Brunswick | ME | |
| Sawyer | Kellie J | Machias | ME | |
| Schoppee | Ciara H | Machias | ME | |
| Sebastiao | Tia Marie | East Machias | ME | |
| Seeley | Crystle Marie | Whiting | ME | |
| Sekula | Hayden Michael | Roque Bluffs | ME | |
| Shelley | Jill E | Jackman | ME | |
| Simon | Jenn Elizabeth | Parkman | ME | |
| Sinford | Khristi M | Ellsworth | ME | |
| Slicer | Peggy J | Harrington | ME | |
| Smith | Carol Ellen | Jonesport | ME | |
| Smith | Rachael Lindsey | Bradford | ME | |
| Smith | Sam Aldon | Winslow | ME | |
| Snape | Daniel | Topsham | ME | |
| Sprague | Lydia Leigh | Marshfield | ME | |
| Staples | Deena | Deer Isle | ME | |
| Steiger | Savannah J | Harrington | ME | |
| Stewart | Molly Rose | Stetson | ME | |
| Stewart | Taylor | Machias | ME | |
| Stover | Erica Lynn | Jonesport | ME | |
| Studholme | Victoria | South China | ME | |
| Swain | Dea Marie | Lubec | ME | |
| Tapley | Beth Marie | Biddeford | ME | |
| Thompson | Logan M | Cherryfield | ME | |
| Tibbetts | Keely A | Machias | ME | |
| Turchi | Rana Louise | Jonesport | ME | |
| Turso III | Mike John | Ramsey | NJ | |
| Tran | An | Sicklerville | NJ | |
| Umel | Noah G | Brewer | ME | |
| Uwase Cyuzuzo | Mimi | Kigali | | RWA |
| Ward | Josh Edwin | Winthrop | ME | |
| Watson | Nancy H | Alfred | ME | |
| Webster | Claire Kulik | Machias | ME | |
| White | Jo Dee Lynn | Machias | ME | |
| White | Mitch Dean | Beals | ME | |
| Wilcoxson | Cassie Elizabeth | Mableton | GA | |
| Willard | Andrea Lynn | Monticello | ME | |
| Williams | Samantha Jean | Whiting | ME | |
| Wilson | Allison Elizabeth | Old Town | ME | |
| Winslow | Jen L | Houlton | ME | |
| Wood | Hailey Autumn | Machiasport | ME | |
| Wood | Madison E | Machiasport | ME | |
| Woodruff | Charlene Theresa | Baileyville | ME | |
| Wright | Michaela | Sterling | MA | |
| York | Heather Nichole | East Millinocket | ME | |