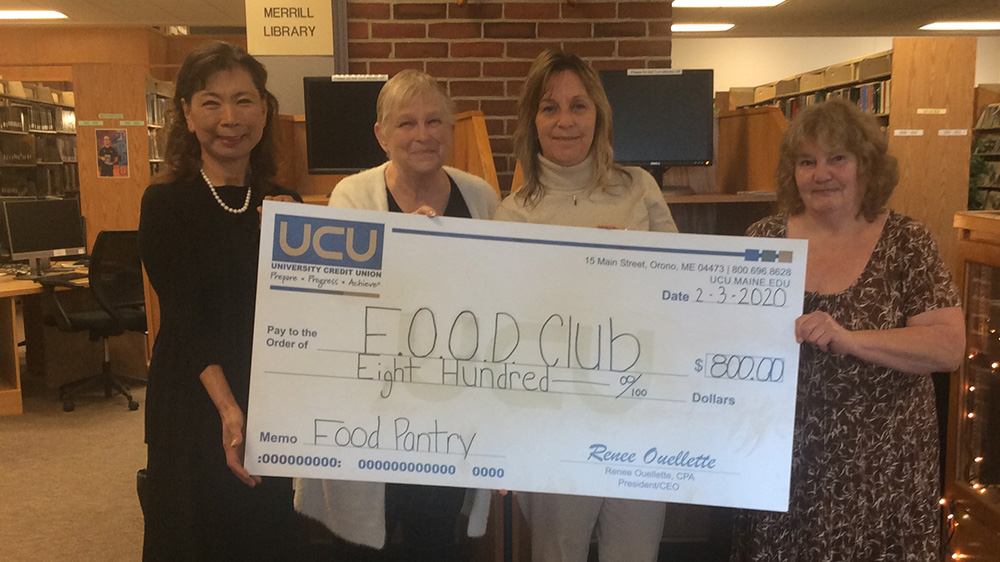 UMM campus food pantry awarded with funds from UCU
The University of Maine at Machias F.O.O.D. (Food, Opportunity, Outreach, Dignity) Club is one of eight campus food pantries to receive a donation from the University Credit Union (UCU) as part of its annual Ending Hunger on Campus in Maine campaign.
UCU branch manager Cathy Philbrick presented an $800 donation to the club at UMM's Merrill Library on Feb. 3. Accepting the donation were UMM senior and club president KwiNam Park; student and club member Sharon Davenport; and club advisor and associate professor of psychology and community studies Lori Schneiders.
The UMM F.O.O.D. Club assists up to 75 community members each week. In addition to stocking the campus food pantry, the club is responsible for growing vegetables in UMM's campus gardens and has partnered with local organizations to sponsor free community meals in Machias.