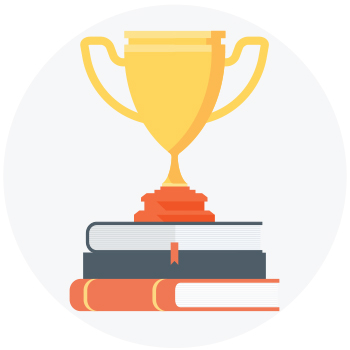 Spring 2019 Dean's List announced
The University of Maine at Machias recognized 198 students for achieving Dean's List honors in the spring 2019 semester. Of the students who made the Dean's List, 178 are from Maine, 20 are from 11 other states and one student is from a country other than the U.S.
Listed below are students who received Dean's List honors for spring 2019, completing 6 or more credit hours in the semester and earning a grade point average of 3.25 or higher, with no grade below a C.
Also available is a breakdown of the Dean's List organized by Maine counties.
Please note that some students have requested that their information not be released; therefore, their names are not included.
| Last | First Name | City | State | Country |
| --- | --- | --- | --- | --- |
| Allen | Abbey | North Monmouth | ME | USA |
| Alley | Hannah | Addison | ME | USA |
| Ampungan | Savannah | Eastport | ME | USA |
| Andreucci | Antonio | Eastport | ME | USA |
| Arcuri | Savanna | Harwinton | CT | USA |
| Atherton | Cameron | New Milford | CT | USA |
| Atkinson | Kate | East Machias | ME | USA |
| Atkinson | Spencer | East Machias | ME | USA |
| Bailey | Melissa | Windham | ME | USA |
| Barnes | Kiwi | Steuben | ME | USA |
| Bassett | Brianna | Robbinston | ME | USA |
| Bassett | Jasmine | Perry | ME | USA |
| Bassett | Patrick | Robbinston | ME | USA |
| Beal | Keisha | Milbridge | ME | USA |
| Bell | Rachel | Edmunds Twp | ME | USA |
| Benner | Michael | Cherryfield | ME | USA |
| Bickford | Rena | Steuben | ME | USA |
| Black | Kristie | Winterport | ME | USA |
| Blake | Alex | Denmark | ME | USA |
| BlanchardBeal | Tricia | Cherryfield | ME | USA |
| Blyther | Teresa | East Machias | ME | USA |
| Boies | Sara | Baileyville | ME | USA |
| Boone | Victoria | Pembroke | ME | USA |
| Bradbury | Nicolas | Eastport | ME | USA |
| Brittain | Sterling | Danforth | ME | USA |
| Brooks | Alicen | Machias | ME | USA |
| Brooks | Jolene | Marshfield | ME | USA |
| Candelario | Alondra | Thousand Oaks | CA | USA |
| Carney | Heather | Cherryfield | ME | USA |
| Carter | Hanna | Harrington | ME | USA |
| Carver | Hannah | Cutler | ME | USA |
| Cavanaugh | Sarah | Calais | ME | USA |
| Chandler | Amanda | Addison | ME | USA |
| Chase | Aquila | Monson | ME | USA |
| Chasse | Amber | Ashland | ME | USA |
| Collins | Gary | Kenduskeag | ME | USA |
| Cooke | Bobbi | Baileyville | ME | USA |
| Coover | Paul | Medway | ME | USA |
| Cote | Megan | Ashland | ME | USA |
| Cropley | Carrie | Baileyville | ME | USA |
| Crowley | Kaitlynn | Beals Island | ME | USA |
| Cushing | Cara | Whitneyville | ME | USA |
| Davenport | Evan | Machias | ME | USA |
| Davenport | Reagan | Machias | ME | USA |
| Davis | Amber | Addison | ME | USA |
| Davis | Brielle | East Machias | ME | USA |
| DeLauney | Chloe | Milford | ME | USA |
| Demarest | Shannon | Marshfield | ME | USA |
| Diegelman | Stephen | Perry | NY | USA |
| Diehlmann | Claire | Eastport | ME | USA |
| Dolley | Tate | Machias | ME | USA |
| Doughty | Morgan | Ashland | ME | USA |
| Dow | Trever | Fairfield | ME | USA |
| Draper | Brooke | Jonesport | ME | USA |
| Drew | Brittney | Alexander | ME | USA |
| Duenas | Allen | Machiasport | ME | USA |
| Duval | Andrew | Plainfield | CT | USA |
| Dzbynski | Danni | Arundel | ME | USA |
| Fairchild | Tammy | Lubec | ME | USA |
| Faloon | Rachel | West Bath | ME | USA |
| Farris | Kerriann | Cutler | ME | USA |
| Ferguson | Keshia | Ellsworth | ME | USA |
| Galka | Chloe | Tiverton | RI | USA |
| Gallanti | Daniel | Eastport | ME | USA |
| Gallanti | Teresa | Eastport | ME | USA |
| Garvin | Mae | Trescott Twp | ME | USA |
| Gillespie | Harleigh | New Gloucester | ME | USA |
| Gillotti | Toni | Houlton | ME | USA |
| Girard | Michaela | East Machias | ME | USA |
| Goodrich | Bob | Whiting | ME | USA |
| Gray | Zack | Lewiston | ME | USA |
| Griffin | Josie | Machias | ME | USA |
| Guinard | Samantha | Ashby | MA | USA |
| Guptill | Tracy | Marshfield | ME | USA |
| Halperin | Sarah | Machias | ME | USA |
| Hatt | Alexis | Jonesport | ME | USA |
| Hatt | Whitney | Marshfield | ME | USA |
| Haupt | Berlynn | Franklin | ME | USA |
| Hayward | Max | Calais | ME | USA |
| Hayward | Terri | Calais | ME | USA |
| Helms | Alex | Poland | ME | USA |
| Henderson | Mindy | Machias | ME | USA |
| Hendricks | Colleen | Wiscasset | ME | USA |
| Hernandez | Thania | Gouldsboro | ME | USA |
| Hewes | Jeremy | Carroll Plt | ME | USA |
| Hinkley | Kylie | Jonesport | ME | USA |
| Hoche | Sarah | Perry | ME | USA |
| Hodgdon | Summer | Dennysville | ME | USA |
| Hopkins | Connor | Cape Neddick | ME | USA |
| Hopkins | Michelle | Calais | ME | USA |
| Hubert | Sherry | Houlton | ME | USA |
| Jamieson | Monica | Pembroke | ME | USA |
| Jellison | Brynn | Cherryfield | ME | USA |
| Johnson | Dawn | Orleans | MA | USA |
| Johnson | Joan | Machias | ME | USA |
| Johnston | Kati | Whitneyville | ME | USA |
| Jones | Emma | Augusta | ME | USA |
| Justo | Abbey | Machiasport | ME | USA |
| Knights | Katie | Cutler | ME | USA |
| Kostovick | Colleen | Greenwood | ME | USA |
| Lancia | Elana | Pittsburgh | PA | USA |
| Lane | Carol | Eastport | ME | USA |
| Lank | Ethan | Perry | ME | USA |
| Lara | Isamar | Milbridge | ME | USA |
| Lee | Hailey | Pembroke | ME | USA |
| Lewey | Irene | Pleasant Point | ME | USA |
| Libby | Chelsi | Addison | ME | USA |
| Lincoln | Damon | Baileyville | ME | USA |
| Lisee | Kirsten | Milbridge | ME | USA |
| Logan | Lucas | Jewett City | CT | USA |
| Look | Keenan | Roque Bluffs | ME | USA |
| Love | ChaiNa | Milford | ME | USA |
| Lyons | Bonnie | Lubec | ME | USA |
| Lyons | Caitlyn | Lubec | ME | USA |
| Lyons | Richard | Lubec | ME | USA |
| Mahanor | Anna | Auburn | ME | USA |
| Maillet | Danielle | Columbia | ME | USA |
| Manco | Kurt | Neptune | NJ | USA |
| Mayhue | Shawn | Holden | ME | USA |
| McClure | Michaela | Machiasport | ME | USA |
| McFadden | Gail | Dennysville | ME | USA |
| McMahon | Sally | Machias | ME | USA |
| Mcphail | Emma | Hancock | ME | USA |
| Mele | Cassie | Harrington | ME | USA |
| Merriam | Jamie | San Jose | CA | USA |
| Miller | Avis | Princeton | ME | USA |
| Miller | Ciara | Belgrade | ME | USA |
| Milliken | Jessica | Jonesport | ME | USA |
| Mitchell | Lynn | Pleasant Point | ME | USA |
| Mooers | Krystal | Edmunds Twp | ME | USA |
| Morris | Aaron | Charlotte | ME | USA |
| Morrison | Stephen | Perry | ME | USA |
| Mostafa | Abdalla | Muscat | | Oman |
| Mushlit | Skyler | Manchester | ME | USA |
| Nally | Hannah | Penhook | VA | USA |
| Nally | Ian | Cabot | VT | USA |
| Nguyen | Tangie | Calais | ME | USA |
| Otto | Kalyn | Machias | ME | USA |
| Ouellette | Nicole | Windsor Locks | CT | USA |
| Park | KwiNam | Machiasport | ME | USA |
| Parker | Emma | Worcester | MA | USA |
| Peterson | Tracey | Harrington | ME | USA |
| Phipps | Angleana | Machias | ME | USA |
| Pingree | Nigel | East Machias | ME | USA |
| Pingree | Pamela | East Machias | ME | USA |
| Pontbriand | Kate | Bar Harbor | ME | USA |
| Pratt | Craig | Corbin | KY | USA |
| Preston | Holly | Perry | ME | USA |
| Proctor | Caroline | Eddington | ME | USA |
| Qudus | Abdul | Robinston | ME | USA |
| Ray-Smith | Tommy | Milbridge | ME | USA |
| Remington | Lauren | Calais | ME | USA |
| Reynolds | Caitlin | Columbia | ME | USA |
| Reynolds | Nick | Deblois | ME | USA |
| Richards | Nikita | Perry | ME | USA |
| Richardson | Allie | Marshfield | ME | USA |
| Rideout | Jaclyn | Mattawamkeag | ME | USA |
| Riggin | Trevor | Machias | ME | USA |
| Rittenhouse | Will | Addison | ME | USA |
| Roden | Mckenna | West Columbia | SC | USA |
| Rodrick | Melissa | Perry | ME | USA |
| Rodriguez-Vazquez | Juana | Milbridge | ME | USA |
| Rogers | Emma | Eastbrook | ME | USA |
| Ross | Ambrosia | Pembroke | ME | USA |
| Royle | Tyler | Minot | ME | USA |
| Russet | Seamus | Milbridge | ME | USA |
| Sachs | Lauren | East Machias | ME | USA |
| Sanborn | Nick | Standish | ME | USA |
| Sawyer | Kellie | Machias | ME | USA |
| Scarlett | Kevin | Baileyville | ME | USA |
| Schoppee | Ciara | Machias | ME | USA |
| Sebastiao | Tia | East Machias | ME | USA |
| Seeley | Amy | Presque Isle | ME | USA |
| Shelley | Jill | Jackman | ME | USA |
| Slicer | Betty | Lubec | ME | USA |
| Smith | Carol | Jonesport | ME | USA |
| Spinney | Rachel | Casco | ME | USA |
| Sprague | Jenessa | Jonesboro | ME | USA |
| Sprague | Lydia | Marshfield | ME | USA |
| Steiger | Savannah | Harrington | ME | USA |
| Stevens | Trent | Perry | ME | USA |
| Stewart | Molly | Stetson | ME | USA |
| Stover | Erica | Cherryfield | ME | USA |
| Stubbs | Jessica | Addison | ME | USA |
| Swain | Dea | Lubec | ME | USA |
| Tapley | Beth | Biddeford | ME | USA |
| Tickle | Michael | Calais | ME | USA |
| Tirrell | Faith | Robbinston | ME | USA |
| Wallace | Lauren | Jonesboro | ME | USA |
| Ward | Josh | Winthrop | ME | USA |
| Ward | Seth | Wiscasset | ME | USA |
| Watson | Nancy | Alfred | ME | USA |
| White | Britney | Jonesboro | ME | USA |
| Wilson | Allison | Old Town | ME | USA |
| Woodard | Leah | Gardiner | ME | USA |
| Woodruff | Charlene | Baileyville | ME | USA |
| Yates | Angela | Princeton | ME | USA |