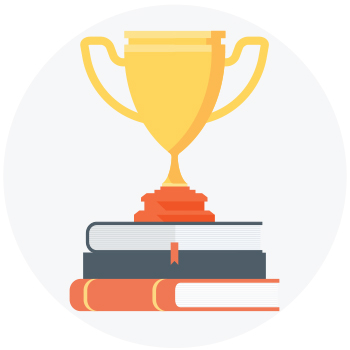 Fall 2018 Dean's List announced
The University of Maine at Machias recognized 175 students for achieving Dean's List honors in the fall 2018 semester. Of the students who made the Dean's List, 159 are from Maine and 15 are from 11 other states.
Listed below are students who received Dean's List honors for fall 2018, completing 6 or more credit hours in the semester and earning a grade point average of 3.25 or higher, with no grade below a C.
table.tableizer-table {
font-size: 12px;
border: 1px solid #CCC;
font-family: Verdana, Arial, Helvetica, sans-serif;
}
.tableizer-table td {
padding: 4px;
margin: 3px;
border: 1px solid #CCC;
}
.tableizer-table th {
background-color: #DADADA;
color: #FFF;
font-weight: bold;
}
| Last | First Name | City | State |
| --- | --- | --- | --- |
| Allen | Abbey | North Monmouth | ME |
| Alley | Hannah | Addison | ME |
| Ampungan | Savannah | Eastport | ME |
| Atherton | Cameron | New Milford | CT |
| Atkinson | Kate | East Machias | ME |
| Atkinson | Spencer | East Machias | ME |
| Bacorn | Basil | Athens | PA |
| Bailey | Melissa | Windham | ME |
| Barnhart | Hannah | Penhook | VA |
| Benner | Zach | Calais | ME |
| Bickford | Rena | Steuben | ME |
| Black | Kristie | Winterport | ME |
| Boies | Sara | Baileyville | ME |
| Boos | Beth | Harrison | ME |
| Bradbury | Nicolas | Eastport | ME |
| Brittain | Sterling | Danforth | ME |
| Brodeur | Ponuwon | Calais | ME |
| Brooks | Alicen | Machias | ME |
| Brooks | Jolene | Marshfield | ME |
| Brown | Alayna | East Machias | ME |
| Caricofe | Alayna | Dennysville | ME |
| Carney | Heather | Cherryfield | ME |
| Carpenter | Alex | Southwest Harbor | ME |
| Carter | Hanna | Harrington | ME |
| Cavanaugh | Sarah | Calais | ME |
| Chandler | Amanda | Addison | ME |
| Channell | Denzil | East Machias | ME |
| Chase | Aquila | Monson | ME |
| Chase | Esther | Warren | ME |
| Chasse | Amber | Ashland | ME |
| Coburn | Taylor | Rochester | NY |
| Collins | Gary | Kenduskeag | ME |
| Cote | Megan | Ashland | ME |
| Cropley | Carrie | Baileyville | ME |
| Curatola | Bree | Buxton | ME |
| Cushing | Cara | Whitneyville | ME |
| Davenport | Sharon | Machias | ME |
| Davis | Amber | Addison | ME |
| Davis | Skye | Lubec | ME |
| DeLauney | Chloe | Milford | ME |
| Demarest | Shannon | Marshfield | ME |
| Diehlmann | Claire | Eastport | ME |
| Dolley | Tate | Machias | ME |
| Doughty | Morgan | Ashland | ME |
| Dow | Jillian | Ellsworth | ME |
| Draper | Brooke | Jonesport | ME |
| Duenas | Allen | Machiasport | ME |
| Duval | Andrew | Plainfield | CT |
| Elsemore | Kristy | Calais | ME |
| Faloon | Rachel | West Bath | ME |
| Fellows | Cory | Jefferson | ME |
| Fenton | Suzanne | Scarborough | ME |
| Ferguson | Keshia | Ellsworth | ME |
| Galka | Chloe | Tiverton | RI |
| Gallanti | Daniel | Eastport | ME |
| Gallanti | Teresa | Eastport | ME |
| Gillespie | Harleigh | New Gloucester | ME |
| Goodrich | Bob | Whiting | ME |
| Gray | Jesse | APO | AE |
| Griffin | Josie | Machias | ME |
| Guptill | Tracy | Marshfield | ME |
| Hachey | Brooke | Jonesport | ME |
| Halperin | Sarah | Richmond | VA |
| Harnois | D | Indian Twp | ME |
| Hatt | Alexis | Jonesport | ME |
| Hatt | Whitney | Marshfield | ME |
| Haupt | Berlynn | Franklin | ME |
| Hayward | Max | Calais | ME |
| Hayward | Terri | Calais | ME |
| Henderson | Mindy | Machias | ME |
| Hendricks | Colleen | Wiscasset | ME |
| Hernandez | Thania | Gouldsboro | ME |
| Hewes | Jeremy | Carroll Plt | ME |
| Hinkley | Kylie | Jonesport | ME |
| Holland | Tamara | Machias | ME |
| Hopkins | Michelle | Calais | ME |
| Hubert | Sherry | Houlton | ME |
| Johnson | Anna | Alexander | ME |
| Johnson | Dawn | Orleans | MA |
| Jones | Emma | Augusta | ME |
| Kafka | Courtney | Milbridge | ME |
| Kelsey | Emiley | Hampden | ME |
| Lancia | Elana | Pittsburgh | PA |
| Lane | Carol | Eastport | ME |
| Lara | Isamar | Milbridge | ME |
| Lee | Hailey | Pembroke | ME |
| Libby | Chelsi | Addison | ME |
| Lincoln | Damon | Baileyville | ME |
| Lisee | Kirsten | Milbridge | ME |
| Look | Keenan | Roque Bluffs | ME |
| Look | Morgan | Cherryfield | ME |
| Lyons | Bonnie | Lubec | ME |
| Lyons | Caitlyn | Lubec | ME |
| Lyons | Richard | Lubec | ME |
| Mahar | Miranda | Pembroke | ME |
| Manco | Kurt | Neptune | NJ |
| Mayhue | Shawn | Holden | ME |
| McBrine | Jacob | East Machias | ME |
| McClure | Michaela | Machiasport | ME |
| McFadden | Gail | Dennysville | ME |
| McMahon | Sally | Machias | ME |
| Mcphail | Emma | Hancock | ME |
| Mele | Cassie | Harrington | ME |
| Mendoza | Mikoo | Pembroke | ME |
| Miller | Avis | Princeton | ME |
| Miller | Kristen | East Machias | ME |
| Mooers | Krystal | Edmunds Twp | ME |
| Moore | Jeffrey | Machias | ME |
| Morris | Aaron | Charlotte | ME |
| Moulton | Jacqueline | Denmark | ME |
| Mushlit | Skyler | Manchester | ME |
| Nally | Ian | Cabot | VT |
| Nguyen | Tangie | Calais | ME |
| Nicholas-Smith | Kasey | Perry | ME |
| Occhiogrosso | Brittany | Calais | ME |
| Otto | Kalyn | Machias | ME |
| Palmiotto | Christopher | Milbridge | ME |
| Pardue | Layna | Dennysville | ME |
| Park | KwiNam | Machiasport | ME |
| Perna | Jonathan | Jonesboro | ME |
| Peterson | Tracey | Harrington | ME |
| Phipps | Angleana | Machias | ME |
| Pingree | Nigel | East Machias | ME |
| Pingree | Pamela | East Machias | ME |
| Pitcher | Gary | Corinna | ME |
| Preston | Holly | Perry | ME |
| Prior | John | East Machias | ME |
| Quarrie | Mathieu | Coral Springs | FL |
| Ray-Smith | Tommy | Milbridge | ME |
| Reynolds | Caitlin | Columbia | ME |
| Richardson | Allie | Marshfield | ME |
| Rideout | Jaclyn | Mattawamkeag | ME |
| Riggin | Trevor | Machias | ME |
| Robinson | Ivy | Addison | ME |
| Roden | Mckenna | West Columbia | SC |
| Rodriguez-Vazquez | Juana | Milbridge | ME |
| Rolfe | Jessica | Cherryfield | ME |
| Royle | Tyler | Minot | ME |
| Sachs | Lauren | East Machias | ME |
| Sanborn | Nick | Standish | ME |
| Sawyer | Kellie | Machias | ME |
| Scarlett | Kevin | Baileyville | ME |
| Schoppee | Ciara | Machias | ME |
| Shaw-Chapman | Hannah | Warren | ME |
| Smith | Carol | Jonesport | ME |
| Smith-Marengo | Kessie | Addison | ME |
| Snape | Daniel | Machias | ME |
| Soctomah | Lydia | Indian Township | ME |
| Spinney | Rachel | Casco | ME |
| Sprague | Amber | Bangor | ME |
| Sprague | Jenessa | Jonesboro | ME |
| Sprague | Lydia | Marshfield | ME |
| Springer | Sharon | Waite | ME |
| Steiger | Savannah | Harrington | ME |
| Stevens | Trent | Perry | ME |
| Stewart | Molly | Stetson | ME |
| Stuart | Danielle | Mariaville | ME |
| Stubbs | Jessica | Addison | ME |
| Swain | Dea | Hodgdon | ME |
| Sylvester | Sarah | Newport | ME |
| Tapley | Beth | Biddeford | ME |
| Tirrell | Faith | Robbinston | ME |
| Turse | Grace | Haddon Township | NJ |
| Wallace | Lauren | Jonesboro | ME |
| Watson | Nancy | Alfred | ME |
| Webber | Harlee | Sullivan | ME |
| White | Britney | Jonesboro | ME |
| White | Jo Dee | Machias | ME |
| Whittingham | Stephanie | Topsham | ME |
| Willey | Matthew | East Machias | ME |
| Wilson | Allison | Old Town | ME |
| Woodard | Leah | Gardiner | ME |
| Woodruff | Charlene | Baileyville | ME |
| Yates | Angel | Princeton | ME |