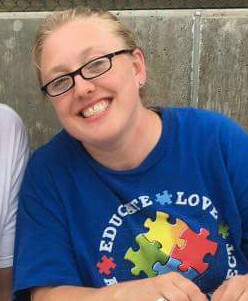 Alumni Spotlight: Elisa Sousa, '01 and '08
This Alumni Spotlight shines this week on Elisa Sousa from Richmond, Maine, who graduated from the University of Maine at Machias in 2001 & 2008 with majors in Recreation Management & College Studies.  She is currently working in Strong, Maine as a Special Education Teacher, Day Treatment (grades K-4).
Tell us a little bit about what you are doing now:  
No pressure here. So, I write this with sincere humility that it may help provide insight and clarity for someone interested or considering UMM as their path toward higher education.
I could likely be nominated as the poster child for "non-traditional student."  When people ask me to speak about my life it certainly includes school since I have been going to school ALMOST consecutively since I left high school.  I kiddingly respond, "well, I am on the 60-year-plan. How much time do you have to listen?"
I received my associates degree in Recreation Management from UMM in 2001 and received my bachelor's degree in College Studies in 2008.  Now, 15 years later, I have just completed my master's degree in early childhood education from the University of Maine at Farmington.  I am currently doing some challenging yet VERY rewarding work in Strong, Maine. I am teaching elementary special education to children with disabilities in our day treatment program.
What is the most valuable thing you learned while at UMM?
I think the most valuable lesson I learned was through the culture that UMM offers. It's hard to describe or put into words, but I will attempt to describe my experience.  Being a non-traditional student I didn't live on campus and commuted anywhere from a few minutes to hours, so that was vastly different.  The campus is small and intimate, which offered an individualized approach to provide me with a rich and meaningful education.  I also think that UMM was such a great segway and parallel, because I attended a small high school from small town.  At UMM I wasn't just a number, but a person.
With my many years of higher education experience I can speak to the connectedness you feel amongst fellow classmates, professors, and staff. Actually a few years ago, I needed to get a copy of my official transcripts and happened to be in the area.  On a whim I stopped by and walked up to the registrar's window.  The office staff looked up, smiled, and said, "hello, Elisa, how are you doing?"  I was a bit shocked they remembered my face AND my name.
Do you have any advice for current students at UMM?

It sounds cliché, but enjoy each moment and don't anticipate each day (yes you can be planned, but also enjoy your experience).  PARTICIPATE.  Be active. Be involved. Be informed. Seek to understand. Seize the day!
How did your time at UMM prepare you for what you are doing now?
UMM opened my eyes to understand my own strengths and challenges both inside and outside of the classroom.  I was afforded the opportunity to increase my independence while also being surrounded by a caring and accessible college community.
How has UMM made a positive impact on your life?
UMM's impact provided me with so many things that speak to the foundational skills and qualities I carry with me today.  My UMM experience taught me to value and enjoy our natural resources through a respectful balance of sustainability and stewardship. But more importantly, it fostered my innate ability to lead and encourage others through my passion.
Personal Note: I was born and raised in the Augusta area. I graduated in May of 2008 from the University of Maine at Machias with my bachelor's degree. I moved to Somerset County in the winter of 2006, because my husband, Kevin, received a promotion within his company. We have two boys, Hunter and Brooks. We take every opportunity possible to recreate and explore the Maine outdoors. I have always enjoyed working with children. My background in working with children spans from teaching outdoor education classes to working with children with special needs. I have worked with children from ages 6 weeks-17 and I have enjoyed each unique experience. I have continued to have the pleasure of educating young children at Kennebec Valley Community Action Program in the Waterville/Skowhegan Maine area for 8 years in Somerset County. I look forward to getting to know you further.