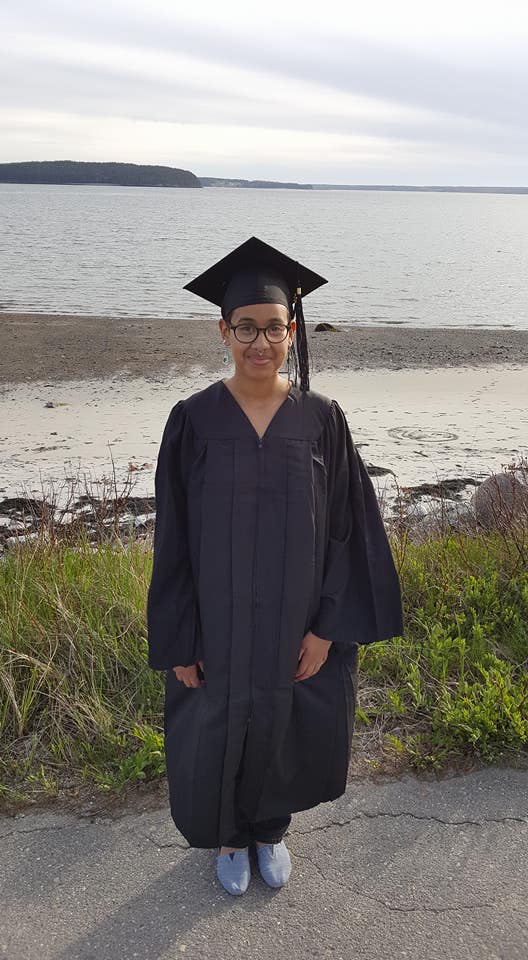 Alumni Spotlight: Cheyenne Robinson, '16
This Alumni Spotlight shines this week on Cheyenne Robinson from Patten, Maine, who graduated from the University of Maine at Machias in 2016 with a major in Psychology & Community Studies.  I am currently living in Roque Bluffs and working in Machias, Maine as a Victim Advocate at Next Step DV Project.
Tell us a little bit about what you are doing now.
Right now I'm working as a victim advocate for survivors of domestic violence.  My responsibilities include answering the 24 hour hotline (800-315-5579), working directly with clients who need our services, educating the community/staff on the LGBTQIA+ community and domestic violence, and I run all of our social media outlets. Facebook: @NextStepDVProject; Instagram: @nextstepdvproject; Twitter: @Next_StepDVproj
What is the most valuable thing you learned while at UMM?
I think the most valuable thing I learned while at UMM was how to listen. Listening is the majority of what I do when meeting with survivors of domestic violence.  For some of the people who come in or call the hotline, it is the first time they have been able to talk about what happened to them.  Being able to listen without judgement and without interruption is the most important skill I have. Being in Meghan Duff's Intro to Counseling class gave me the much needed skill I need for this line of work.
Do you have any advice for current students at UMM?
My advice for current students at UMM would be to jump on any opportunity to work with community partners whether it be for an internship or volunteer work.  Working with community partners while in school will help you network and get your foot in the door for certain jobs.  Even if it's not an agency you want to work for, it's important to make those connections so that you have practical references other than your professors.
How did your time at UMM prepare you for what you are doing now?
My time at UMM prepared me for what I'm doing now, because of how active on campus I was.  Being a Community Adviser for 3 years taught me how to navigate difficult situations with people as well as teaching me how to be impartial when dealing with someone I know.  Working in such a small town it is impossible to not work with someone you might know, especially since 1 in 4 women and 1 in 6 men will be the victim of dv in their lifetime.  Working for SAIL also taught me a lot about social media and how to use it to our advantage and to educate.  These things combined with the amazing classes in the Psychology and Community Studies program gave me the tools to succeed in the career I chose.
How has UMM made a positive impact on your life?
UMM has made a positive impact on my life by helping me grow as a person.  When I first came to UMM I had a lot of internalized racism, homophobia, and sexism, but being here helped open my eyes to truth and made me passionate about justice.  Being at UMM showed me that no matter how small a place you're in, there is always room for acceptance. UMM has made me a leader with an open mind and an open heart.