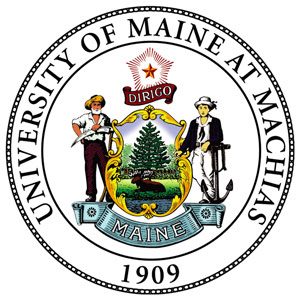 University of Maine at Machias announces spring 2017 Dean's List
June 30, 2017
The University of Maine at Machias recognized 231 students for achieving Dean's List honors in the spring 2017 semester. Of the students who made the Dean's List, 201 are from Maine, 19 are from 11 other states and 11 are from 3 countries other than the U.S.
Listed below are students who received Dean's List honors for spring 2017, completing 6 or more credit hours in the semester and earning a grade point average of 3.25 or higher, with no grade below a C. Also available is a breakdown of the 
Dean's List by Maine counties
.
Please note that some students have requested that their information not be released; therefore, their names are not included.
Last Name
First Name
City
State
Country
Al-Freihy
Haidar Wasfi
Gray
ME
Albee
Sandra M
East Machias
ME
Allen
Timothy Gleason
Sedgwick
ME
Alley
Kali Elizabeth
Jonesport
ME
Alley
Meagan Elizabeth
Jonesport
ME
Alley
Sandy Farnsworth
Jonesport
ME
Alnuwairan
Sahal Fahad
Orono
ME
Arbo
Tyler
Newburgh
ME
Ash
Jennifer L
Franklin
ME
Atkinson
Jennifer Kasi
Sangerville
ME
Atkinson
Katherine Burton
East Machias
ME
Bailey
Kai Erlend
Brooksville
ME
Bailey
Kristina Lynn
Steuben
ME
Baker
Nadine
Jonesboro
ME
Baldwin
Tania Rose
Presque Isle
ME
Ballerstein
Andrew Michael
Mapleton
ME
Barnes
Kiandra Margaret Marie
Steuben
ME
Barnhart
Hannah Elizabeth
Gretna
VA
Barrows
Shina Diane
Warren
ME
Batson
Erica Lynn
Addison
ME
Beal
Tina Marie
Beals
ME
Bedillion
Damon Adam
Waterville
ME
Bellavance
Angel Leigh
Norridgewock
ME
Berry
Katherine Marie
East Machias
ME
Bickford
Kelsey Patricia
Sanford
ME
Bills
Brittany Shea
Newfane
VT
Bouchard
Emma Olivia
Machias
ME
Bowen
Sioux
Pleasant Point
ME
Bradley
Jamie Marie
Addison
ME
Bragdon
Jennifer Rose
Cherryfield
ME
Brann
Sally Cargile
Machias
ME
Brine
Marc Edward
Machias
ME
Brittain
Sterling James
Danforth
ME
Brodeur
Ponuwon Wocuhsis
Machias
ME
Brooks
Haden Anthony
Westbrook
ME
Bufton II
Scott Andrew
Littleton
CO
Canavan
Kathryn Jeanne
Harrington
ME
Caricofe
Alayna B
Dennysville
ME
Carney
Heather Sue Lothrop
Cherryfield
ME
Carpenter
Alexandra Helmi
Southwest Harbor
ME
Carter
Hanna Mari
Harrington
ME
Carver
Ami Lee
Beals
ME
Carver
Hannah Evelyn
Cherryfield
ME
Casvikes
Stacy
Saco
ME
Cercone
Amanda
Kittery
ME
Chaponis
Christopher Michael
Harrington
ME
Chen
Yubei
Da Zhou
China
Cisneros
David Emanuel
Eagle Pass
TX
Clark
Loralyn L
Oakland
ME
Cline
Natalie Louise
Calais
ME
Cling
Mary Norma Newell
Pleasant Point
ME
Coburn
Taylor Marie
Liberty
ME
Cole
Matthew Scott
Parkman
ME
Couture
Francesca Melissa
Harrington
ME
Cox
Alyssa Joy
Edmunds Twp
ME
Cox
Ellie Mae
Princeton
ME
Cservak
Dawna Louise
Machiasport
ME
Dame
Jennifer M
Limington
ME
Davis
Amber Rose
Addison
ME
Davis
Eric D
Bucksport
ME
Day
Emmah Grace Philp
Exeter
ME
Deveaux Saunders
Clayre Payton
New Providence
Bahamas
Diehlmann
Claire Patricia
East Machias
ME
Dolan
James Christopher
Machias
ME
Draper
Brooke Ashley
Jonesport
ME
Duda
LeeAnne Marie
Fairfield
ME
East
Alyson Margaret
Calais
ME
Eisworth
Nathan W
Franklin
ME
Emerson
Atrica Sue
Addison
ME
Engberg
Taylor Anne
Ellsworth
ME
Faloon
Rachel Lynn
West Bath
ME
Farragher-Gemma
Aisling Kimberly
Millis
MA
Faulkingham
Ashley Nicole
Jonesport
ME
Favolise
Anne Katherine
Columbia
ME
Fernandez
Rebecca Kate
Monmouth
ME
Fortin
Stephane
East Windsor
CT
Fu
Hui
Pengzhou
China
Gaetano
Sarah N
York
ME
Gallanti
Teresa Victoria
Eastport
ME
Galligan
David Thomas
Machias
ME
Garcia Jr
Ricardo Manuel
Middletown
CT
Garvin
Lorene Mary
Trescott Twp
ME
Geel
Kristina Joanne
Bangor
ME
Gerry
Josie Starr
Buxton
ME
Goodrich
Robert Thomas
Whiting
ME
Gove
Jessalyn J
Deer Isle
ME
Graham
Felicia Thomasette
Winterport
ME
Graham
Katerina Nichole
East Machias
ME
Grandmaison
Melissa Marie
Dexter
ME
Grant
Brittany Lee
Columbia Falls
ME
Grant
Kimberly Jo
Rangeley
ME
Gregory
James
South Thomaston
ME
Griffin
Josie
Machias
ME
Guptill
Tracy J
Marshfield
ME
Hachey
Brooke Marie
Jonesport
ME
Hampson
Rhiannon Corey
Monmouth
ME
Hanington
Danielle Marie
Lincoln
ME
Harris
Sarah Janet Fite
Patten
ME
Harrison
Alexa Jean
Wolcott
CT
Hartford
Lynnsey Jean
Eagle Springs
NC
Harvey
Jennifer Lynn
Waldoboro
ME
Hatfield
Sara Kathryn
Warren
ME
Hendricks
Colleen Anne
Wiscasset
ME
Hernandez
Thania Sarai Centeno
Harrington
ME
Hewes
Jeremy Adam
Carroll Plt
ME
Hill
Dorsey Anne
Lunenburg
MA
Hodgdon
Rowan Marie
Gouldsboro
ME
Hong
Shihan
MianYang Jiang Yan
China
Hongo
Hailey Elizabeth
Shelton
CT
Hopkins
Connor Thomas
Cape Neddick
ME
Hopkins
Michelle Lynn
Calais
ME
Hutchins
Brittni F
Jay
ME
Jamieson
Laura R
Cooper
ME
Jellison
Brynn Emily
Cherryfield
ME
Johnson
Dawn Clara-Leigh
South Orleans
MA
Johnson
Spencer Dwight Bechard
Pembroke
ME
Joyce
Alayna Corrine
Thomaston
ME
Kavanaugh
Mara Lynn
Skowhegan
ME
Kelley
Mikayla Elizabeth
Beals
ME
Kelliher
Keisha Lynn
Ellsworth
ME
King
Kristin Alice
Jonesboro
ME
Kostovick
Colleen Marie
Greenwood
ME
Laliberte
Maegen Leigh
Pittston
ME
Lamoureux
Beverly Louise
Franklin
ME
Langley
Chelsea Marie
Houlton
ME
Lee
Troy David
Calais
ME
LeFay II
Bradley Allen
Crystal
ME
Leighton
Rachael
Cathance Twp
ME
Leland
Patricia Ann
Trenton
ME
LeRoy
Brandi S
Bangor
ME
Liang
Daijun
Nanning
China
Libby
Eleody A
Lubec
ME
Lisee
Kirsten Channing
Milbridge
ME
Look
Keenan Noyes
Roque Bluffs
ME
Lynch
Sarah Anne
Addison
ME
Lyons
Bonnie Sue
Lubec
ME
Lyons
Brent Arthur
Robbinston
ME
Macdonald
Malcolm James
Westbrook
ME
Mahar
Miranda Lynn
Pembroke
ME
Maillet
Danielle Samantha
Columbia
ME
Majka
Virginia Jane
Whiting
ME
Manco
Natalie
Neptune
NJ
Marshall
Betty Jean
Machiasport
ME
Marston
Lynn Renee
New Canada
ME
McBrine
Olivia Grace
East Machias
ME
McClung
Pamela M
Mars Hill
ME
McCurdy
Abby Raye
Machias
ME
McKenney
Lauren Elizabeth
Hallowell
ME
McPhail
Brittany Christine
Perth-Andover
Canada
Michaud
Alexandra Katherine
Mapleton
ME
Mileaf
Bryan Corey
Ellsworth
ME
Miller
Kristen Teresa
East Machias
ME
Mills
Crystal L
Belgrade
ME
Mills
Monique Lee
Waterville
ME
Mooers
Krystal A
Pembroke
ME
Moore
Dexter Lamar
Ocoee
FL
Morey
Tracilynn E
Deer Isle
ME
Morgan
Rory Elizabeth
West Hartford
CT
Morrison
Stephen Samuel
Perry
ME
Morse-Lane
Kalyn Ann
Columbia Falls
ME
Moulton
Jacqueline M
Denmark
ME
Mushlit
Jason Garrett
Manchester
ME
Nadeau
Jocelyn Lee
Roxbury
ME
Neal
Kevin Patrick
Harborside
ME
Nickerson
Christopher Ray
Rockland
ME
Noyola
Victor Manuel
El Paso
TX
Ortiz
Gustavo
Milbridge
ME
Ouellette
Jill Lucie
Whiting
ME
Paniagua Albor
Maria De Jesus
Milbridge
ME
Paniagua-Albor
Jose Dani
Milbridge
ME
Park
KwiNam
Machiasport
ME
Pelletier
Caley Marie
Woodland
ME
Perry
Sara Ann
Gorham
ME
Pettegrow
Kaylee Ryanne
East Machias
ME
Phillips
Tristin Nichol
Perry
ME
Pierce
Sierra MacKenzie
Brewer
ME
Pooler
Allison Janice
Monroe
ME
Porter
Kaytlyn Tamara
Unity
ME
Pottle
Tanesha Skye
Perry
ME
Poulin
Alexandra Michelle
Lewiston
ME
Prior
John Robert
East Machias
ME
Quirk
Lauren Ashley
Lubec
ME
Ralph
Joseph Elliott
Calais
ME
Ray
Wyatt Donald
Poland
ME
Remeschatis
Tabitha
Machias
ME
Reynolds
Emily L
Columbia
ME
Richards
Ty Steven
Machias
ME
Richardson
Allison Julie
Marshfield
ME
Riddell
Justus Geronimo Jens
Sanford
ME
Robbins
Payton Lee
Addison
ME
Roberts
Bree Lynn
Sullivan
ME
Roden
Mckenna Ashlyn
West Columbia
SC
Rolfe
Morgan Lynn
Machias
ME
Rosado
Kellie Jean
Caribou
ME
Russet
Seamus C
Milbridge
ME
Sawyer
Kellie J
Machias
ME
Sawyer
Rhiannon Ariel
Columbia Falls
ME
Semosky
MaryBeth Catherine
Newtown
CT
Slicer
Betty Marie
Lubec
ME
Smith
Amanda L
Machias
ME
Smith
Bailey Winters
Kents Hill
ME
Smith
Lundi Camille
Machiasport
ME
Sode
Amber M
Machias
ME
Spencer
Jacqueline R
Houlton
ME
Sprague
Hannah Jo Mackenzie
Marshfield
ME
Sterling
Sarah Ann
Springvale
ME
Stevens
Trent
Perry
ME
Streit
Olivia Taryn
Lancaster
NY
Studley
Jasmine Tayler
Randolph
ME
Suggs
Christopher Michael
Jonesport
ME
Theriault
Lawrence Joseph
Eastport
ME
Thomas
Marielle Rosa
Dover Foxcroft
ME
Tidd
Miranda Jean
Machias
ME
Tkacs
Rebecca Ann
Glenburn
ME
Tremblay
Myheisha Marie
Lewiston
ME
Turner
Dara Wesley
Robbinston
ME
Varney
Keirstin Marie
East Machias
ME
Wallace
Martina Louise
Pembroke
ME
Wallace
Patricia Dione
Jonesboro
ME
Wang
Yuanxi
Nanning
China
Ward
Seth Ryan
Brunswick
ME
Watson
Nancy H
Alfred
ME
White
Britney Ranai
Machias
ME
White
Haleigh Sierra
Machias
ME
Whitmore
Blair Margaret
Milford
ME
Wood
Jennifer Lyn
Machias
ME
Xiang
Qianwen
WenJiangChenDu
China
Xie
Hong
Wenjiang Chengdu
China
Yang
Fenghao
Wen Jiang Cheng Du
China
Yates
Angela Marie
Princeton
ME
Zhong
Peilin
Beiliu
China