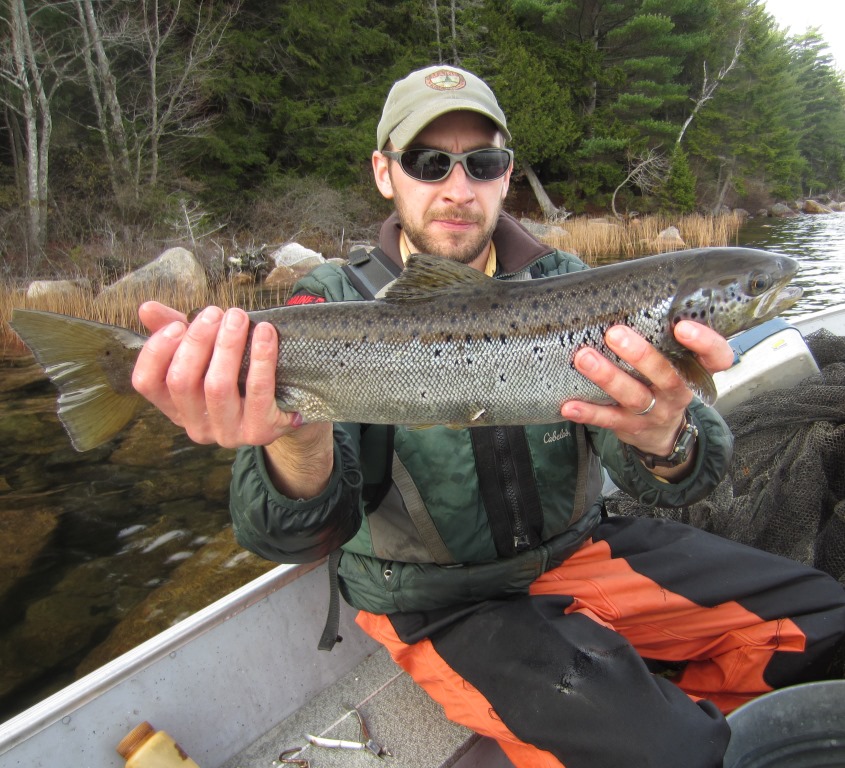 Alumni Spotlight: Joe Overlock, '06
This Alumni Spotlight shines this week on Joe Overlock from Warren, Maine, who graduated from the University of Maine at Machias in 2006 with a major in Biology.  He is currently working as a Fisheries Management Supervisor for the Maine Department of Inland Fisheries and Wildlife.
Tell us a little bit about what you are doing now
.
Shortly after college I landed my dream job as a Fisheries Biologist for the Maine Dept. of Inland Fisheries and Wildlife (IF&W).  For nine years I assisted with the management and conservation of inland fisheries resources in Washington and Hancock Counties.  About a year ago I took the position of Fisheries Management Supervisor out of the main headquarters in Augusta.  I now provide support to and daily oversight of biological staff working from all seven Fishery Management Regions, and the Bangor office.  Some of my responsibilities include oversight in the preparation and implementation of statewide and regional management plans, work programs, regulatory and stocking changes, research, strategic and operational plans, adherence to policy and guidelines, communications, data collection, and report preparation.  
I am extremely fortunate that my career has allowed me the opportunity to make positive impacts to Maine's high quality and nationally known inland fisheries resources for brook trout, landlocked salmon, Arctic char, lake trout, lake whitefish, smallmouth, and largemouth bass.  
What is the most valuable thing you learned while at UMM?
Leadership. UMM's small class sizes and intimate campus gave me the opportunity to grow and gain valuable leadership skills in the classroom, as a chemistry lab assistant, an organic chemistry tutor, and a brother of Sigma Chi Lamda (sports and leadership fraternity).  
Do you have any advice for current students at UMM?
The things that drew me to UMM were the small class sizes, a focus on the students, and location, location, location! My advice is to take full advantage of the remarkable natural resources that Downeast Maine has to offer.  My degree program involved a lot of hands on field labs that brought me to some really unique places in Washington County.  Not only did I gain valuable career skills, but I also have many great memories of time spent outside the classroom while hunting, fishing, hiking, camping, and exploring the Downeast area.
How did your time at UMM prepare you for what you are doing now?
UMM gave me a strong scientific background and field data collection skills that I still use today.  During my junior year I was hired for an off campus work study position as a Fisheries Aid with IF&W.  That position added to my already growing skill set and helped mold me into a strong candidate for the science field when the time came to apply for jobs after graduation.
How has UMM made a positive impact on your life?
Aside from starting me on a path that led to a career that I am extremely passionate about, UMM connected me to some of my closest friends (including my wife Amanda (O'Bar) Overlock who graduated from UMM in 2005).  I am fortunate to have remained close with many fellow students and faculty, even after my time at UMM.