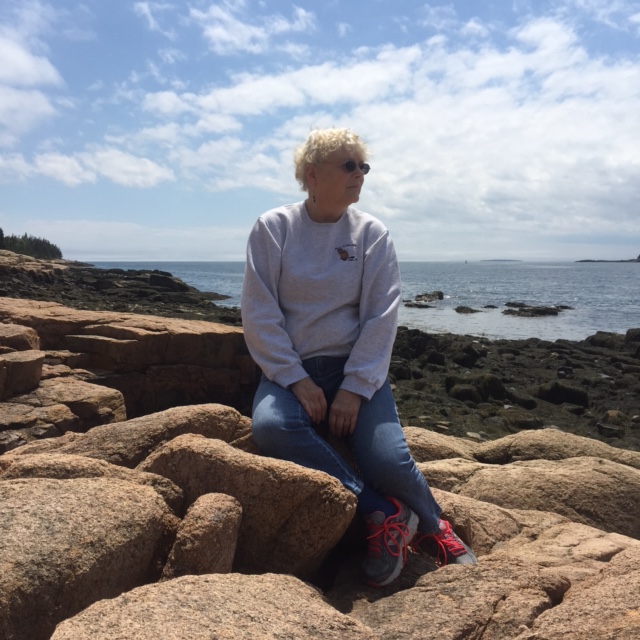 Alumni Spotlight: Susan King Caverly, '74
This week's Alumni Spotlight shines on Susan King Caverly of Millinocket, a graduate of UMM, Class of 1974 with a degree in Business Education. Susan is currently the co-Owner of Allagash Tails LLC.
Tell us a little bit about what you are doing now:  
Since graduating from UMM, I worked 25 years with the Department of Conservation from Receptionist to Regional Secretary. After retiring from State service, I worked 9 years at Stearns Jr./Sr. High School as an Ed. Tech II. Since 1999 I have assisted my husband, Tim Caverly, with the Allagash Tails series of books about the Allagash Wilderness Waterway.
In addition, I have been traveling throughout N.E. helping Tim promote literacy and learning about our natural resources. Since 2009 I have worked with him at countless libraries, civic groups and other organizations.  Plus, I have collaborated in 176 programs to almost 6,000 students in Maine and N.H. We've also donated over 1600 of our books to 135 schools in Maine, N.H. and MA.
What is the most valuable thing you learned while at UMM?
To remain focused, prepared and knowledgeable about tasks at hand; to communicate effectively with those you work for, and be a good listener.  Never stop learning; it will help you stay vibrant no matter what the age.
Do you have any advice for current students at UMM?
Accept all that the University and the surrounding area have to offer. Washington County has many amazing natural resources and the UMM facility has knowledge and professional wisdom in their areas of expertise. Always stay focused on your studies.  Remember you or your parents have made a big investment in your future.
How did your time at UMM prepare you for what you are doing now?
My education and teaching certificate have given many opportunities to work in many different fields in the last 42 years.  I've learned to interact with young students, mid-level educators, adults and senior citizens. I've also learned to be patient and be a good listener.
How has UMM made a positive impact on your life?
With my business and educational degree it open avenues that allowed me to advance during my Dept. of Conservation years, to working with students in the Jr./Senior High School at Stearns in Millinocket.  Now it has helped me with the day to day operation of our business, Allagash Tails LLC.