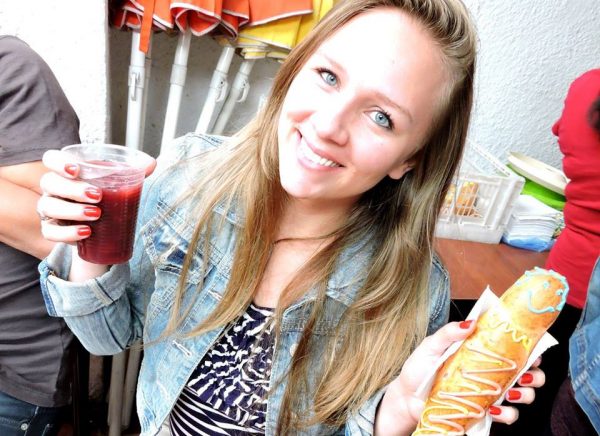 Alumni Spotlight: Katie Beckwith, '12
The UMM Alumni Spotlight shines this week on Katie Beckwith, formerly of Van Buren, Maine, now living in Quito, Ecuador. Katie is a 2010 UMM graduate with a degree in  Environmental Recreation and Tourism. She is now the Business Development Manager and Publicist for Haugan Cruises and La Selva Amazon Ecolodge & Spa and Marketing Coordinator for Fundacion Bolivar Education – a nonprofit volunteer foundation.
Tell us a little bit about what you are doing now:
My hands are pretty full at the moment.  I work for two luxury travel companies. The first is La Selva Amazon Ecolodge & Spa, an ecolodge in the Ecuadorian Amazon that provides high-end services and accommodation as well as guided excursions through the rainforest with local and Naturalist Guides.  The second company is Haugan Cruises, a luxury cruise operator in the Galapagos.  There are three 16 passenger catamarans with different itineraries visiting iconic and unique places throughout the Galapagos Islands.
My work consists of translating texts from Spanish to English and editing or writing up texts for the websites, brochures, manuals, etc.  I also manage our social media sites and look for more online presence.
Once I began to speak Spanish fluently and visited our lodge in the Amazon, I got the hang of how tourism in South America worked.  I started writing articles here and there as a hobby and later I was asked to write customer feedback responses and manage our TripAdvisor listings.  This eventually progressed and because I was frontline and center, responding to clients and such, blog writers and other people interested in visiting our lodge and boats in order to publish books, blogs, or write about their experience with us began contacting me.  So far, this has been the coolest perk.  This year I've met with writers and journalists from National Geographic, PBS, and other high-end magazines.  One that left quite an impression was Robin Esrock, a well-known adventure travel writer, author, and tv personality.  He's actually been on 60 minutes just recently and he's writing a book called the The Great Global Bucket List. Haugan Cruises is right up there in the top three of those destinations!  But currently, I'm working on a project with a show called Escape Seekers from Southern California.  They air on the PBS broadcasting station and they will be making a show called Unequaled Ecuador and they will be featuring one of our catamarans from Haugan Cruises and our lodge as well.  So work has not really seemed like work lately, especially when you get to visit what you publicize!
Oh and on top of all that, part-time I am the Marketing Coordinator for a non-profit volunteer foundation with 7 different programs across the four different regions of Ecuador….nope, not busy at all and I just finished applying for a job at the American Embassy in Ecuador as a Cultural Affairs Program Assistant – let's see what happens!
What is the most valuable thing you learned while at UMM?
I could write a book on the valuable things I've learned at UMM!  Like how important it is to be organized, and how making and keeping contacts is vital. You never know when you'll be calling an old advisor for advice or need to call someone up as a reference for work.  In addition to that, I learned it's not okay to set limits.  Set the bar high.  It is totally possible to go above and beyond and live out your wildest dreams and goals.  Just don't let anyone or anything hold you back from accomplishing those things.
Do you have any advice for current students at UMM?
Like I mentioned, don't hold back on anything.  Get out there and do what interests you and just go for it.  Absorb everything you can, make contacts, and try to do things that might be out of your comfort zone.  The staff and faculty at UMM want you to succeed and only want the best for you, including the community in the surrounding areas.  They'll be there to help you do that, all you have to do is ask for help and they'll provide the resources.
How did your time at UMM prepare you for what you are doing now?
Well, I certainly wish I had prepared my Spanish speaking skills!  But honestly, I'm thankful for the time I spent engaged in the community coaching sports and substituting in the local schools.  A huge part of my job is to be outgoing and to make connections with people from all over the world.  So learning more about group dynamics by direct engagement was very useful when I spent time with kids, parents, and faculty members.  Also, I think it's only right to give credit to my professors, many of who I am still in contact with today.  They were a huge support system to me in helping me believe in myself.  And even though at times they were tough on us, I'm glad they were because in the end they were really only preparing us for the real world.  Life isn't all sunshine and rainbows after all!
How has UMM made a positive impact on your life?
For one, I graduated from college.  It might not seem like such a huge accomplishment, but I'm the first of my family to do so.  Secondly, my time at UMM taught me lots about myself and many life lessons regarding responsibility, time management, and making healthy connections and relationships.  I learned from my many trials and mistakes and also to set the bar higher for myself and to not let anything stop me from accomplishing my dreams or goals.  I had a lot of support while making these changes and now I can say I am a hard-working, successful, happy, and motivated mother of two little girls and happily engaged.  Switching my way of thinking and having that positive support, even after leaving UMM has set me on the path to greater things and I can't wait to see what else is planned for me down the road!