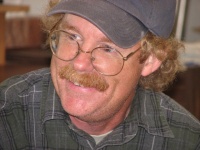 Alumni Spotlight: Brian Beal, '79
This week's University of Maine at Machias alumni spotlight shines on faculty member Dr. Brian Beal, a 1979 graduate of UMM with a degree in Biological Technology. Brian is currently UMM's Professor of Marine Ecology. He lives in Machiasport.
Tell us a little bit about what you are doing now:
I am teaching courses in the Marine Biology, Biology, and Environmental Science programs at the University of Maine at Machias.  I have a half-time teaching and half-time research position.  The courses I teach are marine ecology, marine biology, oceanography, applied statistics, experimental design and analysis for biologists, and senior seminar in marine ecology.  My research involves examining the natural history, ecology, and culture of commercially important shellfish species along the Maine coast.
What is the most valuable thing you learned while at UMM?
I learned that an education is not just about good teachers, it is about learning how to learn and working hard towards your educational and other goals.
Do you have any advice for current students at UMM?
You can do just about anything that you set your sights on….all you need to do is not lose sight of your goals.  Have fun, but work hard to achieve your goals.
How did your time at UMM prepare you for what you are doing now?
It prepared me well.  What was encouraging was that I found that when I went to graduate school at the University of North Carolina at Chapel the year after I graduated, I was able to compete favorably in classes with peers who had graduated from much larger institutions such as the University of Michigan, Duquesne University, and the University of Washington.  The courses I took at UMM are some that I am currently teaching.
How has UMM made a positive impact on your life?
Both as a student and as a professor, UMM has made a positive impact on my life.  As a student, I benefited from "a personal approach" from all of my professors.  Classes, labs, and other activities were much like they are today….a professor in a class of 10-12 students, or in a van headed to an intertidal site in Jonesport.  It was fun, we were always learning something new, and it was more like a family outing rather than a formal class.  As a professor, staff and faculty are the cogs in all wheels that make the university move ahead successfully.  I have been blessed with such outstanding support from both staff and faculty over the years that have helped me achieve my professional goals.