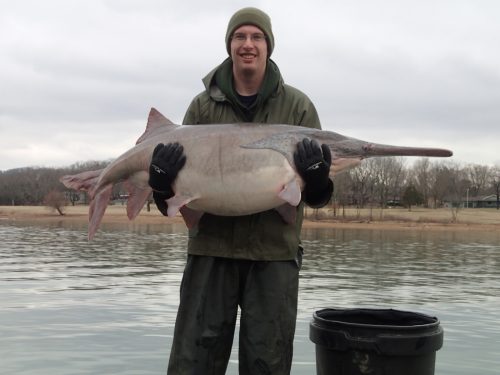 Alumni Spotlight: Tyler Ham, '14
The Alumni Spotlight this week shines on Tyler Ham of Cape Girardeau, Missouri – formerly of East Millinocket – who graduated in 2014 with a degree in biology. Tyler is now a Fisheries Research Technician with the Missouri Dept. of Conservation.
Tell us a little bit about what you are doing now:
Right now, I am currently employed by the Missouri Dept. of Conservation, working at the Open River and Wetlands Field Station in Jackson, MO. At the field station, we conduct research primarily on the upper Mississippi River but also on its tributaries as well as Missouri's reservoirs and smaller streams and rivers. Our goal is to ensure the conservation of Missouri's for all stakeholders, including conservationists, recreational anglers and commercial anglers. To do this, we look at a suite of population characteristics, including age structure, size structure, fecundity, exploitation rates on the population, movement as well as other characteristics. Right now, I am helping out with the statewide Paddlefish project, the fish you can see in my picture. These fish, often known as "spoonbill" are an angling favorite in Missouri however we don't currently have a good picture of the exploitation rate and if there is natural reproduction in the mostly-stocked population. Additionally, I am also doing a lot of work with our Asian Carp projects, trying to prevent the further invasion of this prolific species. I may not have the cleanest or the prettiest job, but I love every minute of it!
What is the most valuable thing you learned while at UMM?
I think the most valuable thing I learned at UMM was to work hard and make the most of every opportunity. If there's an optional Saturday lab or a volunteer project or anything a professor or friend mentions, take the opportunity. There are so many cool occupations and fields out there, it's a good idea to get a taste of all you can to figure out what you really want to do. Additionally, hard work pays off and people tend to notice. Working hard gets you places and gets you favorable reviews and references from professors and employers.
Do you have any advice for current students at UMM?
Get to know your professors. UMM has a great community atmosphere due to it's size and location and this community atmosphere was one of the things I loved the most during my time at UMM. Begin a dialogue with your professors from the first day of class; tell them about your goals and dreams and they'll often keep an eye out for job opportunities and will help with career advice. I don't think I would've been able to earn employment out of school if it wasn't for the references and advice of the faculty and my advisor. Don't be afraid of professors; they're people just like you.
How did your time at UMM prepare you for what you are doing now?
UMM prepared me for what I am doing now by giving me the academic foundation I needed to help grow and learn in my field. Classes were never that easy, but all the knowledge I gleaned helped me in the interview and hiring process immensely. Additionally, my time at UMM, in it's rugged and wild location, helped to foster the love of nature that fuels my passions today and keeps me loving my job. UMM has a unique advantage in its remoteness; some may find this a drawback but I think it's a definite plus. All in all, UMM has done so much to help prepare me and help me begin my career path.
How has UMM made a positive impact on your life?
UMM helped teach me the importance of hard work, diligence, respect, kindness, leadership, and friendship. I look back at my time at UMM as some of the happiest times of my life and cherish the moments I had there. I will carry the lessons I learned from the faculty, staff, and my fellow students at UMM for the rest of my life and hope to continue to utilize them and hand them down through the generations.