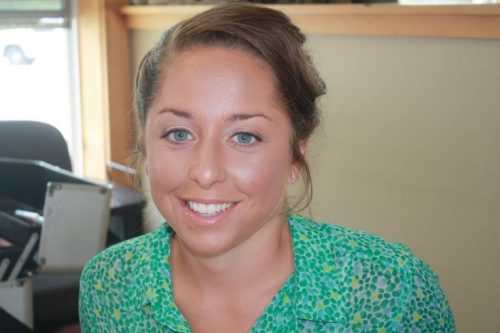 Alumni Spotlight: Kayla Wood, '12
The University of Maine at Machias Alumni Spotlight shines this week on Kayla Wood, Class of 2012, of Machiasport, Maine. Kayla is a preschool teacher at Rose M. Gaffney Elementary School in Machias.
Tell us a little bit about what you are doing now:
I am currently in my second year of teaching Preschool at Rose M. Gaffney. I am also coaching junior varsity girls basketball at Washington Academy.
What is the most valuable thing you learned while at UMM?
While at UMM I learned that hard work and perseverance pay off, both in the classroom and in athletics. To be successful in team sports and in life you have to be willing to commit yourself as well as work well with others.
Do you have any advice for current students at UMM?
Advice that I would give current students at UMM is to dedicate yourself to your degree program. It is a difficult transition from High School to College in the aspect of being responsible for yourself and your education. You will get out of your education at UMM what you put into it, so work hard and you will be successful.
How did your time at UMM prepare you for what you are doing now?
The UMM Education Program provided me with a lot of field experience in local elementary schools to prepare me for the field of teaching. Being in the classrooms with successful teachers helped me learn classroom management skills and behavior management techniques. I also was able to teach a lot of my own lessons at many different grade levels which provided me with a wealth of information that I have brought into my own classroom.
How has UMM made a positive impact on your life?
UMM has made a positive impact on my life by providing me with the education that has lead me into a career doing what I love to do.