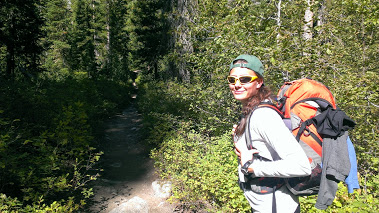 Alumni Spotlight: Sarah Castor, '13
Today's Alumni Spotlight shines on Sarah Castor. Formerly of East Machias and now living in Trenton, Sarah graduated in 2013 with a degree in biology. She is currently an advanced genotyping technician at Jackson Laboratory.
Tell us a little bit about what you are doing now:
Currently I work at the Jackson laboratory, specifically working in Transgenic Genotyping Services (TGS), in which I identify and distinguish strains of genetically engineered mice using molecular biology techniques. My job is all about DNA. Mouse strains are identified on the molecular level by differences in the DNA, the results are reported back to mouse rooms, and the information is used for colony management and sales.
What is the most valuable thing you learned while at UMM?
You can't count on someone to hold your hand; you have to take matters into your own hands.
Do you have any advice for current students at UMM?
Be determined and strive for excellence.
How did your time at UMM prepare you for what you are doing now?
For the most part, my science classes provided me with the knowledge and molecular techniques that I use every day as a genotyping tech. I quickly obtained proficient aseptic techniques as well as pipetting and organizational skills. I also value the English 101 and public speaking courses I completed while at UMM, which have allowed me to efficiently present my ideas and contribute to my team. I may be unique in that I also had two summer internships under my belt. First, I applied myself to be accepted into the Summer Student Program at the Jackson Laboratory the summer of 2010. I also was accepted at Mount Desert Island Biological Laboratory (MDIBL) the summer of 2013. These programs are highly competitive and require essays, recommendations, time, and persistence. That may seem like a lot but experience is an important tool to have in your tool box. Being accepted into these programs wouldn't have been possible without the support of my advisor and teachers at UMM.
How has UMM made a positive impact on your life?
I chose UMM for mostly financial reasons, which turned out to be a smart move on my part. I could have attended the University of Maine at Orono (UMO), but due to family reasons and money, UMM seemed the smarter choice. My freshman year, I was short $3,000 and had to take out a loan. I applied for scholarships and worked 2-3 jobs throughout my undergraduate years. I obtained a couple of scholarships and I didn't have to borrow more money each year or semester. I was definitely lucky in this regard. UMM was the cheapest option available to me; I took the opportunity and didn't squander it. I got to play on the Women's Soccer team all four years as the Clippers starting right fullback and was honored to play with a great group of women that made it to nationals 2 years in a row. I majored in Biology, and (unofficially) minored in "good times".