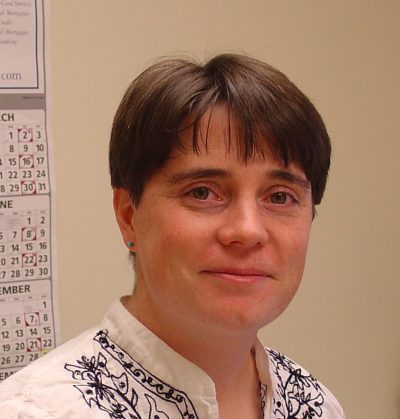 Alumni Spotlight: Heather Perry, '95
This week's Alumni Spotlight is Heather Perry, Class of 1995, originally of Machiasport, and now living in Shirley, Maine. She has been the Superintendent of School in RSU 3, and starting in July, Heather will be the  Superintendent of Schools at Gorham, Maine.
Tell us a little bit about what you are doing now:
I am currently the Superintendent of Schools in RSU 3, a 440 square mile district comprised of 11 towns, 9 schools and 1400 students in rural Waldo County, ME.  I was just recently hired as the new Superintendent of Schools for the Gorham School Department, Gorham, ME, just outside of Portland, ME.  That district is a municipal school district comprised of 5 schools educating approx.. 2600 students in grades K-12.  I am also the president of the Kennebec Valley Superintendent's Association, where I also serve on their state wide Legislative Committee and the President of the Maine Small Schools Coalition.  Additionally I serve on the Board of Good Will Hinckley and Jobs for Maine's Graduates.  I am also a proud wife (Married to another UMM alumni, Peter Perry) and mother of 1 daughter, a current UMA student majoring in accounting.
What is the most valuable thing you learned while at UMM?
The value of positive relationships.  While I was at UMM, I played basketball and was a member of the Kappa Delta Phi National Affiliated Sorority among other things.  Many of the friendships I made then are still strong today.  Having these close connections helped me to be successful as a student, which is something I try to instill in my own leadership of public schools – the importance of building those strong caring relationships with students and with our peers is often the key to successful learning!
Do you have any advice for current students at UMM?
Learning used to be all about memorizing facts and information, but in today's world those facts and information are not only readily available via our technology, but they are also growing exponentially to the point that to expect students to succeed in this new world while learning in these "old" ways is not reasonable.  Instead, the lessons learned about collaboration, caring, team building, patience, perseverance, and all the other "soft skills" are the ones I know I use the most today and these are the skills our next generation of learners must master.  I would encourage current students at UMM to focus on your studies, but to take the time to learn these softer skills as well since it is  these skills that will likely be the keys to your success!
How did your time at UMM prepare you for what you are doing now?
I majored in History at UMM and because certified as a Secondary Social Studies Teacher.  I also minored in Political Science.  My classes prepared me well for teaching.  I got into schools early and often as a student, which helped me to be better prepared to take on my own classroom eventually.  Additionally, I learned a great deal about the importance of hard work, commitment, and perseverance as a student at UMM and finally, my experience as a member of Kappa Eta taught me so many life lessons about what it means to be a true member of a team, to build positive and caring relationships, and how to work together towards a common goal.
How has UMM made a positive impact on your life?
UMM allowed me to attend a high quality postsecondary institution that was close to home and affordable.  It gave me the foundation from which I have built my current professional career.  I would never have met the incredible people who have so positively influenced my life or had the opportunities that I have now without my experiences and learning at UMM.