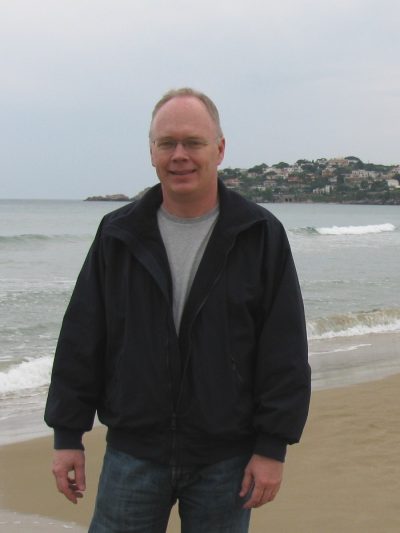 Alumni Spotlight: David Gill, '91
Today's Alumni Spotlight is David Gill, class of 1991, of Chichester, New Hampshire, but originally from Dunoon, Scotland. David is now the Parks and Recreation Director for City of Concord, NH.
Tell us a little bit about what you are doing now:
Currently I am the Parks and Recreation Director for the City of Concord. In my position I oversee the operation of a diverse department that includes: five community centers, seven outdoor pools, over 230 acres of parks, fourteen cemeteries and a championship 18 hole golf course. The department is also in the final stages of designing a 75,000 square foot new community center.
I am married to Gwen Whitney who I meet while at UMM and have an almost 13 year old daughter. In my spare time I remain active in the Kappa Delta Phi Alumni Association, boating, skiing and traveling with my family to the Caribbean and Europe.
What is the most valuable thing you learned while at UMM?
My personal motto was born during my time at UMM – work hard, play harder! School work is important however creating experiences and building your personal network is also very important. You will be able to try new experiences and meet new people – when given those opportunities I would recommend you embrace them.
Do you have any advice for current students at UMM?
Have FUN! Yes, you need to make time for your school work however, also make sure you have time to try new things and most importantly take time to meet new people and venture outside your comfort zone. If you live in the dorms, keep the door to your room open and welcome new people. Invite others to take part in canoe trips, hikes or just hang out. These relationships, over time, will become lasting.
How did your time at UMM prepare you for what you are doing now?
Working in the field of Parks and Recreation the most important characteristic is the ability to work with a diverse population. My time at UMM helped me learn to work with people from different background, beliefs and personal experiences. I am easily able to transition from meeting with elected officials to working with teenagers and young adults with ease.
How has UMM made a positive impact on your life?
There is not a week that goes by that I do not connect with someone who I met at UMM. I recommend everyone take the time to develop relationships with everyone you meet while at UMM!