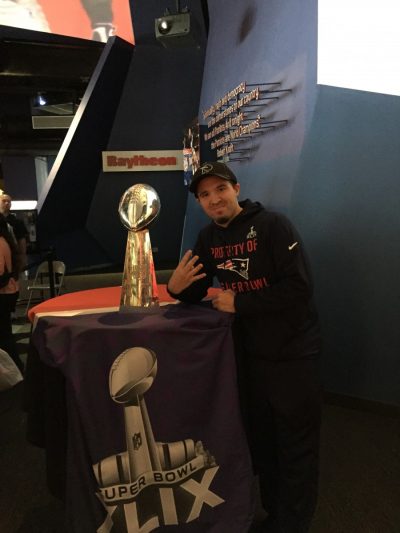 Alumni Spotlight: Allen Lennox Jr, '11
The University of Maine at Machias Wednesday Alumni Spotlight this week is Allen Lennox Jr., a native of Attleboro, Massachusetts, who graduated in 2011 from UMM's Recreation & Tourism Management program. Lennox is now Security Event Manager for Gillette Stadium/NE Patriots/NE Revolution/Harvard University/Boston Cannons/Boston Breakers.
Tell us a little bit about what you are doing now:
Right now I am one of the heads of security at Gillette Stadium for all of our functions and special events.  I am also part of our team security management for the New England Patriots and New England Revolution.  Lastly, I am the head of security for Harvard University, Boston Cannons (Major League Lacrosse) and Boston Breakers (Women's Professional Soccer).  With all of that, I help run events for each venue and clients making sure all patrons, players, and team personnel are safe and enjoying their time.  I help run and supervise over 1100 security employees for all concerts, sporting events, and special events at Gillette Stadium and run our camera and text message system.  At Harvard, I run all sporting events they have on campus.
What is the most valuable thing you learned while at UMM?
Time management is one of the biggest things I learned at UMM.  As you can see I have a lot on my plate and we go 24/7, 365 days a year at my work.  I have event after event, at each venue and a lot of pre-event paperwork, scheduling and meetings that I am responsible for. Being able to organize and time manage everything is key to being successful in my line of work.  One thing out of order can compromise an event or even the security of any event, which is unacceptable when you are responsible for 1100+ employees and as many as 73,000 other patrons/guests that come to your events.
Do you have any advice for current students at UMM?
Make sure you pay attention to everything you learn in classes and save your recreation books.  I saved a lot of my sports and business books and have used them to improve my job performance.  Take lots of notes and keep those as well.  There have been times that I wished I kept my notebooks because there are things that I remember talking about in class but can't look back at.
How did your time at UMM prepare you for what you are doing now?
It made me think on my feet a lot and put me through a lot of different changes than I had never been through before.  In recreation and leisure, things can always happen that completely change your event or what you are doing.  For me, how well my teams are playing will reflect how our crowds behave.  Going through the college life helps me predict what I can expect from my college students during sporting events at Harvard.  A lot of times I have to think quickly at each event when things change or the outcome isn't what we expected.
How has UMM made a positive impact on your life?
UMM impacted my life positively by the amount of knowledge my different teachers gave me.  Some of it I didn't think I would ever need but I actually use it in real life and with work.  Also the friends that I made at UMM have helped shape me into the person I am today.  Seeing them grow as well and keeping in contact with them.  It's like a little family. You need  to have that kind of relationship with the people you are around.