Psychology and Community Studies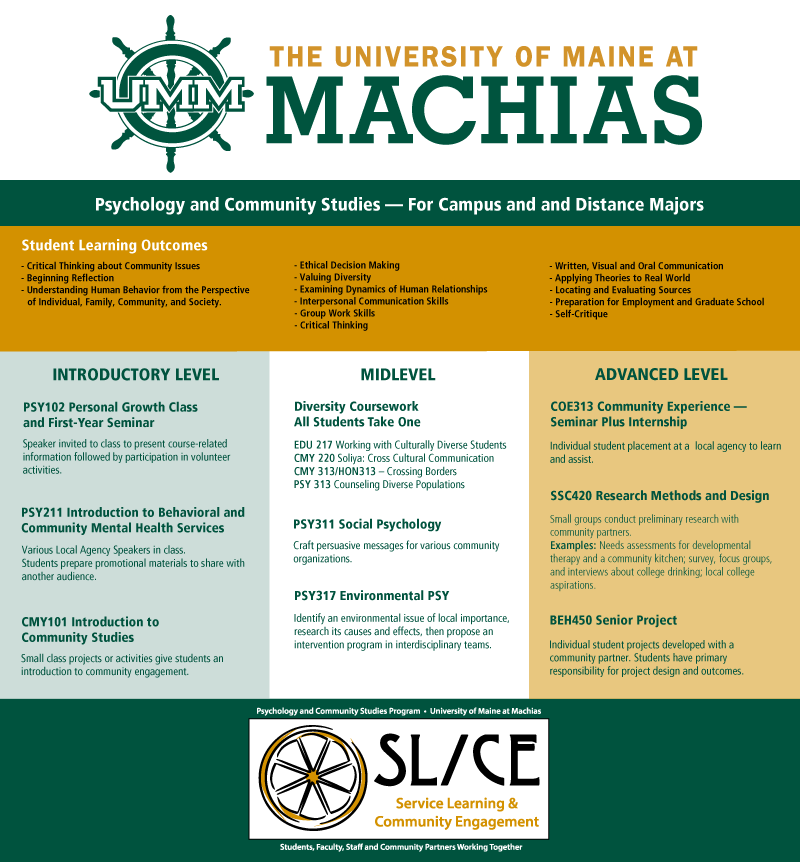 The Psychology & Community Studies major is an interdisciplinary program that draws on anthropology, psychology, sociology, natural sciences, economics, arts, and humanities, through which you can explore human community and learn how to understand, manage, and promote change – change in your life, change in your community, and global change.
In addition to traditional coursework, our majors immerse themselves in their education through field work and internships rooted in Downeast Maine. Graduates have found work as Direct Care Counselors, Family Support Workers, and Community Care Managers.
Psychology & Community Studies students graduate not only with the knowledge and skills they need to compete in the job market or go on to graduate school, but also with a set of tools that they can use to meet and greet many of life's opportunities and challenges.
The Psychology & Community Studies major offers the following concentrations:
This concentration offers a traditional focus on discipline of psychology with courses preparing students for professional and graduate education.  The term 'Applied' indicates the emphasis on Service Learning & Community Engagement, which presents students with many opportunities to apply knowledge and theories to real world applications, often in collaboration with other students and community agency partners.
This concentration is intended to prepare individuals to work with youth who have disabilities in a capacity other than special education teacher. The Disabilities in Youth concentration is designed to expose majors to each of the categorical disability areas specified by the Individuals with Disabilities Education Act. Students derive knowledge of relevant special services, related services, and supplemental aids and services that they may encounter within the individualized programs of the students they serve. Students will gain exposure to and have the opportunity to engage in diagnostic assessment for eligibility purposes, and develop the skill to interpret and apply evaluation findings to develop individualized programs derived to provide educational benefit for the student with special needs. With a broad knowledge of exceptionality and special education, students will be well-poised to serve as advocates, consultants, counselors, interventionists, or specialists. The curriculum includes courses for Maine's Birth-age 5 Teacher of Children with Disabilities Certification Endorsement (#282). The B-5 282 endorsement is required for employment as a preschool special education teacher or case manager.
Why Study Psychology & community Studies at UMM?
The Psychology & Community Studies Program at UMM engages students from the first semester through their last, working hands on in their classrooms as well as in the community. They work with people and issues that matter to them: food insecurity, prejudice and discrimination, substance use, poverty, effects of the environment and policy on community.
Every student has an internship in a field related to their interest in order to gain experience, network, and inform career decisions.  Every student works in a small group to conduct research with a community partner who needs information.  Every student has a capstone senior project developing, planning, and accomplishing a project with a community partner of their choosing.
Students also have options in getting coursework that either certifies or prepares them for certification for immediate employment upon graduation in social services: Behavioral Health Professional, provisional or full Mental Health and Rehabilitation Technician, Drug and Substance Use Counseling, Birth to 5 years Special Education.
Careers
Recent Placements from UMM's Psychology & Community Studies program:
Caseworker
Engagement Specialist
Paramedic
MHRT1
Developmental Therapist
Child Protective Caseworker
Program Coordinator
Child Protective Social Worker
Direct Care Counselor
Case Manager and Behavioral Health Professional
Behavioral Health Professional
Crisis Counselor
Direct Support Professional
Degree Earned
Bachelor of Arts in Psychology and Community Studies
Program Outcomes
Aspirations:
– To equip students to be ethical and responsible citizens and be actively engaged members in their communities and in the world.
– To inspire a love of learning so that they will become life-long learners.
Faculty:
– Faculty will be role-models of life-long learners and community engagement.
Students:
A student in the Bachelor of Arts in Psychology & Community Studies program will:
1. graduate with an undergraduate education of sufficient preparation to either continue education in graduate and professional studies or immediately enter into professional employment upon graduation.
2. benefit from a broad foundation of rigorous theoretical and applied courses.
3. be able to locate and evaluate sources of information.
4. apply rigorous critical thinking in the formulation and evaluation of written
5. appreciate there are different ways of knowing and shall be exposed to both qualitative and quantitative methods of analysis.
6. communicate disciplinary ideas for academic and general audiences in oral, written, and visual presentation formats.
7. understand human behavior at different levels of analysis including: societies, communities, families, or individual.
8. have experience working in groups in classes and collaboratively in the community.
9. use place-based and service learning to examine dynamic human relations to physical, social and cultural environments and appreciate the complexities of applying theory to real world situations.
10. appreciate the roles that diversity and multiculturalism play in human relations, their own identity, and the fundamental way they view the world.
11. be encouraged to self-critique for purposes of ongoing learning, personal and professional development, and ethical decision making.
Contact Us
Meghan Duff, Associate Professor of Psychology
(207) 255-1227
meghan.duff@maine.edu
227C Torrey Hall