For a printable version of our Winter 2022 Offerings, click the button below:


Did you miss seeing SSC's exciting class on Telepresence in Ocean Exploration???
Here's your chance to see what you missed – just click the link below to experience this exciting adventure:
Did you miss the presentation on the "Sinking of the SS Connaught"
The Greatest Maritime Rescue in History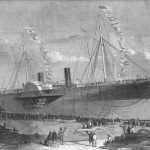 Check Us Out!
"Never Zoomed Before!"  Have any questions on Zoom?
Click this resource for everything you need to know about Zoom
"Want to join a knitting Group"
Zoom-a-Loomers Needlecraft Group! Join the fun!
SSC 2021 ANNUAL REPORT
The Maine Senior College Network works for you.
Important Covid-19 Update As Of August 15th!!
Effective Immediately – the following policy applies at the UMM campus: 
The University Of Maine System is now requiring that all students have a Covid-19 vaccination in order to attend a class on campus and masks will be required for any in-person classes.  Since Sunrise Senior College is an affiliate of the University of Maine at Machias, this applies to any of our students as well.  With the current outbreak in the virus, we feel this makes sense and are adopting the same policy for all in-person classes held by SSC – whether on campus or off-site.
The class host will be asking anyone attending class in-person for proof of vaccination at the first session and will mark the attendance sheet accordingly.  Anyone signed up for an in-person class who is not vaccinated or that will not prove they are vaccinated will be asked to leave.  We will send out reminders to everyone before each class.  Zoom students are exempt from this.
The best advice we have at this time is to carry your vaccination record and/or a copy with you at all times.  If asked please show it.  Entry to the Merrill Library and the Reynolds Center will require you to show proof of vaccination when entering or you must remain masked on campus.
Please know that we will attempt to keep the latest Covid-19 policy information for UMM updated on our website. 
Thank you in advance for your understanding in these trying times,
Jacqueline O'Clair, SSC Board Chair 
Online Registration for our Winter Offerings is Open!
Registering online is safe & easy! 
SSC Registrar
28 Church Lane, Marshfield, ME  04654
Please make your checks payable to UMM.
Our Winter offerings will be starting soon!  Just click on any presentation below you are interested in to read all about it and learn about the presenter.  See you there!
Have You Renewed your SSC Membership for the 2022 Season Yet?
If you haven't renewed your Membership for the 2022 season yet – now's the time!  Membership runs from June 1, 2021, to May 31, 2022, and we're able to keep the cost at $25.00.  You can renew your Membership when you're registering for any of our exciting Winter offerings – just make sure you've selected the 2022 Membership before you checkout.  If you want to renew your Membership but you're not ready to enroll in any classes yet, click here to go directly to Membership registration:  
2021-2022 Sunrise Senior College Membership Dues
A Look Ahead to Spring 2022
Here are just a few of the offerings in store for you…
          Ancient Greek Drama with Dr. Gerard NeCastro
          Bioethics II with Dr. Eric Jones
          The Julio-Claudians of Rome – Keeping it All in the Family with Thiela Schnaufer
          Sculpture Workshop with John McMurray
Winter 2022 Series Offerings
  Completed  

   Completed

   with Jackie O'Clair

with Nick Lund, Maine Audubon

Membership runs from June 1, 2021, to May 31, 2022

 
A Learning Experience for those age 50 and over and their spouse or partner of any age.
NO TESTS!    NO GRADES! 
SSC is a member run, all volunteer organization, deeply committed to providing intellectual stimulation, practical knowledge, fun and social interaction for those 50 and over in our community.