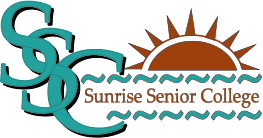 How do I change my Account Registration Information online?
(You can also get a new password sent to you.)
At Sunrise Senior College it is easy to update your SSC registration information or see the classes you are registered for.
Simply click on this link https://ssc.coursestorm.com/
Upon clicking on this link you will see the "Sunrise Senior College Online Course Registration" screen.
Click on the "Log In" button located in the upper right corner.

Enter your Email ID and password.  OOPS can't remember it?  Click "Forgot password"

It will prompt you for your email again and send you a temporary one at your email address. Then enter it on the screen. And click log In

Your name will now appear in place of the login.   

Click on your name, this will allow you to see a drop-down with the choices: My account, Family/Friends (you may have chosen to place on your account) or Log Out.

Click on My Account.  You now can update your account information, change your password, and update or delete any credit card information.  In the left-hand column, it says Account. Payment Info, Registrations. Click registrations and see the courses you have enrolled in.

When you are done making changes please logout.