Why Early College?
If you participate in Early College, then you will likely:
gain better study skills
develop more academic confidence
have less anxiety about the transition to college.
are less likely to need remedial courses in college.
are more likely to earn a degree on time when compared to students without early college credits.
Why UMM?
Affordability!
Students who qualify for Aspirations funding will receive FREE tuition and all general fees will be waived– you'll only pay for textbooks and course-specific fees. The tuition waiver represents an $800 cost savings for each 3-credit course.  If you receive free/reduced lunch OR are facing an economic hardship then UMM will cover the cost of textbooks and remaining fees.  This form must be filled out by a school professional.
Access to resources!
All Early College students will receive Clipper ID cards upon request and will have full access to the following for FREE:
Murdock Fitness and Aquatics Center– exercise room, pool, and gym
Academic advising
10% discount at participating local businesses (see below or click here for pdf)
Transportation assistance for Washington County students who need help getting to campus
Scholarships!!!!
Complete an early college course with a grade of a C or above and you will get a scholarship if you matriculate at UMM directly after your high school graduation.  2020 awards were $1,000 per student.  Apply by filling out this application.
If you earn an Early College Certificates and enroll at UMM for the fall semester following your high school graduation then you can:
Apply for exclusive scholarships. (Awards may vary based on funding and need; Early College Certificate earners in 2020 were awarded $2500 each.)
Apply for a FREE room for your first year at UMM (a $4600 value)
Be recognized at Honors Convocation
Participate in UMM Commencement
Receive a special cord to be worn at your high school graduation.
---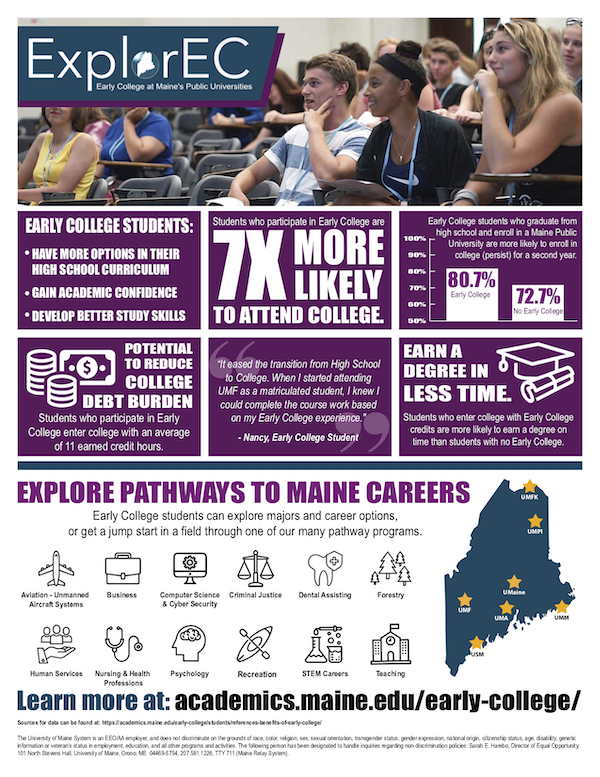 Sources of the above data can be found here.