Supplemental Instruction Program
What exactly is SI?
Hundreds of institutions across the U.S. and around the world use SI.  By attending peer-assisted group study sessions, students can improve their grade performance, leading to higher course retention and greater college success. These study sessions are anonymous and non-mandatory. These informal, weekly 50-minute meetings are facilitated by undergraduate students known as SI Leaders. SI stands for "Supplemental Instruction," but SI Leaders are not instructors. They are facilitators who guide students through pre-planned activities that focus on the most difficult material in the course.
The students learn new study strategies and skills while working with their classmates. SI leaders have previously done well in the course and know where the tricky spots are. They re-attend all lectures and labs and model successful college strategies for their peers. They also get the chance to review the course content for a second time, and thereby deepen their own mastery of the subject. The position offers SI Leaders excellent professional development experience that helps them prepare for future employment. For more information about specific requirements of the job, click on "Job Opportunities" above.
What does an SI Session Look Like?  Check out these videos!
How are SI Leaders Different from Embedded Tutors and Student Tutors?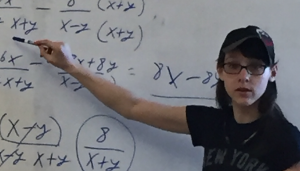 SI Leaders support a variety of courses, and Embedded Tutors typically only support math courses, such as MAT 113 and MAT 122. They receive the same training as SI Leaders, re-attend all lectures, and also attend the weekly SI team meetings alongside SI Leaders. The difference is that instead of holding pre-planned, facilitated sessions (which is what SI Leaders do) they meet with students one-on-one or in small groups and act more as a tutor than group facilitator. Embedded Tutors can help with homework and are expected to be available a few hours each week for actual tutoring.  For more information about regular student tutors, click here to go to the Study Center.
Benefits for students, faculty, and UMM
improve learning and performance in courses
boost retention and graduation rates
cultivate student leaders
feedback for faculty regarding student comprehension or sticking points
build a pipeline of more academically prepared students
improve student satisfaction and faculty evaluations
cost-effective academic support service
Benefits for Peer Educators
develop leadership, planning, time management, and group facilitation skills
deepen your understanding of course content
learn handy study strategies and learning techniques for your own classes
build closer relationships with faculty
enhance your job resume and cultivate valuable references for future job applications
chance to earn national CRLA certification as a Peer Mentor (credential for your resume)
paid for your efforts!